In a previous post, "My Moral Teachers Were Fictional Lawbreakers," I discussed the seminal role that the fictional "vigilantes" of my youth played in my moral development. But their creators—the authors of thriller novels—played a formative role in my development as a budding thriller author, as well.
These days, an ever-growing host of terrific authors ply the thriller craft, and I don't pretend to be familiar with more than a fraction of them. So, let me confess right up front that I'm not even trying to provide you with a comprehensive survey of these writers and their works. In this two-part post, I will tell you only about some of those whom I've encountered and most enjoyed. So, to be clear, "The Best Thriller Writers—Ever" ought to be titled, more accurately: "The Best Thriller Writers I've Ever Read."
Here, then, in no particular order of ranking, are my favorites: the storytellers that I've discovered and that I recommend enthusiastically to my friends—friends who have repaid me with their undying gratitude in return.
***
The Top Rank
Formerly a Pulitzer Prize–winning film critic for the Washington Post, Stephen Hunter is a grand master of the thriller genre.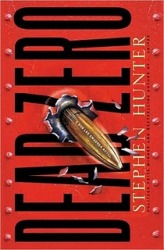 Quite a long time ago, I ran across his Cold War–era nuclear nightmare novel The Day Before Midnight and found myself hijacked onto the best thrill ride in memory. For some unaccountable reason, I didn't try another Hunter story for years. Eventually, though, I read Point of Impact, which introduced me to one of the most original and compelling action heroes ever to stride across the fiction landscape: a lean, stoic, former Marine sniper with the unlikely name of Bob Lee Swagger. Once again, Hunter told me a story of matchless excitement. (The screen adaptation of Point of Impact, titled "Shooter" and starring Mark Wahlberg, departs significantly from the novel in order to infuse the plot with a leftist political tilt; I don't recommend it.)
After that stunning introduction, I plunged into Bob Lee's further adventures. Then I took up the ingenious, interwoven adventures of his equally heroic state trooper father, Earl Swagger.
That word, "ingenious," is vastly overused when describing thriller authors and plots. But it applies to Hunter in spades; his  creative imagination and writing skills are simply breathtaking. The wealth of detail he provides for period and place; his refined ear for dialogue and dialects; the psychological depth and originality of his characterizations; the tangled twists of his dazzling plots and their unbearable suspense; the furious, frenzied action sequences that he renders so palpably; and, above all, his majestic heroes—hard, driven men of almost mythic stature: What more could any thriller reader possibly want?
This guy writes scenes so scary-real that you want to run away and hide. From Point of Impact, just after Bob Lee has been double-crossed and shot:
It was winding down on him. His breathing came with the slow, rough transit of a train that had run off its tracks and now rumbled over the cobblestones. His systems were shutting down, the wave of hydrostatic shock that had blown through him with the bullet's passage upsetting all the little gyros in his organs. He felt the blood in his lungs; there was no pain quite yet but only the queer sensation of loss, of blur, of things slipping away.

Then something cracked in him.

No you aren't going to let it happen

You been shot before

You can fight through it

You be a Marine

He took a deep breath, and in the rage and pride he found what would pass for energy and without exactly willing it, he stood up, again surprised that there was no pain at all, and with a strange, determined gait began to move toward the door.
As the various Swagger novels unfold, Hunter brilliantly interweaves their characters in startling, often poignant ways. The stories, seemingly unrelated, begin to enrich and inform each other, elaborating on the backgrounds of the heroes and villains and their complex, unexpected interrelationships. Soon, all these wonderful tales reveal themselves as individual threads in a grand, overarching, multigenerational adventure tapestry.
You certainly can read any of the Swagger novels and enjoy it on its own. But to fully appreciate the author's genius, read the first four in chronological order of publication: Point of Impact, Dirty White Boys, Black Light, and Time to Hunt. Then follow up with the Earl Swagger tales: Hot Springs, Pale Horse Coming, and Havana, before returning to the more recent Bob Lee novels.
After that, perhaps you'll want to sample Hunter's earlier, stand-alone tales. Only The Day Before Midnight rivals the best of the Swagger stories, but even a lesser Stephen Hunter novel is, by any measure, a very fine thriller.
Browsing in a bookstore one day years ago, I picked up a paperback titled Persuader. It was the seventh outing for Lee Child's big, tough, clever action hero, Jack Reacher. And it knocked me out. I immediately bought and devoured the first in the Reacher series, Killing Floor, his stunning debut novel. I was hooked.
Child himself is a remarkable fellow. Born in England, he served many years as a presentation director for Grenada Television when, as a result of corporate restructuring, he was fired abruptly in 1995, at age forty. Viewing this mid-life crisis as an opportunity, Child bought six bucks' worth of paper and pencils and sat down at his dining room table to write a novel in longhand. The result was Killing Floor—an instant bestseller.
His literary inspirations were John D. McDonald's Travis McGee, Robert B. Parker's Spenser, and the seminal thrillers of Alistair MacLean. As he explained to an interviewer for January Magazine, he also knew what else he wanted to put into the larger-than-life Jack Reacher: a bit of himself.
I was a tough guy in a tough neighborhood, and I grew big very early, so I ruled the yard—never scared, never intimidated. At elementary school I was a paid bodyguard. Kids gave me cookies and lunch money to watch their backs. Some bully stepped out of line, I was waiting for him on his way home. I never started a fight, but I was in plenty. I broke arms, did damage. But I felt I was on the side of the angels. I wanted to recapture that feeling and update it into adulthood.
Child also knew what he didn't want: a postmodern anti-hero. "I didn't want another drunk, alcoholic, miserable, traumatized hero…I just wanted a decent, normal, uncomplicated guy…I wanted him to have flaws and faults and edges, but to be personally unaware of them. Thus he's interesting, but he's not always gazing at his own navel."
A former U.S. Army M.P., Reacher is ferociously tough, honorable, and as memorable as the late Mickey Spillane's Mike Hammer. The classic drifter-hero, he's a knight-errant without apparent roots or ties who stumbles into trouble wherever he goes and won't leave until he's set things right with his own overpowering brand of vigilante justice.
Like Stephen Hunter, Lee Child simply does everything right: great dialogue, devious plotting, terrific suspense, vividly colorful settings, and white-knuckle action scenes. Here, near the end of Persuader, Reacher is trapped under icy, pounding surf, with killers above shooting at him to keep him beneath the waves:
Thirty seconds. I was drowning. I knew it. I was weakening. My lungs were empty. My chest was crushed. I had a billion tons of water on top of me. I could feel my face twisting in pain. My ears were roaring. My stomach was knotted. My left shoulder was burning where Paulie had hit it. I heard Harley's voice in my head: We never had one come back. I kicked on.

Forty seconds. I was making no progress. I was being hurled down into the depths. I was going to hit the seabed. I kicked on. Clawed at the tide. Fifty seconds. My ears were hissing. My head was bursting. My lips were clamped against my teeth. I was very angry. Quinn had made it out of the ocean. Why couldn't I?

I kicked on desperately. A whole minute…
This scene of Reacher fighting the surf goes on for an unendurable six pages. Unendurable, because the reader finds himself unintentionally holding his own breath as he reads. Nobody, not even Stephen Hunter, writes better action scenes than Lee Child.
While the Reacher novels can be read out of sequence, I still recommend that you start with Killing Floor. I guarantee that you'll soon adopt the label that his many fans bear proudly: Reacher Creatures.
Thrillers tend to follow the preoccupations of the times, and the world after 9/11 has provided new fears for action-oriented authors to confront. One of the most successful of these authors is Vince Flynn.
Flynn launched his literary career pre-9/11 with the outstanding debut novel Term Limits, a violent tale of high-level political and military skullduggery. He followed up in 1999 with the sensational Transfer of Power—a frighteningly plausible page-turner that has a group of Middle Eastern terrorists take over the White House. In that novel, Flynn introduced an iconic hero for the Age of Terrorism, CIA agent-extraordinaire Mitch Rapp.
Rapp is a one-man army, America's secret weapon in the fight against terrorists. After his debut, his adventures continued in a rapid-fire burst of stories filled with furious action, political intrigue, and astonishingly realistic "insider" knowledge of government agencies, operations, and machinations—a level of detail that rivals or surpasses that of Tom Clancy. Flynn seems to have the blueprints for every top-secret building in Washington, from the White House to the Pentagon to the CIA—plus private access to their security cameras and microphones. His depictions of Secret Service procedures, Special Forces operations, CIA interrogations, and the arcane tradecraft of counterterrorism give you the sense you're peeking into keyholes in the corridors of power. Clearly, this man has cultivated sources.
To his impressive research Flynn adds excellent characterizations, good dialogue, and fascinating intrigue. But the glue holding the series together is the character of Mitch Rapp. Flynn's values and politics are emphatically right-of-center, so it's no surprise that Rapp is a hot-tempered, unapologetic American patriot. To save his country from its enemies, he plows ahead with the unrelenting force of a bulldozer, demolishing every obstacle and opponent in his path. You find yourself wanting to jump up and cheer.
In every Mitch Rapp novel, his enemies include cowards and traitors at the highest levels of American politics and media—people whose leftist ideology or venal ambitions prompt them to sell out their nation's security. But there's also a regular cast of supportive good guys: former SEAL team pals; dedicated agents of the White House Secret Service detail; and the female head of the CIA—Rapp's boss, mentor, and protector, who accepts his outrageous violations of rules and laws with stoic patience and boundless loyalty.
If Rapp sounds a bit like the Jack Bauer character from TV's "24," it's no accident: Flynn actually was called in as a consultant on the show one season. And like Bauer, Rapp is a kind of Lancelot figure, enduring the terrible scars of a lonely battle, but soldiering on with courage and dedication. There also are interesting differences between Bauer and Rapp, but revealing them here would spoil your fun.
Unlike many novelists who run out of steam over time, Flynn has only gotten better. Mitch Rapp's saga grows from book to book, so, once again, the novels are best read in order of their publication.
[Update: I am deeply saddened that Vince Flynn died at age 47 of prostate cancer in the summer of 2013. He was a great writer and a great man.]
Gauged either by the quality of his work or his perch at the top of the bestseller lists, Brad Thor is a political-thriller author par excellence.
Thor made his impressive debut in 2002 with The Lions of Lucerne. This devious, absorbing tale of international intrigue didn't emphasize the same hot political themes that his later fiction would put front and center. The U.S. president is kidnapped during a ski holiday, and Islamic terrorists are suspected. But despite a host of misleading clues, former SEAL Team 6 operative Scot Harvath—now a supervisory agent in the Secret Service—suspects otherwise. In a race against time, Harvath's investigation and rescue effort lead him to the stunning Alpine towns of Switzerland, where he tracks down the real kidnappers while confronting traitors within the U.S. government that want him dead. The plot is Byzantine in complexity; the international locales brim with colorful, you-are-there detail; and the special operations and tactical procedures provide realistic, "insider" details—three constant hallmarks of Thor's writing.
The sequel, Path of the Assassin, brought Thor's tough-as-nails Secret Service agent more directly into the realm of post-9/11 Islamist terrorism—and, in its closing pages, transferred him into a secret branch of the Department of Homeland Security. There, using his deadly skills, Scot Harvath would take the offensive against terrorists around the world.
With the next installment, State of the Union, Thor's writing had further matured, acquiring two other trademark characteristics: a new sense of relentless, breathless pacing, and a refreshing, in-your-face Political Incorrectness. More recent Harvath adventures—such as The Last Patriot—have been so blunt in their criticisms of radical Islam that Thor received death threats; he now travels with hired bodyguards to his public appearances. He is outspoken in his conservative, free-market views, which are embodied in the themes and plots of his books—most overtly in his latest, Full Black.
Now operating in the private sector as a "consultant," Scot Harvath has been unleashed from political constraints in his war against threats to America. Like Mitch Rapp, Harvath is a patriot who acts like a vigilante in the international arena, protecting freedom by administering unflinching justice against its enemies.
Not surprisingly, Brad Thor is beloved by military personnel, especially those in the Special Operations community. With The Athena Project, he launched a second series featuring a team of female Delta Force operatives—a premise based, as always, on fact. A stickler for authenticity and an indefatigable researcher, Thor has cultivated high-level sources and even tagged along with a secret "black ops" unit on antiterrorism missions in Afghanistan. As a master conjurer of nightmare terrorist scenarios, he was invited by the Department of Homeland Security to participate in a "Red Cell" brainstorming project to help anticipate possible terrorist attacks.
In short, Brad Thor is must reading if you want the real deal in the global war against terrorists.
For subtle and stylish writing, attention to nuance and detail, and a haunting sense of realism about the world of international espionage, Daniel Silva is hard to match, let alone beat.
A former Middle East correspondent for U.P.I and later a producer for CNN, Silva draws upon his extensive knowledge, background, and sources to craft beautifully realized tales of international intrigue and suspense. They began in 1997 with The Unlikely Spy, a story of romance and deception set in World War II. In the next two years he produced two more fine novels, Mark of the Assassin and The Marching Season, featuring CIA operative Michael Osbourne.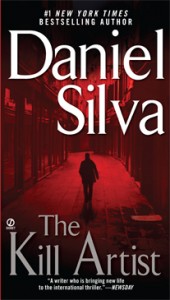 But his next book, The Kill Artist, was a triumph of originality. It introduced Gabriel Allon, a world-class art restorer—and a former world-class assassin for Israel's Mossad intelligence agency. Allon is introduced hiding from his old life, meticulously restoring priceless paintings by great masters, when (as is so often the case for such protagonists) his past catches up with him. Reluctantly, he is drawn back into the assassination business to stop an old personal enemy, a Palestinian terrorist on a global spree of slaughter.
There's a somber realism to Silva's brilliantly told stories. The spy business is depicted unvarnished and without the gloss of romance. Only a writer with intimate knowledge of the Middle East would have dared to base spy stories on the Israeli intelligence agency and to make a hero of one of its operatives.
Yet Silva succeeds masterfully. Though a grim warrior, Gabriel Allon is indeed a hero, a three-dimensional protagonist portrayed with great psychological depth. He has been scarred by his past, physically and emotionally, and he does not escape further damage in either regard during his new missions. Silva's choice of clashing professions for Allon was simply inspired: You learn as much about the craft of art restoration as you do about spycraft in these remarkable stories. The constant contrast between his feelings for the great works that he's restoring to their original glory, as opposed to his endurance of the ugliness of the deceptive and bloody work into which he is drawn on behalf of his country, is stark and often poignant.
Give Daniel Silva a try, and I think you'll find yourself richly rewarded.
Decades ago, I read the late Robert B. Parker's outstanding early thriller, Wilderness. But I never dabbled in his famous "Spenser" detective series, put off by the TV adaptation starring the late Robert Urich.
Big mistake. Boston-based private eye Spenser—no first name ever provided—is a first-rate action hero, and for years, his bullet-fast stories set a standard for contemporary detective-thriller fiction.
Parker was peerless when it came to dialogue. The banter between Spenser, long-time girlfriend/psychiatrist Susan Silverman, and intimidating thug-pal Hawk is always clever, often hilarious. Spenser and Hawk shatter tough-guy stereotypes: Though they are hulking brutes, they are also highly (if self-) educated, playfully trading arcane literary references, mocking each other over the use of some fancy word, or quoting poetry while bashing bewildered, chromosome-deficient bad guys.
Which brings me to Parker's other great strength: characterization. Nobody did a better job of working complex human and romantic relationships into action stories, or in sketching memorable characters with just a few well-chosen strokes. Parker admitted that he drew on the ups and downs of his own long-time marriage in crafting Spenser's ageless romance with Susan Silverman. And it is a grand romance: The fictional couple remained head-over-heels in love for decades—which no doubt explains why the Spenser stories appeal as much to women as to men. My wife, no fan of thrillers, nonetheless got hooked on the Spenser novels and raced through them all in a month-long gallop one summer.
The long, complex evolution of Spenser's relationships with Susan, Hawk, and an ongoing cast of quirky cronies mandates that you read the thirty-odd installments in the series sequentially from the beginning, starting with The Godwulf Manuscript. That was a fairly mundane detective tale, but the introduction of Susan and Hawk in subsequent novels quickly raised the Spenser stories far above the competition.
Though the series lost some oomph after the first dozen or so episodes, Spenser will never bore you: These are short, very quick reads, and always rewarding. As an added bonus, at least once per novel you'll be treated to an enticing new recipe as gourmet cook Spenser prepares himself dinner while sorting out clues. Finally, if, like me, you've ever lived in or near Boston, Parker's guided tours through its familiar haunts will feel like a homecoming.
In his later years, Parker wrote some Westerns (which I haven't read) and launched a couple of other detective series—one about a small-town New England police chief named Jesse Stone, the other about a female detective, Sunny Randall. I haven't sampled Sunny's adventures yet; but for my taste, the Stone stories, while engaging, just don't have the same flair as Spenser's. (They work better for me as occasional made-for-TV films starring Tom Selleck, who nails the character beautifully.) I suppose my main problem with Stone is that he is far more flawed a man than Spenser. And for thriller reading, I prefer my heroes … well, heroic.
For a contemporary writer of detective-thriller fiction, about the most complimentary comparison would be to liken him to Robert B. Parker. Robert Crais has more than earned that comparison—but I think he has long since surpassed his predecessor.
Crais, a former screenwriter, conjured a tough, smart-mouthed L.A. detective enamored of rock music, Disney collectibles, and martial arts, and saddled with the unlikely moniker of Elvis Cole. Like Reacher, Swagger, and Spenser, Elvis is a private vigilante of sorts with an inviolate code of honor: a paladin traversing a dark, dangerous world, setting things to right for those deserving vindication, bringing righteous wrath down upon those deserving vengeance.
To accompany him on this quest, Crais gave him a deadly, steel-cold partner named Joe Pike. An ex-cop and former Recon Marine, Pike speaks in monosyllables and hides his ice-blue eyes behind mirrored sunglasses, 24/7. His rare attempts to smile come across as mere facial tics. In addition, Crais puts on parade the entire menagerie of La-La Land creeps and weirdos, Hollywood stars and shysters, crooked cops and loose ladies—everything you could want in a detective novel, and more.
The dialogue and sense of place in Cole stories ring as true as they do in the Spenser novels. Elvis's witty mouth runs like an open faucet, exasperating those around him but endlessly amusing himself (and the reader). His L.A. landscape becomes its own character, just as important to the series as Boston is to the Spenser novels; but his plots are more clever and complicated.
Once again, the lives and relationships of Cole, Pike, and the other inhabitants of their world evolve over time, so you'll want to start with the first stellar novel in the series, The Monkey's Raincoat. If you like Spenser, you'll love Elvis. And also Pike, who is now the hero of his own series of novels.
***
The preceding authors comprise my thriller A-Team; they're my favorites and, in my opinion, the best of the best. Which is why those of you who read HUNTER will find planted some obvious little tributes to these fine writers.
But saying that these writers are in the first rank doesn't mean that there aren't other dazzling talents out there writing terrific tales of heroism, adventure, suspense, and romance. There are, and I'll cast a spotlight on them and their works in my next installment.
***
(This article is expanded from one published originally in The New Individualist, a publication of The Atlas Society.)