Reviewers and admirers—including his fellow authors—have called #1 New York Times best-selling author Brad Thor "the master of thrillers," "as current as tomorrow's headlines," and "quite possibly the next coming of Robert Ludlum." Suspense magazine described him as "arguably the best political thriller writer of all time."
Set in the post–9/11 world of Islamist terrorism, Brad Thor's turbo-charged tales are loaded with international intrigue, frenetic action sequences, astonishing "insider" details of intelligence and counterterrorism activities, and provocative political perspectives. They've become mandatory bedtime reading for Washington leaders, as well as countless fans of suspense thrillers.
His late-July release, Full Black, held down the #3 spot on the New York Times bestseller list throughout August.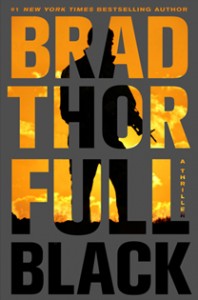 The tenth novel to feature tough counterterrorism hero Scot Harvath, Full Black is a dark, controversial tale that projects a conspiracy to bring down America via a nihilistic nexus of far-left radicalism and jihadist terrorism. It's another in-your-face, high-octane thrill ride by a writer who revels in Political Incorrectness.
I became hooked on Thor after reading his scary-real State of the Union a few years ago. I went to his website to learn more about his work, then began to participate in "the Thorum"—the raucously entertaining discussion board for eager fans of his works. I finally met the man himself while he was on a book tour in the D.C. area a few years ago.
That's when I learned that Brad Thor is not just a great thriller writer: He's also a great guy. Personable and funny, he enjoys establishing personal bonds with his multitude of readers. He's also active in supporting military-related charities, which—in addition to his patriotically themed stories—has endeared him to U.S. soldiers stationed around the globe.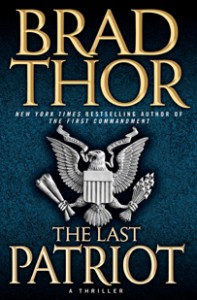 Trim, athletic, articulate, and handsome, Brad could be cast as a hero in the coming movie adaptations of his thrillers. Especially since this guy already knows his way around weapons and counter-insurgency tactics; he even tagged along with a small black-ops unit in Afghanistan a few years ago. His telegenic ease before the camera proved itself before he began writing thrillers, when he created, produced, and hosted an award-winning show, "Traveling Lite," on public television. He's a fixture on conservative talker Glenn Beck's programs, and on cable TV news shows, where he is outspoken about public-policy issues.
Born in 1969, Brad was bitten by the writing bug during childhood. He switched from studying business administration to creative writing at the University of Southern California, and after college, he traveled to Paris with his laptop, meaning to write his first novel. But fear of failure led to a long period of paralysis. Instead of writing, he began to tour Europe on a shoestring, which gave him the idea for his "Traveling Lite" show.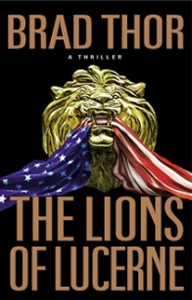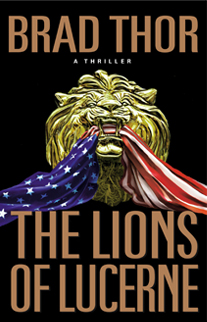 A few years later, during his around-the-world honeymoon, his bride, Trish, asked him: "What would be the one thing you'd regret on your deathbed not having done?" Without pause, Brad replied: "Writing a novel and getting it published." Trish insisted that when they returned home, he set aside a couple of protected hours each day to do just that.
One year later, he had completed his first thriller, The Lions of Lucerne. Set in Switzerland, it introduced Brad's intrepid hero, Secret Service agent (and former SEAL Team 6 operative) Scot Harvath, in a race against time to rescue a kidnapped American president. As I wrote in "The Best Thriller Writers—Ever": "The plot is Byzantine in complexity; the international locales brim with colorful, you-are-there detail; and the special operations and tactical procedures provide realistic, 'insider' details—three constant hallmarks of Thor's writing."
With publication of the hot-selling Lions in 2002, the rest, as they say, is history.
Last year, Brad branched out from the Harvath stories with The Athena Project. It launches a new series featuring a team of female Delta Force operatives. As always in a Thor novel, that concept is drawn from real life: there are such operatives.
The Vigilante Author recently invited Brad to answer some questions about his writing career, and he graciously consented:
***
The Vigilante Author: Brad, when did you first know that you wanted to be a writer, and what early influences—personal or literary—propelled you in that direction?
Brad Thor: I have wanted to be a writer ever since I was a little boy. I was always a voracious reader and believe that's the key to being a good writer—you have to love to read.
The Vigilante Author: How have your motives or mission as an author evolved in the years since? What are you trying to accomplish now, personally or in terms of some wider impact?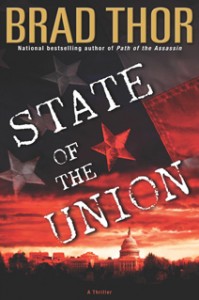 Brad Thor: I want people to have a better understanding of how the world works through my novels. First and foremost, I'm an entertainer, of course. I want to give you the best, white-knuckle thrill ride I'm capable of. If I do that, then I've done my job as an entertainer. If you walk away from reading my novels having learned lots of interesting things, especially about national security, politics, and even how terrorism works, then I think I've done my job as an American. One of the things I love hearing is that people read my books with their laptops open so that they can look up things on the web. I think that's fantastic.
The Vigilante Author: Every highly successful author seems to "brand" his work to be distinctive—to stand apart from books by other authors. What distinguishes your stories—and especially your fictional hero, Scot Harvath—from tales and heroes by other political-thriller writers who address the threat from international terrorists?
Brad Thor: What marks Scot Harvath is his dedication to the SEAL philosophy that failure is not an option. The only outcome, no matter what the cost, is success. If it means breaking the rules, he does it. It also means not being hamstrung by traditional rules of engagement. There is no Marquess of Queensbury for Harvath. Since the enemy doesn't play by any rules, neither does Harvath.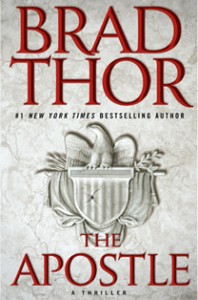 There's an additional component reflected in Harvath's character that I feel is also important to bring attention to. For others to enjoy the American dream, it must be defended. That's what Harvath does and in so doing, he is forced to forego his own enjoyment of that same dream. It is an incredible sacrifice. The only reason the sheep can sleep peacefully is because the shepherd watches over them at night.
The Vigilante Author: Many tough-guy thriller heroes operate outside the law, as "lone-wolf" vigilantes. But while he's certainly a tough, independent-minded individualist, Scot Harvath also seems to be just a bit more of a team player: He often works with small groups of fellow operatives on secret U.S. government missions. So, do you see Harvath as fitting the traditional "lone-wolf hero" image, or do you intend for him to represent something a little different?
Brad Thor: Harvath is an interesting contrast. Having been a SEAL, he's used to operating on a team. He's also comfortable operating alone. He straddles that line and sometimes it works to his advantage and sometime it doesn't.
In my latest novel, Full Black, I took the team experience for Harvath to a new level by putting him in a leadership role for part of the book. That was interesting as he had to learn to delegate and allow the rest of the team to do what they were trained to do. It turned out to have some stunning consequences that made for an even deeper storyline.
The Vigilante Author: I know how deeply concerned you are about ideas and trends in American politics that pose threats to our constitutionally protected liberties. In Full Black, you dare to link the world of international terrorism to some of these domestic ideas and trends. I wonder if we might expect some future Brad Thor novels to explore hot political issues that are not necessarily related to international terrorism? Can you tell your fans what's on tap?
Brad Thor: I don't want to give too much away, but I was really pleased to see how much of Full Black resonated with people. I think it helped explain a lot of the inexplicable that is happening on our doorstep right at this very moment. I took a lot of complicated issues and broke them down in an engaging and exciting manner. It doesn't mean I dumbed them down. My readers are some of the smartest in the business and that would never fly with them. What I did was take issues that a lot of people wanted to know more about and weaved them into the plot. It was a lot of fun for me.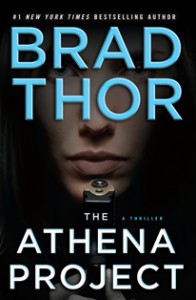 As far as what's coming up, my goal is always to be better than the last book—to top it. There's a lot going on at home and in the world that I think people are suspect of, but haven't had been able to connect the dots on. The new book has literally kept me up at night. The more I dig, the deeper down the rabbit hole I go. The task is to bring the subject matter all together in one solid, exciting book. I think the material is so explosive that it will actually change how people in this country literally live their lives. It's that big.
The Vigilante Author: What key lessons or bits of wisdom have you learned along the way that you might be willing to share with budding fiction-writers like me—either about the craft of writing, the attitudes and habits it requires, or the writing business? In short: What does Brad Thor wish that he had known fifteen years ago?
Brad Thor: There are so many great pieces of advice. One of my favorites is don't listen to people who tell you to write what you know. If that was good advice, we never would have gotten Tom Clancy. He was selling insurance before he became a writer.
Write what you love to read. That's where your passion resides and believe it or not, by having read a bunch in that genre, you've developed a mini-PhD. You know why you loved certain books and why others (even by the same author) fell flat. You've got a feel for pacing, plotting, chapter length…all of it. You've spent so much time immersed in that genre that you're entitled to consider yourself a sub-expert.
Another great piece of advice comes from Anne Lamott's book Bird by Bird: Some Instructions on Writing and Life. I discovered Anne when I had my first (and, thank God, only) bout of writer's block. It happened while I was working on my novel Takedown—which is the first of my novels Hollywood is turning into a movie.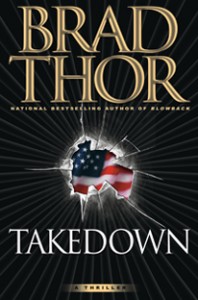 I was completely vapor-locked on the book. I began looking around for any help I could find and discovered Anne. She said one thing that completely cured my writer's block and I come back to again and again—give yourself permission to write a sh*tty first draft.
Sounds simple, doesn't it? It is. It's also a very clever way to get you to let go of your stress. The secret to Anne's secret is that if you trust your process and don't over-judge and overanalyze yourself, you're going to turn in a great first draft.
As far as what I wish I had known fifteen years ago, I can honestly say there's nothing. If I knew everything there is to know, this wouldn't be any fun. I enjoy not knowing everything and learning as I go. As Robert Frost so wonderfully said, "No surprise in the writer, no surprise in the reader."
I'm constantly being surprised and I wouldn't trade that for all the success in the world.
The Vigilante Author: Brad, thanks so much for your time. We look forward to seeing the further adventures of Scot Harvath and of the "Athena Project" team in print and on the big screen.
***
Brad Thor has posted
further advice for writers here
, on his website.
And stay tuned for The Vigilante Author's forthcoming review of Full Black.