My list of seven "best thriller writers" in the previous post came with some important caveats—such as the fact that they're really only "the best I've ever read," and that I couldn't possibly be familiar with all the great thriller authors out there.
As you would expect, some people have complained about the inclusions and omissions, others about the categorization of a few detective writers, such as Robert B. Parker and Robert Crais, on a "thriller" list. Fair points. The boundaries of what can be encompassed by the generic term "thriller" are vague enough that we are justified to split hairs. Still, concerning the latter point, many cerebral detective stories contain little physical action and few cliff-hanging perils (think Sherlock or Miss Marple), while others (such as those by Crais and Parker) are packed with plenty of both. So, some detective stories, I think, ought to bleed over into the thriller category. (Pun intended.)
By any measure, though, seven names can't begin to exhaust the category of great thriller authors. Then there's the matter of great stand-alone thriller works. Let me follow up with a host of other writers and titles I've encountered over the years—again with the caveat that I'm constantly discovering new worthies, and that I aim to give them plenty of attention in future posts.
Once more, the following are listed in no particular ranking suggesting relative merit; they all are worthy of your attention.
***
NELSON DeMILLE. Here's a thriller veteran who for many years has served up big, well-researched, solidly character-driven novels with clever plots and plenty of action. DeMille's stories have ranged from The General's Daughter, a cunning murder mystery in a military setting, to The Charm School, a consummate Cold War spy thriller, to Plum Island, a story of deadly intrigue set on Long Island.
Plum Island is written in first person from the point of view of NYPD homicide cop John Corey, another wise-cracking maverick who's so appealing that he's broken out to become an ongoing series character. Corey is crusty, independent, very smart, and very funny. His best adventure to date, in my humble opinion, was The Lion's Game, a chilling novel about terrorism published in 2000—made especially scary because DeMille was stunningly prescient about the kind of terrorist attacks that were to come to New York City only a year later.
Strictly in terms of literary quality, DeMille shines. The Lion's Game, for instance, alternates in viewpoint from that of Corey, presented in the first person, to that of the terrorist, narrated in the third person. It's extremely difficult to write that way without distracting the reader. For example, Robert Crais has employed the same device in several recent novels and I don't think he's been entirely successful. But DeMille somehow makes it work without calling too much attention to itself.
The man is a master who will amply reward your investment of time.
JACK HIGGINS. That's the pen name for Harry Patterson, an Irish-born writer who also published many years ago under the pen names James Graham, Hugh Marlowe, and Martin Fallon. A prolific writer for more than five decades, Higgins crafts engrossing, suspenseful plots with great heroes and villains who are characterized by a devil-may-care gallantry in action. Years back, he and I corresponded a few times, and he explained the core of his appeal: "The Higgins hero will always go back for the girl."
You always feel a sense of nobility and grandeur in Jack Higgins's protagonists. Even many of his bad guys aren't all bad: His professional assassins, IRA terrorists, and Nazi officers frequently reveal a strong personal code of ethics and a redemptive sense of honor.
Unlike most of the other novelists I've mentioned, Higgins's style is much more impressionistic—spare and stripped down to strong nouns and verbs, providing characterization and local color in a few bold, broad strokes of the pen. (Literally: He still writes long-hand.) But his plots are strong, fast-moving, and dramatic.
Among the best of his scores of books: The Eagle Has Landed (his breakthrough novel), A Game for Heroes (my personal favorite), Solo, The Run to Morning, East of Desolation, The Khufra Run, The Savage Day, Night of the Fox, and the haunting A Prayer for the Dying. These are mostly older titles; the books he's written during the past decade or two are sometimes disappointingly derivative, with recycled ideas and even character names. But at his best, Jack Higgins is a wonderful thriller writer.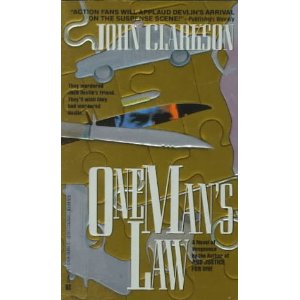 JOHN CLARKSON. Here's a thriller author that almost nobody knows about, and I'm delighted to bring him to your attention, for he's become one of my favorites. Clarkson's first novel, And Justice for O­ne, introduced Jack Devlin, an action hero best described as a cross between Mickey Spillane's Mike Hammer and Lee Child's Jack Reacher. It's a brutal, violent tale of revenge that stays with you a long time. And you'll love Devlin.
Clarkson followed this with One Man's Law, a Devlin novel almost as good as the first, then One Way Out, which for me was a bit of a let-down. But try the first o­ne, if you can find it, and I'll bet you want more. Clarkson also has written a couple of other thrillers in recent years without Devlin as the hero. A fascinating, gripping, and totally unconventional one is Reed's Promise, a mystery thriller whose tough-guy hero is an amputee. Improbable? Clarkson pulls it off brilliantly, offering a remarkably fresh and rich character study along with plenty of thrills.
ALEX BERENSON. In 2006, New York Times reporter Alex Berenson made his stunning debut on the thriller scene with The Faithful Spy, a tale with a dandy premise.
John Wells, a patriotic young CIA officer, has managed to infiltrate al Qaeda. He has been off the grid and out of touch with his Agency handlers  for a decade. Under the constant influence of his comrades, he has converted to Islam. Now, al Qaeda has plotted a deadly attack on the United States. And John Wells has re-established contact with the CIA. He is coming home. But where do his true loyalties now lie? Is he part of the conspiracy–or America's only hope to prevent it?
After this terrific launch, Berenson has followed on with excellent sequels, including The Ghost War, The Silent Man, The Midnight House, and The Secret Soldier. He has drawn upon his experiences in the Middle East to become a first-rate thriller author, whose meticulous attention to detail and subtle style remind me a lot of Daniel Silva. I highly recommend his work.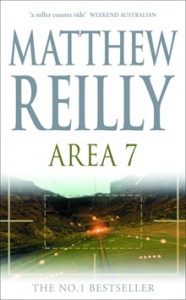 MATT REILLY. This young Aussie is a recent discovery for me, and I've sampled only a few of his books. But I've enjoyed what I've read.
Reilly is a brilliant storyteller whose strengths are larger-than-life heroes; furious, headlong action scenes;  ingenious, "high-concept" plot premises; and exotic settings, rendered authentically by means of exhaustive research. His weaknesses are a certain crudeness in writing style and superficiality in characterization; but he propels his stories along at such a breathless rush that I don't even care.
Reilly has written some wild sci-fi and supernaturalistic tales that I just couldn't get into. But I like best his novels featuring an indomitable, Joe Pike–like Recon Marine (sunglasses and all) named Scott "Scarecrow" Schofield. Reilly introduced him in the white-knuckle Ice Station and continued his exploits in Area 7 and Scarecrow. A new "Scarecrow" tale is on its way into print in December 2011, and I'm eagerly waiting for it.

GAYLE LYNDS. If you want to see a list of great credentials to write spy thrillers, check out what Gayle Lynds has on her job history. She has been a journalist, an editor, and an employee at a military think tank where she had a top-secret clearance. She's a member of the Association for Intelligence Officers. She co-authored three bestsellers with the late thriller legend Robert Ludlum. She co-founded International Thriller Writers, Inc.
So, yes, she has all the background needed to turn out rich, complex tales filled with action, espionage tradecraft, and intrigue, such as Masquerade, The Coil, The Last Spymaster, and The Book of Spies. Add to that a fertile imagination, and you have a top-tier thriller writer.
I met Gayle at a writers' conference and asked her which of her books to start with, and she suggested The Last Spymaster. And it was a marvel of an espionage story. Full-blooded characterizations, a tangled spiderweb of a plot, lots of breathless action, all mixed in with huge dollops of spycraft. It's one of those you-don't-know-who-the-good-guys-really-are tales, but you're delighted when you find out.
Check out the lady whom I've dubbed "the Mistress of Modern Spy Novels." You won't be disappointed.
MARK GREANEY. It's always a kick to watch new, young talent burst onto the writing scene. And that's exactly what Memphis author Mark Greaney did in 2009 with the publication of his adrenaline-charged thriller The Gray Man.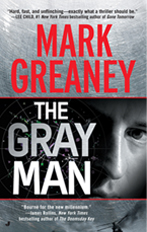 A rocket-paced chase tale in the style of the Jason Bourne adventures, the novel introduces us to ex-CIA assassin Court Gentry, "the Gray Man." He now works as a contract killer–in fact, the best assassin in the world–but he does have his standards. He won't kill anyone who doesn't deserve it, so his targets invariably include the worst scum on the planet.
But now his old boss is in trouble. So are his kids. And the Gray Man is their only hope. But to save them, he must run a gauntlet across Europe, where at each stop the most proficient killers from the deadliest national paramilitary units in the world are waiting to stop him. It's one man against an army of assassins.
The premise alone makes it a must-read thriller, but Greaney's execution of the story is dazzling. The nonstop action sequences are riveting in their detail and intensity. And that's not surprising. Greaney, who has a degree in International Relations and Political Science, heavily researches his novels. He travels extensively abroad; has had private paramilitary-style tactical training in firearms, close quarters battle, and battlefield medicine; and has obtained an Open Water SCUBA certification. As a result, his stories present the real deal in their depictions of weapons, battlefield injuries, military and intelligence units, and tactics during firefights.
The Gray Man is now in pre-production as a major motion picture. But I don't know if the film can possibly live up to the book. If it does, it will launch another film thriller franchise a la "Jason Bourne." Meanwhile, Court Gentry's adventures continue in On Target and the latest novel, Ballistic, which hits the bookstores on October 4.
MICHAEL WALSH. One of the most annoying aspects of my work schedule is lack of time to more than sample certain authors. Over a year ago, I discovered and read Michael Walsh's 2009 thriller Hostile Intent, which introduced a deadly, self-sufficient, one-man army, code-named Devlin.
In the 007 tradition of such characters, Devlin is a maverick, never-by-the-book, lone-wolf operative who works for an obscure department of the NSA called the Central Security Service (which author Walsh assures us is for real). This is one of those cat-and-mouse tales in which Devlin, who is usually the cat, becomes the mouse for an old adversary. Or is it just one adversary? Suddenly we're propelled into an international conspiracy at the highest levels–one that compels Devlin to confront his past and consider his future.
That future continues in Early Warning and Shock Warning, where the mysterious Devlin faces down new perils. Those two are stacked on my nightstand. And I'm confident that, given the skill that Walsh demonstrated in Hostile Intent, they will be just as good.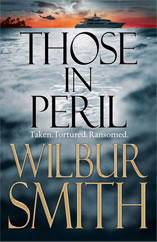 WILBUR SMITH. For decades, Smith has been a superior craftsman of macho adventure. Best known for several long series of sprawling, multigenerational historical adventures set in his native South Africa, he's also penned some fine contemporary action masterpieces.
A memorable story set in the early days of international terrorism was The Delta Decision (also titled Wild Justice), a tale so suspenseful that I defy anyone to put it down during the first hundred pages. My personal favorite, however, is Hungry As the Sea, which, though not a shoot-'em-up sort of thriller, has o­ne of the best heroes and some of the most exciting action sequences you'll ever read, packed into a rich, romantic story. You'll love its sense of life.
DAVID MORRELL. A fine contemporary thriller writer, whose First Blood gave our culture the immortal Rambo, Morrell handles characterization very well and creates dazzling action scenes. I'm especially a fan of his earlier works: The Brotherhood of the Rose, The Fraternity of the Stone, and The League of Night and Fog. However, many of his stories (e.g., Double Image, Burnt Sienna) are tinged with downbeat, even cynical tones. So, if that's not for you, let the buyer beware. Still, for mastery of the art of writing compelling, exciting fiction, you won't find many authors better than David Morrell.
NEIL RUSSELL. If you want to write thrillers, having a background as a producer of movie and TV blockbusters is a good way to acquire schooling in storytelling. Neil Russell has been a senior executive in just about every one of the biggest studios in Hollywood. It doesn't hurt also to be a member of the Naval War College Foundation and former board member of the Institute for Foreign Policy Analysis.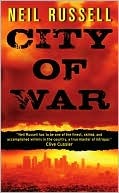 Russell has turned to thriller-writing in his spare time, and the result is a new series featuring Rail Black, a former Delta Force operative, now a billionaire knight errant. In City of War, Black is stuck in his Rolls-Royce in L.A. freeway traffic–not the sorriest of circumstances–when a stunning young naked woman jumps from the back of a nearby van. Even better, she winds up in his Rolls. One thing leads to another, and the girl reveals that she possesses delicate information that has bad guys hot on her trail.
Thus begins a tale filled with action, suspense, and the kind of salacious Hollywood "insider" gossip that only a Hollywood insider like Russell would know. It's frantic fun, though the language can be a bit raw. Rail Black's exploits continue in Wildcase.
VINTAGE THRILLER WRITERS
Today's first-rank action authors stood on the shoulders of giants. If you're not familiar with the great thriller masters of the past, I urge you to go online to Bookfinder.com or haunt second-hand paperback shops to rediscover the brilliant work of the following writers from decades past.
***
ALISTAIR MacLEAN. In 1955, this late Scottish writer made his memorable debut with a classic wartime naval adventure, H.M.S. Ulysses. Before long, Alistair MacLean set the standard for modern thriller writing. He was the pioneer of heroic, man's-man action stores, and he's been a seminal influence on countless other authors.
MacLean's justly famous titles—especially his earlier ones—remain as compelling and entertaining as when first published. You just can't go wrong with The Guns of Navarone, Where Eagles Dare, Ice Station Zebra, The Golden Rendezvous, When Eight Bells Toll, and Night Without End. And if you've seen some of the exciting film versions of these, let me assure you: The books are even better.
Run, don't walk, to your nearest used bookstore and try to find his books. If you can't, prowl around for them online. You'll be glad you did.
DESMOND BAGLEY. Another terrific Brit thriller author, Bagley wrote a lot like Maclean, but with extra servings of cunning intrigue in his memorable tales. Running Blind, The Golden Keel, and The Spoilers are among his best.
There's a sophistication to Bagley's style that marks the work of a careful, first-rate craftsman. His plots are constructed brilliantly. If you have never heard of him, it's only because despite his lofty reputation in the UK, he never quite caught on in the States. But any thriller reader or author would benefit and delight from sampling his fine work.
MICKEY SPILLANE. Yeah. The Mick. Founding Father of hardboiled, private-eye thrillers. Punchy dialogue. Scenes that whiz by like .45 rounds. Vintage, mid-twentieth-century male chauvinism that will make you laugh … alas, nostalgically.
Mickey's break-the-mold, tough-guy hero, Mike Hammer, became a cultural icon in the late '40s and early '50s. And you'll see why if you pick up the first in the series, I, The Jury. Mystery. Beautiful, voluptuous dames. A shocker ending that will blow you away. And a two-fisted hero who's often imitated but rarely equaled in modern fiction.
The first half dozen or so of the Hammer stories were all very good, with One Lonely Night being perhaps the very best. A word to the wise, though: Mike Hammer has never been properly rendered on-screen, see? So hey, pal, don't let those cheesy TV and film versions stop you from giving Mike a fair shot.
Donald Hamilton. I urge you to sample this late author's "Matt Helm" series. Like Mike Hammer, Matt Helm, a '60s-era spy hero, has been vandalized and satirized on the big and small screen. In the novels, he's a mature, tough-as-nails agent as far removed from the persona of bon vivante Dean Martin as is Uma Thurman from Rosie O'Donnell.
The first novel in the series, Death of a Citizen, remains one of the finest, most gripping spy thrillers you'll ever read, and I'm confident it will hook you o­n Helm. Incidentally, author Hamilton was a gun expert and even penned a volume On Guns and Hunting, so the gunplay described in the novels bears the stamp of authenticity.
Ian Fleming. What can I say about the creator of James Bond that hasn't already been said? No list of thriller authors would be complete without him. Sexy girls, international intrigue, daring escapes, larger-than-life villains–what more could a thriller fan want?
Plotting was not Fleming's strongest suit, but his delightfully original characters, led by 007 himself, have justifiably become immortal figures in popular culture. I was delighted when the impressive 2006 movie adaptation of Casino Royale, the first Bond story, gave the film franchise a new lease on life, bringing new readers to this classic thriller series.
THE BEST OF THE REST
Let me conclude with a few more recommendations of thrillers and authors that merit your attention.
* One of the finest tales of international intrigue I've ever read was The Red Fox, the debut novel of Canadian novelist Anthony Hyde.
* I liked Tom Clancy's Without Remorse, but I confess I haven't yet gotten into Clancy that much.
* Though I find Clive Cussler a crude writer, I enjoyed his Raise the Titanic! more than hero Dirk Pitt's subsequent adventures.
* John Gilstrap has launched a fine new thriller series based on Jonathan Grave, a freelance specialist in covert rescues. No Mercy, the first in the series, was wonderful, and I strongly recommend it.
* The late mystery writer Dick Francis writes a lot like Jack Higgins, tight and lean; a standout in my memory was his early thriller Nerve.
* I enjoyed early Ken Follett novels, especially The Eye of the Needle and The Key to Rebecca.
…and, dammit, there a so, so many more, but I have to stop somewhere. My only solace is that I'll be casting a spotlight on more great thriller authors, new and old, as I discover them. So again, don't think this list is exhausted; only my fingers are. Meanwhile, I've given you more than enough reading assignments for many years of armchair thrills.
The good news is that as long as the human spirit craves adventure, self-assertion, and romance, fresh new talents skilled in the art of storytelling will always come along to try to satisfy those appetites. I say "try," because I know that they'll never quench our thirst for thrilling stories of men and women at their adventurous best.
***
(This article is expanded from one published originally in The New Individualist, a publication of The Atlas Society.)