Any fan of movies or television has probably encountered the products of Neil Russell. A former senior executive of Paramount, Columbia, MGM/UA, and Carolco Pictures (which produced the "Rambo" movies, "Terminator 2," and "Total Recall"), Neil also founded and led Carolco Television Productions. He's produced or funded over thirty films, and right now he's president of Site 85 Productions, which creates and acquires intellectual properties for entertainment media.
You'd think that all this would be enough to keep the man busy. But in 2010, Neil turned his hand to writing thrillers.
City of War marked the debut of his formidable tough-guy hero, Rail Black–an ex-Delta Force operator who also happens to be a billionaire. Black uses his vast wealth and deadly skills to help friends in harm's way. He's a kind of hybrid of Bruce Wayne, James Bond, and Chuck Norris…if Norris stood about a foot taller.
New York Times best-selling spy author Gayle Lynds described City of War as "utterly gripping," a "fascinating mystery" with "exciting suspense that doesn't release the panting reader until the last page." He has followed on with two Rail Black sequels, Wildcase, and the forthcoming Beverly Hills Is Burning. Neil is a traditionally published author; his books are issued by HarperCollins.
Neil contacted me in May 2010 after reading and enjoying my article (archived here) about my favorite thriller authors. He was kind enough to send me a copy of City of War, and we've corresponded a number of times since. It's only proper that this emerging presence in the thriller field have some face time with "The Vigilante Author"…especially since his own hero, Rail Black, is a vigilante, too.
~*~
The Vigilante Author:  Neil, why don't you tell my readers a bit about your own vigilante hero.
Neil Russell: My character, Rail Black, is a billionaire living in Beverly Hills, with a unique set of skills. He does not take cases. He helps friends, many of whom are also rich. But there are no ticking bombs set to blow up the world. These stories start out very personal then expand.
The Vigilante Author: Describe a typical Rail Black adventure.
Neil Russell: It's a mix of mystery, sex, and mayhem taking place in glamorous places, often involving glamorous people.
The Vigilante Author: What are the main influences on the kind of tales you write, Neil?
Neil Russell: My literary heroes are many, but my fiction is influenced by John D. MacDonald, Harold Robbins, and a whole lot of movies.
The Vigilante Author: I can certainly see some of John D. MacDonald's protagonist, Travis McGee, in your knight-errant hero, and I see the Harold Robbins in your steamy sex scenes.
So, tell me: What prompted a successful Hollywood deal-maker to start writing thrillers?
Neil Russell:  I didn't write a novel until three years ago, and then it was because I wanted to make a motion picture from a story I couldn't get anyone else to write. I have sold screenplays for a considerable amount of money, but I am primarily an executive who raises money, makes deals, then oversees the manufacture of filmed entertainment.
The Vigilante Author: That reminds me of something Lee Child said to me. He said he primarily wanted to be an entertainer, not necessarily a writer. He'd been a TV director in Britain and started writing thrillers only because he got laid off. So, like him, your main motive is entertainment, then?
Neil Russell: I have stories to tell, and we're turning them into movies. That would translate into money, which puts a lot of people to work. It doesn't hurt me, either.
The Vigilante Author: Neil, I'm the last guy on the planet to criticize the legitimacy of money-making as a goal!
You know, a lot of wannabe writers complain that they don't have time to write; then if and when they start, they complain about being stymied by all sorts of creative problems. How about you?
Neil Russell: I really don't have any problems writing, just finding the time from my main business.
The Vigilante Author: I'm impressed that a guy as busy as you are has any time at all for writing. So, when you do sit down to write, what are your methods? Do you outline heavily or just let inspiration guide you?
Neil Russell: Probably because of my movie background, I think in terms of what we call "money scenes" then write them. After I have what I think are enough, I go back and bridge the scenes.
I have only a general idea of a plot when I start. It arrives in process. I tried an outline once and got bored with the story because I had to figure it out before I wrote it. I like to be surprised right along with my character. It makes each day at the computer an adventure.
The Vigilante Author: Besides wanting to create stories that might find their way to the Big Screen, is their anything else that motivates you to do this?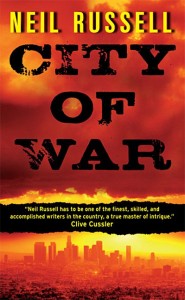 Neil Russell: If writing is not self-fulfilling, nobody should do it. God knows, except for a few writers, there's no serious money in it. It's always nice to have other people enjoy your stories too, but people are busy with their own lives and don't have a lot of time to tell you how wonderful you are. So you have to be mirror-oriented.
The Vigilante Author: "Mirror-oriented"? You mean, you have to be focused on pleasing the guy in the mirror?
Neil Russell: You've got to like the guy you see and the words he writes. Everything else is a lottery win.
The Vigilante Author: Amen to that. Why don't we wrap it up with you telling us something about your forthcoming novel.
Neil Russell: Beverly Hills is Burning is the third Rail Black novel, and it takes place in Hollywood, Cuba, and Laguna Beach. Since my background is in the movie business, it takes readers into that world through a mass murder inside a movie company that is really something else—but then aren't all murders indeed something else? Doing a favor for a friend, Rail ends up owning a movie company. And there's nothing fun about this place. Nor about Valentine Jones, the woman who is about to star in its biggest picture.
From ninety years in the past, a time when gangsters and tycoons roamed the earth and Hollywood together and scratched each other's wallets, Rail is thrust into a story of murder, duplicity, money, and power. And somewhere, out there, is Matty Aspirins, a hitman on a mission all his own.
This story is fiction and contemporary, but many of the people and incidents are extrapolated from an earlier time in the industry, when the bad, the powerful, and the famous lived, worked, and played together. I think because my family goes back to nickelodeons, there is an authenticity and look behind the curtain you don't often get.
I should caution anyone who has not read my previous novels, though, that I write about sex and violence in a sometimes graphic way. But there are a few laughs as well.
The Vigilante Author: We'll consider ourselves warned. Thanks so much for taking the time out of your busy schedule to tell us about your work, Neil. I hope this interview wins some new fans for Rail Black, and I wish you every success with the new novel.
~*~