Thriller writers are some of the most interesting people in the world. And Jennifer Chase is certainly one of the more interesting thriller writers I've encountered.
Jennifer is a multiple-award-winning author, freelance writer, and a criminologist. She has written and "indie"-published four sizzling crime-fiction thrillers: Compulsion, Dead Game, Silent Partner, and Dark Mind. She's also authored a nonfiction book, How to Write a Screenplay. When not writing, this very busy and accomplished lady assists clients in publishing, ghostwriting, book reviews, blogs, articles, screenwriting, editing, and research.
Motivated by an intense curiosity about crime, and the varied connections between the actual crime and the criminal mind, Jennifer obtained a bachelor degree in police forensics, a master's in criminology, and certifications in serial-crime and criminal profiling.  She's also a member of the International Association of Forensic Criminologists. That impressive academic background enables her to write thrillers and true-crime works that exude the unmistakable air of authenticity.
Jennifer was born, raised, and still lives in California with her husband, two dogs, "and two incorrigible cats." Somehow, between all her other time commitments, she manages to find time to enjoy the outdoors, beaches, hiking, and photography. And to host a show on BlogTalkRadio!
What further intrigues me about Jennifer is that she has a female vigilante heroine as the protagonist of her series of novels. Emily Stone was introduced in her debut novel Compulsion, tracking down serial killers and child pedophiles anonymously. Having lost her parents to an unknown murderer at age twelve, Emily first trained as a police officer. But now this tough, Bobcat Beretta-toting woman devotes her every waking moment to profiling, tracking, and capturing serial killers for the cops—all behind the veil of vigilante secrecy.
Any wonder why I was so eager to interview Jennifer Chase?
~*~
The Vigilante Author: Jennifer, apart from our both owning pet cats, you and I seem to be a lot alike in other ways, too: in our perspectives about crime, in the fact that we both have backgrounds involved with criminal justice, and in that we both write about vigilante heroes—or in your case, a vigilante heroine. Which I find distinctive and intriguing.
First, though, congratulations on the success of your latest thriller. Why don't you introduce it to readers here?
Jennifer Chase: Thank you! It's very exciting! My newest thriller is called Dark Mind. It's part of the Emily Stone Thriller Series. But take note, you don't need to have read the two other books up to this point, unless of course you're a bit curious.
In Dark Mind, a serial killer plagues an island paradise. Vigilante detective Emily Stone continues her covert pursuits to find serial killers and child abductors, all under the radar while shadowing police investigations.
Emily searches for an abducted nine-year-old girl taken by ruthless and enterprising slave brokers. Following the clues from California to the garden island of Kauai, she begins to piece together the evidence and ventures deep into the jungle.
It doesn't take long before Emily is thrown into the middle of murder, mayhem, and conspiracy. Locals aren't talking as a serial killer now stalks the island, taking women in a brutal frenzy of ancient superstitions and folklore. Local cops are unprepared for what lies ahead. In a race against the clock, Emily and her team must identify the killer before time runs out.
The Vigilante Author: So how would you characterize your book—as a private-detective mystery?
Jennifer Chase: Dark Mind is a psychological thriller intertwined with crime, mystery, and police procedural aspects.
The Vigilante Author: Okay, so how did a nice girl like you get involved in crime investigations and start writing novels about nasty serial killers?
Jennifer Chase: I was born and raised along the beautiful Monterey Bay of California. I was a somewhat typical kid growing up with two older brothers, which I think made me tougher than most girls. And, it gave me the knowledge to know my way around a car engine and I understand the various strategies of most professional sports. Adult life took over and I went into business and accounting.
The Vigilante Author: Accounting? I wouldn't have expected that. I couldn't stay awake during accounting classes in college. How did you find it to be?
Jennifer Chase: Boring! Writing was always on my mind. Then to make matters more complicated, I had a terrible experience living next door to a "real" psychopath that threatened to kill me (almost every day) for more than two years. The stories I could tell you…
The Vigilante Author: You're reminding me of Ann Rule, the famous true-crime author. She told me that she got interested in studying and writing about serial killers because she knew Ted Bundy before he was arrested and exposed as a multiple murderer. How did living next to a psychopath affect you?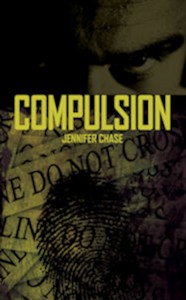 Jennifer Chase: This enticed me to study criminal psychology, forensics, and get to know the law enforcement community. I went back to school earning a bachelor degree in police forensics and a master's degree in criminology. As I was completing my master's thesis on serial crime in 2008, I wrote my first crime novel, Compulsion. From that point on, I was absolutely hooked on writing crime fiction and haven't looked back.
The Vigilante Author: Well, you were a much more diligent student than I. So how do you explain the transition from just doing criminology and profiling, to writing fiction? Any early influences that you can point to?
Jennifer Chase: I was lucky that reading was important and deeply instilled in me as a child. I loved reading ever since I cracked open that first book, My Little Kitten. When I was about five years old, my mom would take me once a week to the public library. I would carry as many books as I could on any subject. I dreamed of what it would be like to become an author.
The Vigilante Author: That sounds so much like what Lee Child told me about his childhood experiences in his interview here. Any pivotal moments that you can point to?
Jennifer Chase: I remember the day when I was a freshman in high school and my English teacher sat me down after class and asked me if I ever thought about becoming a writer. At that time, I shrugged with an aloof attitude and didn't really give him a straight answer. I thought writing was for the select and lucky few, and my mind was directed more at business at the time.
But writing was always on my mind. Writing is something that once it touches you, it's difficult to push away. Basically the only thing left to do is take that invigorating plunge.
The Vigilante Author: What books have been influential on you, and which authors have been role models?
Jennifer Chase: Early on I loved books like The Secret Garden and Nancy Drew Mysteries—
The Vigilante Author: I can see that influence!
Jennifer Chase: —but as I grew older I devoured books by J.R.R. Tolkien, C.S. Lewis, and Stephen King. Today, authors that I can't live without are Dean Koontz, David Baldacci, Vince Flynn, J.T. Ellison, Tess Gerritsen, and too many other thriller writers to list.
The Vigilante Author: What were your take-aways from these authors?
Jennifer Chase: I really studied the writing style and was influenced by the books from Dean Koontz and the earlier works of James Patterson. The short chapters, swift, evocative descriptions, clever dialogue, and of course the crime thriller quality to them.
The Vigilante Author: How do you stay motivated to write each day? And is there anything in particular that you are trying to "say" or impart through your stories?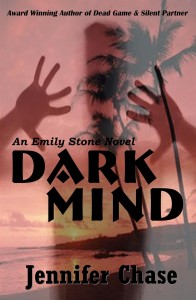 Jennifer Chase: Once you've been writing for a while, it seems strange not to write. The more I write, the more I'm inspired. I have so many ideas for upcoming stories and some are inspired by our crime and culture. I will continue to write crime fiction, but I do want to venture out into the true-crime genre someday.
One aspect of my fiction is that I try to impart something to the readers that not everybody knows about or understands as it relates to crime, public safety, police investigation and forensics, criminal psychology and profiling. I believe that we all need to be informed and aware of what goes on around us in our neighborhoods and communities. If I can make a reader say to themselves, "I didn't realize or know that," then I've really accomplished something.
The Vigilante Author: Boy, can I ever relate to that. I came at this from precisely the other direction, Jennifer: I started with true-crime investigative articles, and I've now made the transition to writing fiction rooted in what I learned. During that period, I also encountered people in the criminal justice system—including crime victims—and did research on sociopaths and serial killers. So it seems we're a lot alike—but just swapping career hats in mid-stream.
Anyway, I often ask authors about the hard personal choices and trade-offs involved in the writing life. Non-authors think it's all glamor—book signings and travel and public appearances and money. But we know otherwise, don't we?
Jennifer Chase: Writing a novel is not for wimps! Seriously, it is very difficult at times because of the isolation. For me personally, I find that I tend to become less social when I'm working on a book project. I make a special effort to take frequent breaks, exercise, walk my dogs, and set up times to do fun things with friends, even if it's just taking walk in the park or a quick, informal lunch. I find that my mind relaxes and I'm much more productive when I do return to my computer.
The Vigilante Author: That's advice I ought to take to heart. I tend to be too much of a recluse when I'm on a project. Which leads me to ask you about—well, since you're a trained criminologist, let's call it your literary "M.O." What about your writing methods? Are you an "outliner" like me, or "seat of the pants," or some hybrid? And a related question: What would the proverbial fly on the wall see while watching you write?
Jennifer Chase: I confess. I'm an outliner.
The Vigilante Author: See? We are a lot alike!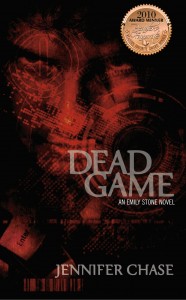 Jennifer Chase: I find that when I work out my story, subplots, pacing, research, and all those little intricate things that I need to incorporate into a thriller, it is easier for me if I outline. My outline is like a choppy first draft or a road map of sorts. However, with that being said, that doesn't mean I can't deviate at times or take that unmarked road and see where it takes me. I usually write in the afternoons and make my other obligations and consulting appointments in the mornings.
If you were a fly on the wall, you would see me working on my computer, pounding away on the keyboard in my home office that looks out into a country setting. My desktop is covered with notebooks, colored sticky notes, photos of anything that inspires a particular story, a tall glass of water with lemon, a Labrador retriever or two lying close by, sometimes a curious cat, classical music playing in the background, and I'm always barefooted when I write. Quirky, I know, but it seems to work.
The Vigilante Author: You call that "quirky"? Lady, if anyone saw me working, they'd think I was a refugee from a homeless shelter. Ah, but I digress. Tell me, what's the biggest challenge for you in writing a novel?
Jennifer Chase: The hardest part of writing is the rewrites. It's grueling and tedious. It can also be frustrating when you toss out twenty pages here and there. I'm a writer that isn't at a loss for words or who has ever had writer's block, so organizing everything into a cohesive, entertaining story is a challenge between rewrites.
The Vigilante Author: I'm weird, in that I tend to edit on the fly, so that I have very little rewriting to do at the end. But of course, that means I probably crank out pages more slowly than you and many other writers do.
What's the biggest personal payoff for you as a writer of fiction?
Jennifer Chase: The greatest pleasure for me is when a reader says that they love my character Emily Stone and how I took them into the mind of a serial killer. To me, it doesn't get any better than that.
The Vigilante Author: Why did you decide to self-publish, rather than go the traditional-publishing route? And how's indie publishing working for you?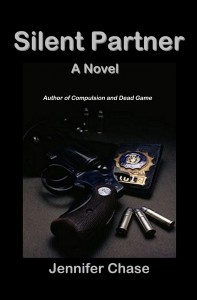 Jennifer Chase: I felt that I had a story to tell and I wanted to tell it. I wanted to test the waters to see if readers would be interested in my type of stories. I didn't try the traditional publishing route because I spent years with my screenplays waiting for production companies to make a decision while they held onto my script. It cost me a significant amount of time and was exasperating.
My endless enthusiasm took over for my novels and I'm glad that I decided to go the "indie" route. I would recommend going "indie" to others, but caution them of all of the responsibilities and what it actually entails. It's definitely not for everyone. There's not a right or wrong way to publish, but you just have to figure out what works best for you.
The Vigilante Author: What advice—if any—do you offer to budding authors?
Jennifer Chase: Write! Write every time you can. Read! Read everything you can get your hands on.
I don't like to give advice because everyone has to find their own way in the craft. There's so much advice out there, some good and some bad. Write what inspires you and not what someone else tells you that you should write. Continue to grow naturally with your writing and absolutely love all of the challenges it brings to you.
The Vigilante Author: I agree. I used to think that there was some formula, some long set of rules for writing fiction. I don't believe that at all anymore. I have very few "rules" these days.
So tell our readers here where they can buy your books and how they may contact you.
Jennifer Chase: All my books are available in ebook and paperback formats from Amazon, Barnes & Noble, and Smashwords.
I love receiving questions and comments. For more information about my books and various articles, please visit my blog.
Thank you Robert. I'm very honored for the opportunity to be on your blog today.
The Vigilante Author: I'm honored to host you here, Jennifer. And I wish you and Emily Stone every continued success.
~*~