ABSOLUTELY FREE, from Tuesday April 24 through Thursday April 26: my buddy Edd Voss's charming short-story collecting RAMBLING is available as a free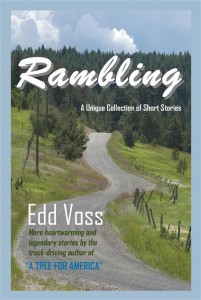 Kindle ebook.
Highly recommended! I reviewed the book here, and I interviewed Edd here.
If you don't own a Kindle, you can still order and read it (or any other Kindle ebook) on your iPad, computer, smart phone, and other devices, by using free Kindle "apps" for those devices. The apps are available for download on each Amazon product page. Just look for the "apps" promotional box located in the upper right corner of each page.
Edd is looking for lots of new readers, so please let's all give him a push during this special promotion!