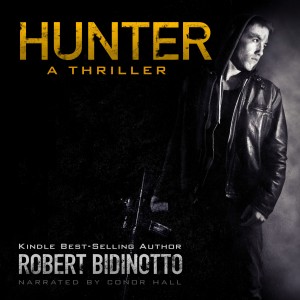 I'm delighted to announce that HUNTER is now available as a 12-hour audiobook. Narrated by talented New York voice actor Conor Hall, the HUNTER audiobook is available on Audible.com,  on Amazon.com, and on iTunes.
At any of these sites you can listen to a five-minute sample of the story — the scene where Annie Woods meets Dylan Hunter for the first time.
Many thanks to Conor Hall for his creative characterizations and to Rob Grannis of Brick Shop Audio in New York City for first-rate sound production.
UPDATE, 9/19/2012: I'm pleased to report that the first-week sales of the HUNTER audiobook have considerably exceeded my expectations. Thanks to all of you who have purchased this edition of the book, and I hope you enjoy it.