I am delighted to announce publication of a new, "double-ebook" Kindle edition of HUNTER, paired with the hot-selling SNAKE SKIN by bestselling author CJ Lyons!
If you like my Dylan Hunter vigilante hero, you'll love CJ's own tough-as-nails heroine, FBI Supervisory Special Agent Lucy Guardino…a sex-crime investigator who lives a double life as a "normal" middle-class housewife.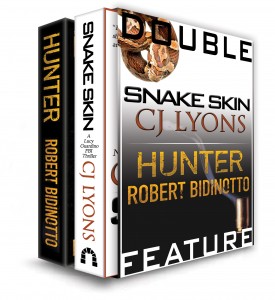 You'll get both gripping, complementary thrillers in one ebook, for just $5.99! How can you lose?
Click here to go to its Amazon product page for further information.