Another happy personal milestone: The audiobook edition of HUNTER — on sale for just five months — has just hit a cumulative 999 sales. One of you folks will probably put it over the top of the 1,000 mark within the next few hours.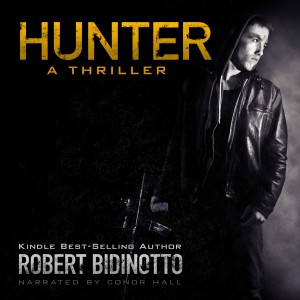 This is a delight for me, because (a) like the ebook edition, the audiobook was self-published, and (b) I didn't expect strong sales — quite the contrary. Honestly, I had no way to gauge whether a self-published audiobook would sell more than a few dozen copies. It was a gamble. But it blew away my wildest expectations, and it continues to sell strongly in the Audible.com "Espionage" and "Suspense" categories, on a pace with the bestsellers by all the usual "household name" authors I admire.
Much of the credit goes to my narrator, Conor Hall, who did a splendid job lending voices to all the book's characters, and propelling the story at a relentless, absorbing pace.
But thanks so much to all of you who've downloaded the audiobook, either from Audible, Amazon, or iTunes. If you have, I'd appreciate it if you'd post a brief review and rating on the Audible, Amazon, or iTunes sites. If you haven't yet tried it, check out the brief audio sample at those links. You can get a great trial membership deal by joining Audible or iTunes and selecting HUNTER as your baptismal audiobook.
You also can send a downloadable audiobook of HUNTER to your friends or family, as a gift. Visit the respective product pages for information.
Again — thank you, as always, for your generous support and encouragement.