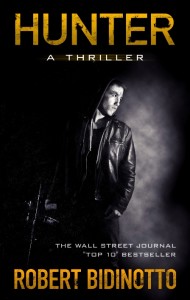 BLACK FRIDAY BARGAIN SALE for the HUNTER print edition: Now through Sunday, December 1st: Take an extra 30% off HUNTER (print edition only). Just enter code BOOKDEAL at checkout.
Folks this is the perfect Christmas gift for the thriller lovers you know. Now, before the forthcoming release of Bad Deeds, is the time to introduce your friends and family to Dylan Hunter, Annie Woods, Grant Garrett, Ed Cronin, Danika Brown, "Wonk," and — of course — Luna! They're sure to become fans and to thank you for your thoughtful gift.
IN ADDITION, If you plan to do any Black Friday or holiday shopping on Amazon, I'd be grateful if you'd do it by logging on through this link. At no cost to you, I'll get a tiny royalty based on your purchases. It will help pay my bills while I finish BAD DEEDS. Thanks much for your consideration.