Authors — whether indie, traditionally, or "hybrid" published — have a new "must-read" report to chew on, and a new website to visit regularly.
Previous analyses of book sales and author earnings have left out Amazon, the biggest single book retailer. Because they have based their sales claims mainly on print sales in stores, publishers have been able to present an entirely skewed portrait of the book industry — a portrait that continues to seduce many unwary writers.
No more. Hybrid-publishing superstar Hugh Howey, working with an anonymous "data guru," has just mined the bestseller lists of Amazon to compile stunning statistics about what kind of books are selling there, how well, which authors are doing best, and much more. Their first report is posted on their new website, AuthorEarnings.Com.
And it is a blockbuster. It reveals — for the first time — just how well self-published and "hybrid" authors are selling and earning in comparison with traditionally published writers. And that's not all. Among their remarkable findings:
In their sample of many thousands of bestselling titles, self-published works have higher average ratings from readers than do the e-books from major publishers.
The Mystery/Thriller, Science Fiction/Fantasy, and Romance genres accounted for 70% of all the titles on the Amazon bestseller lists.
The combined number of indie (35%) and small-publisher (15%) titles in these bestselling genres significantly outnumber titles issued by the "Big 5" publishers (28%).
In genre fiction, daily unit sales of indie titles account for 39% of all sales on Amazon, with small-press books adding 8%, and titles from Amazon Publishing (the company's own firm) bringing in 15% of the total. Daily unit sales of all the "Big 5" publishers combined amount to only 34% of the total genre sales on Amazon. In short: On Amazon, self-publishing authors are outselling all the "Big 5" publishers combined.
Of the top 2500 Amazon genre-fiction bestsellers, a whopping 86% of the sales were in ebook format. All print editions combined made up only 12% of the total, while audiobooks accounted for 2%.
"Big 5"-published genre ebooks brought in 52% of the daily gross sales dollars (due to their higher average prices), and indie books accounted for just 24%. But in terms of author earnings on those sales, the figures were inverted: 47% of all author revenue went to self-published authors, while just 32% was distributed among all "Big 5" authors, and only 4% to authors published by small-and-medium presses.
I found this chart particularly devastating in its implications for traditional publishers (click on it for an enlarged view):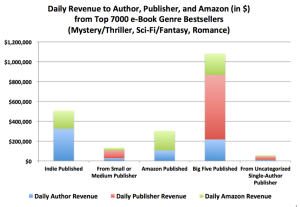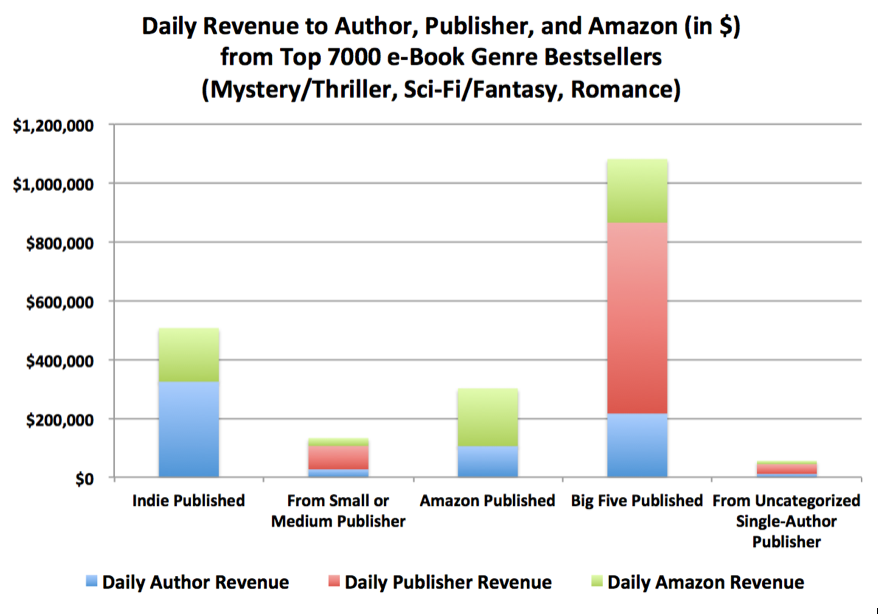 Howey explains what the chart reveals:
Blue represents the author. You can clearly see that for Big-Five published works, the publisher makes more than twice what the author makes for the sale of an e-book. Keep in mind that the profit margins for publishers are better on e-books than they are on hardbacks [link]. That means the author gets a smaller cut while the publisher takes a larger share. This, despite the fact that e-books do not require printing, warehousing, or shipping. As a result, self-published authors as a group are making 50% more profit than their traditionally published counterparts, even though their books have only half the gross sales revenue.
You can see why this report is already causing an uproar in the book business. It demonstrates, with previously unavailable data, that self-publishing is indeed a far more viable option for most authors than is traditional publishing.
Please read the entire report; there is much more, including comparisons of how much more income indie authors are earning on Amazon vis-a-vis traditionally published. The "Author Earnings" website also promises to expand and update its data and reports constantly, providing the most accurate picture possible of what is really happening in the book business today.
Congratulations and thanks to Hugh and his associate for a magnificent and eye-opening job.
UPDATE: Hugh and his "Data Guy" have now expanded their efforts with a new survey. It includes some 54,000 fiction and nonfiction titles from virtually all of Amazon's various category and subcategory bestseller lists. The stunning results only reinforce the conclusions from their initial survey, which focused on 7,000 titles in the most popular genre-fiction categories. You can read their new report here.
UPDATE #2: Hugh and his Data Guy now have run their web-crawling spider through the Barnes & Noble genre bestseller lists. Surprise! Just as on Amazon, self-published ebooks grab a huge share of genre bestsellers on BN.com. That takes away another of Big Publishing's counter-narratives to Howey's earlier reports, i.e., "Amazon's sales aren't representative of the whole industry." Try as they might to spin these facts, facts, as they say, are stubborn things. And these prove that lots of indie authors are making lots of money without the industry "support" that publishers claim is so necessary to a writer's success. Read the Barnes & Noble report here.