The Self-Publishing Revolution has produced a lot of rags-to-riches stories. One of the most recent and inspiring is the success story of Wayne Stinnett. Reviewers are comparing Stinnett and his nautical protagonist Jesse McDermitt to the likes of author Clive Cussler and his seafaring adventurer Dirk Pitt — and even more frequently to late literary icon John D. MacDonald and his houseboat hero Travis McGee.
A veteran of the U.S. Marine Corps, Stinnett enjoyed a colorful and varied life as (among many other things) a deckhand, commercial fisherman, Dive Master, taxi driver, construction manager, and most recently, long-haul truck driver. But two years ago, his long-simmering writing ambitions caught fire, and he has since written and published five thrilling sea-themed adventures that have shot up the Amazon bestseller lists. Their success has allowed him to escape from the cab of the truck where, hunched over his laptop, he churned out 1,000 words per day at rest stops and while waiting for loads.
Not only is Stinnett a gifted storyteller, but he is also one of the smartest guys around when it comes to marketing books. An affable and generous man, always willing to share his experiences, he's recently been schooling me about the mysteries of Amazon's ranking algorithms and the secrets of internet advertising and promotion.
So I was delighted when he accepted my invitation to do this interview, because you now have the opportunity to meet a remarkable man, discover his great stories, and — if you're a writer — learn a lot about the habits and methods that lead to a successful literary career.
I hope you enjoy this interview as much as I have.
~~~
The Vigilante Author: Wayne, welcome to "The Vigilante Author." And kudos for your books and your meteoric success.
Wayne Stinnett: Meteoric? Well, maybe cometic. Is that a word?
The Vigilante Author: It is now. Why don't you start by talking about how your career as a writer began. And also tell us a bit about your series of adventure novels, including your latest.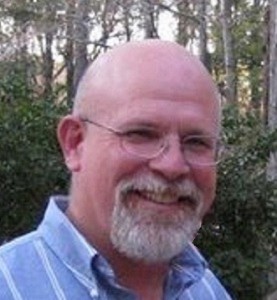 Wayne Stinnett: I first started writing in 1987 and received 37 rejection letters from publishers big and small for my three short stories about a young guy fresh out of the Marine Corps who moves to the Florida Keys. Disheartened, I set them aside and went on with life.
My wife found a handwritten portion of one of those stories and asked me about it. Then she urged me to try again. That's when I discovered the world of self-publishing. I took the storyline from those shorts, brought them into the 21st century, made the main character a wiser, 37-year-old, retired Marine, and completely rewrote them as novels, which became Fallen Palm and Fallen Hunter. Like a comet coming around every 26 years.
My latest novel, Fallen Mangrove, picks up the storyline of the main character Jesse McDermitt a few months after the end of Fallen Pride. In Mangrove, Jesse is reunited with his youngest daughter, Kim, who he hasn't seen since she was a baby. She's a 17-year-old minor character in this book, but returns with a more prominent role in Fallen King, early next year. Fallen Mangrove revolves around the search for a long-lost buried treasure in the Bahamas.
The Vigilante Author: How would you describe these novels, by genre, themes, or subject matter?
Wayne Stinnett: In the Marine Corps, we had a word for outlandish stories that got better and better with each retelling. A "sea story" is the Marine equivalent of a tall tale. I served in the Corps in the Seventies and Eighties, then went home to Florida. I'd visited the Florida Keys since I was a kid, and after a divorce, I moved there. For a while, I lived on a 1926 Alden 42-foot sloop, anchored in Boot Key Harbor, Marathon. Although I haven't been to the Keys in many years now, I can visit easily in my mind.
My writing is influenced by several south Florida writers: James W. Hall, Carl Hiaasen, Randy Wayne White, and of course, the late John D. MacDonald. My main character, Jesse, is sort of a compilation of White's Doc Ford character and MacDonald's Travis McGee, but with the training and discipline of a Marine.
The Vigilante Author: What do you think is unique about Jesse McDermitt that distinguishes him from other thriller heroes? Where did he come from? Real life, or totally from imagination?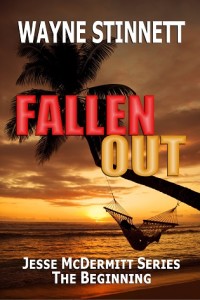 Wayne Stinnett: Jesse is my moral compass. He's the reluctant hero. He lost his parents at an early age and was raised by his grandparents. His pap was a WWII Marine and his dad was killed in Vietnam, so it was natural that Jesse follow in their footsteps. He was an infantryman, a sniper. He did his job well, serving in the Middle East among other places. He's a quiet man and wanted nothing more than to relax and enjoy the island lifestyle in peace and solitude, just scuba diving and fishing.
Pap had been a successful man and Jesse was his only heir, so he really didn't need a job and lived for some time on his boat, a 45-foot Rampage sports fisherman. The death of a close friend, and later his new wife, at the hands of greedy and evil people changed all that. He reluctantly partners with the son of his friend who was killed; the son is a former SEAL and now working clandestinely for the federal government. Jesse needs revenge, and the government agency his new friend works for needs a way to move men and equipment around the Caribbean. No better cover than a high-speed, long-range fishing boat.
The Vigilante Author: How would you compare or contrast your writing with that of other authors we might know about?
Wayne Stinnett: I mentioned a few influences earlier. More recently, I've become friends with another Florida Keys, action/adventure, indie author by the name of Michael Reisig. Our writing is eerily similar, to the point that when we exchanged our most recent books, before publishing, they appear to have been written at adjoining desks. We have several characters that are not only similar to each other, but some even have the same name. We chalked it up to our both having lived in the Keys during the same time frame. We probably even knocked back a few beers together all those years ago.
The Vigilante Author: That's uncanny. Of course, we writers experience lots of weird coincidences and events in our lives. If we wrote them into a story, readers would reject them as unbelievable.
Tell me, do your stories have any political of philosophical point of view?
Wayne Stinnett: I think all writers let their political and philosophical views come out in their writing to one degree or another. I'm a conservative Democrat. Never heard of that? Well, I'm old, things have changed, but I stayed the same. My characters share a lot of my own thoughts on politics, the environment, and aspirations.
The Vigilante Author: Let's go back to your youth a bit. Where were you born and raised? What was early life like?
Wayne Stinnett: I was born in St. Albans, West Virginia, but moved to Melbourne, Florida as a young boy. The Sixties and Seventies were a lot different from today. For instance, as a twelve-year-old Florida boy with my own boat, my parents thought nothing of allowing me to explore the vast Indian River Lagoon and all of its creeks and rivers. My friends and I, along with my two younger brothers, would camp over the weekends on "spoil islands," created from the dredging of the Intracoastal Waterway, completely cut off from civilization. No phones, no lights, no motorcars — as Jesse often quotes the theme from Gilligan's Island. I was a strong swimmer, a good fisherman, could handle either a powerboat or sailboat, and knew all the waterways around my hometown like the back of my hand. All well before I could legally drive a car. Dad would take us twenty miles offshore to the Gulf Stream and back, using only a compass and a wristwatch, finding Sebastian Inlet with no problem. I surfed, learned to scuba dive, and later, when I got my first car, explored all of central and south Florida.
The Vigilante Author: That is so cool! Did you have any writing yearnings back then? Did you study anything in school that would prepare you for your current writing career?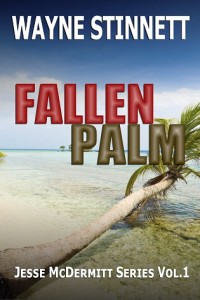 Wayne Stinnett: I always liked to tell stories and wrote quite a bit of them down. I had a Creative Writing teacher in junior high school who said I had talent, but I never thought of actually being an author until many years later and never pursued it. In fact, I was pretty much a D student in language arts all through junior high and high school.
The Vigilante Author: You joined the Marines. Thank you for your service, Wayne. When and where did you serve?
Wayne Stinnett: Thanks, Robert. It was an honor to serve our great nation. Jesse is what we called a "high speed, low drag" Marine. My service was nothing like that. I had a natural affinity for cars and trucks and was assigned a Motor Transport job in the Corps. Nothing flashy — just load, transport, and unload high explosive projectiles for an artillery unit in a five-ton truck. During my time in the Corps, I visited Cuba, most of the NATO countries, and the Middle East. I loved visiting different places ever since I was a kid, and that opened up my understanding of the world as a whole.
The Vigilante Author: You've since held a lot of interesting jobs. Could you list some of them, and perhaps describe a few of the more unique ones?
Wayne Stinnett: I don't think I've ever found my true calling in life until now. After the Corps, I went straight into a truck driving job, driving a dump truck for a friend of my late father. Friday night poker games at the house I shared with my brother left me out of the conversation, because he and all his friends worked in the heating and air conditioning field. So I got a job where he worked and installed AC systems in new homes during the construction boom of the Eighties.
Construction always slowed down in winter, even in Florida, and layoffs were common. I took dozens of jobs during those times: orange picker, taxi driver, clammer, commercial fisherman, deckhand, bar bouncer, anything that would pay the bills. I earned a Divemaster and Assistant Instructor rating in scuba diving and worked as an underwater tour guide in Palm Beach, the Keys, Cozumel, Mexico, and the island of Dominica in the Lesser Antilles, just north of Venezuela in the eastern Caribbean. I worked on heating and air conditioning systems for AUTEC on Andros Island, Bahamas. AUTEC stands for Atlantic Undersea Test and Evaluation Center. They tested guidance and sonar equipment for the Navy.
The Vigilante Author: Definitely sounds as if you were searching for your true calling. So then what happened?
Wayne Stinnett: After my divorce — living on a boat in the Keys and anchored in the middle of the harbor, working as a Divemaster — I literally had a one-step commute to work, as the dive boat would come alongside to pick me up. Most recently, I'd been an over-the-road truck driver, hauling primarily oversized loads all over the country. I gave that up last May, to devote all my time to writing and marketing my books.
By far, the most fun job (if you can call it that) was when I had my own dive guide business, Neptune's Adventures, and created my own website. I picked a dive resort I'd never been to, took a huge risk and booked ten rooms, then posted it on my website.
Two months later, after a lot of research of Roatan's many beach dive spots, I guided nine people on beach dives on the island of Roatan, in the Bay Islands of Honduras. I made just enough to cover my expenses. Two weeks later, I guided a tour, diving the reefs of the Keys on a friend's boat. The weekend between, I helped him work on the boat to pay for the charter. During the following year, I spent nearly as much time abroad, leading dives at some of the Caribbean's best resorts. What a gas!
The Vigilante Author: An adventure writer could have just followed you around, taking notes. Which prompts me to ask if your military and job experiences provided fodder for your fiction?
Wayne Stinnett: While I don't share any of the military experiences of my main character, I know a lot of people who do and learned from them what life as a Marine Infantryman was like. In deciding Jesse's background, I coupled that with my own fishing and diving experiences to create him as a charter boat owner, fishing and diving all over the Caribbean.
The Vigilante Author: What other early personal influences do you think drew you into becoming a writer, and especially to write the specific kind of adventure fiction writing you do? Did any decisive people or events in your life prompt you to take the plunge — no pun intended?
Wayne Stinnett: I lost my dad in a car wreck when I was still in the Corps, so I share that with Jesse. Besides my wife's prompting, one person told me several times that I should pursue a career in writing. He's a retired Marine colonel and we ride motorcycles together as part of the Patriot Guard Riders. His name's Roy Shelton, and I'll be forever thankful for his prodding. You expect your wife to be supportive; but when full bird colonel tells you that you should write, well, you say, "Aye aye, sir," and you write.
The Vigilante Author: (laughing) I hear you. Now, if I'm not mistaken, you began to write in the mid-Eighties, while you were a construction manager. What prompted that? What was your goal at the time?
Wayne Stinnett: I moved up pretty fast in the many HVAC companies I worked for. I became an estimator for a company, when I pointed out to the owner that his current estimators had no practical knowledge of how to design a system. Within a year, I'd written a couple of computer programs that cut the design time by 80 percent, and he let the other two estimators go. I still only had a few hours of work to do each day, but since I was on salary, I was required to stay all day.
Bored, I began writing short stories on the work computer. I put together the three best ones, the ones with Jesse McDermitt as the main character, and submitted them to publishers. As I mentioned, I got a lot of rejections. Nothing ventured, nothing gained. "Life" happened about then: I had a wife and daughter, and put all my energy into earning a living the traditional way — a J.O.B.
The Vigilante Author: Back then, the traditional publishing route was the only option for writers. So you submitted your work to agents and publishers. How long did you persist?
Wayne Stinnett: Thirty-seven submissions and thirty-seven rejections. You had to really want to be a writer back then to handle that level of rejection.
The Vigilante Author: Was there a dry spell when you no longer tried to write or publish?
Wayne Stinnett: I gave up after a year of submitting manuscripts. As I said, life happened, and I completely forgot about it for twenty-six years, until my wife found that handwritten manuscript. It was actually written on the back of the thirty-page divorce decree.
The Vigilante Author: Now, that is what I call turning a negative into a positive!
Wayne Stinnett: A few months later, while cleaning out the garage, I came across the original floppy disc with the short stories on it. It took me another month to find a working computer that had a 5-1/2 inch floppy drive. Remember those?
The Vigilante Author: I sure do. My first computer was a Radio Shack TRS-80 Model 4, and it had two of those. That old relic launched my nonfiction writing career.
Wayne Stinnett: When I read those stories, I understood why they were rejected. They really sucked. But, the underlying concept I'd seen repeated by many successful writers, so I began to dream again. That was two years and five novels ago.
The Vigilante Author: Two years . . . five novels. You are making me feel like a complete slug. How did your wife respond to your leap into writing fiction? Was she supportive?
Wayne Stinnett: Greta and our youngest daughter Jordy are my biggest fans. She was not only supportive but helped with the storyline of my first book. Whenever I'd get jammed up on something, we'd sit up in bed at night and talk about it. We also discussed all those "what if" dreams. Without her help and support, none of my success would ever have occurred.
Together we have four kids. Nikki (hers) is the oldest, Laura (mine) is second, Richard (hers) is third, and Jordy (ours) is fourth. The older kids are grown and gone. In fact, Jordy has a niece and nephew that are a year younger and a year older than her. We have four grandkids now. All of them have been very supportive of my writing. Not so much in the early days. You know how teens are. "You're writing a book in the sleeper of your truck?" Then laughter.
The Vigilante Author: What prompted you to pursue self-publishing?
Wayne Stinnett: Our oldest, Nikki, is married to a really nice guy, who was at the time employed by Amazon. One Christmas when they were up from Charleston, I'd mentioned my early failed attempt at writing in the Eighties. He told me about self-publishing and showed me a few websites I should look at. Over the course of writing my first book, he gave me a few tips on formatting and how to submit them.
The first book was a dead duck; it only sold twenty-three copies in three months. I didn't even know that, though, because he'd told me that would happen, and I never looked at sales reports. Instead, I wrote a sequel, with a little help from the short stories. Five days after publishing it, I'd sold over a hundred copies each of both books and immediately started writing a third.
The Vigilante Author: That's exactly the way writers should approach it. Too many look at the negligible sales of their first book and get discouraged, instead of charging ahead. What were you hoping to achieve?
Wayne Stinnett: The original plan was to make enough money from the books to outfit a woodworking shop where I could build boats and come off the road [from my truck driving]. When the third one published, I made enough in that first month to do just that — and suddenly realized it was almost what I made at my regular job. Plot change! When I was half-way through writing the fourth book, a prequel to the others, I'd surpassed my truck driving income and quit my job. It was a leap of faith.
The Vigilante Author: I know all about taking that kind of leap. So, how has the self-publishing experience turned out for you? What publishing route would you now recommend to aspiring writers today?
Wayne Stinnett: Self-publishing is the only route I'd recommend to anyone wanting to pursue a writing career. It does have its pitfalls, though. Besides writing, you have to do all of your own cover designs, editing, networking, and marketing. That, or hire someone to do it for you. I did Fallen Palm completely by myself. Big mistake. Now, I choose the cover photo, or hire a photographer friend to create it, give it to a graphics design friend to illustrate, and hired the best editing company I could find, Clio Editing Services.
Also, if you want to write, you should visit the Writers' Café on KBoards.com. The vast cumulative wealth of knowledge of all the writers on that forum has helped me more than anything else.
How has self-publishing worked out for me? I earned over $20,000 in August alone. I enjoy networking and marketing almost as much as I enjoy writing.
The Vigilante Author: Amen, to all of that. Can you describe exactly how you approached the process of learning to master self-publishing?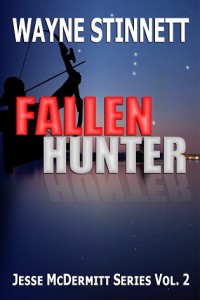 Wayne Stinnett: Let me preface this answer by saying that, at the time I started, I'd never heard of a Kindle. I read paperbacks that I picked up at truck stops. I assumed all readers read physical books. In fact, it wasn't until after I'd received the first fifty paperback copies of Fallen Palm from CreateSpace, and was about ready to publish Fallen Hunter, that Nikki and her husband gave me a Kindle for Christmas. He explained that most indies published ebooks and they sold a lot more than paperbacks.
Indies? Ebooks? What is this foreign language? Yeah, I'm a dinosaur.
Not long after that, I found my first indie author selling his book for $2.99. That was a third of the cost of Lee Child's latest thriller. It was good. It was Jack And Di Rum Song, by Anthony Bjorklund. A story of living and making rum on a fictitious island in the Caribbean. I'm sort of a rum aficionado. I read his other books, then discovered more indies, and more, and . . . well you get the picture.
I called my son-in-law. Since he worked for Amazon, he proudly told me just three letters: KDP. I was up until three o'clock that night, trying to get my book on Kindle Direct Publishing, playing with the formatting until it worked. I published my second book just a few days later. Having a background in computer programming, back when everything was written in C++, DOS, or Basic, I was at least comfortable with the process. I joke sometimes that Al Gore's first email was blind copied to me.
In the year since then, I've learned a whole lot more about formatting, actual writing as compared with storytelling, and ebooks. A knowledge of computers is pretty essential to self-publishing, but I imagine most new writers can't recall a time when only NASA had computers.
The Vigilante Author: So, what other major obstacles have you faced along the way, and what have you done about them?
Wayne Stinnett: Not really so much as an obstacle for me, because it came natural, but most writers have a hard time marketing their books, it seems. A really good book won't sell unless you master marketing skills. Amazon has nearly ten million books. A grain of sand on the beach looms pretty large, by comparison. Setting up a marketing plan is absolutely necessary. It doesn't have to be extensive, or long range, but a fluid thing, as market demands are always changing.
When my books are selling well, I hold off a little on big-money marketing and save the money. But, make no mistake, you have to spend a little time and money marketing your work to get noticed on that sprawling beach that is Amazon.
The Vigilante Author: I agree. It's all about helping your work become visible, or "discoverable," as they say.
I know that carving out writing time is one obstacle a lot of writers face. I was impressed to read how you handle time management. Talk about how you schedule your work.
Wayne Stinnett: It's not really a schedule as it is a quota. After I published my second book, I noticed a very distinct similarity between how many words I'd written and how many days it took. I wrote 173,000 words in 173 days. I learned on KBoards about "a thousand words a day" and set that as a goal.
It really doesn't matter if you wake up at 3 a.m. and do it before work, do it on the commuter train to the city, or like I did, in the sleeper of the truck after driving 600 miles. One thousand words a day, every day, will give you a 90,000-word novel in three months. Add in a few weeks for editing and cover design, and it's a simple method to turning out three or four novels a year. Some days I write two thousand and go for a motorcycle ride the next day as a reward.
Early last summer, I started self-editing before I write. At the end of each day's writing, I'd type the current word length and set it as a Style, so it appeared in the table of contents. The following day, I'd go back to that place mark in the TOC and read, editing and expanding as I go. Lately, I've been leaving the place marks for two days, so that when I start writing the next day, there's three numbers in the TOC: one where I left off the day before, one where I left off two days before, and one where I left off three days before. I delete the oldest one, read and edit the previous two day's work, and then start writing.
This does two important things. First, by the end of the book, I've read and edited the whole thing twice, something I was never very good at, being anxious to send it to a proofreader and publish it. Second, by reading the previous two days, it gets my head right back in the story where I left off.
The Vigilante Author: I also edit as I go, but not as systematically. I'll have to try your method.
So, these days, what motivates Wayne Stinnett to write? Do you have some kind of aim, goal, or even mission in your work? Some overarching theme, maybe?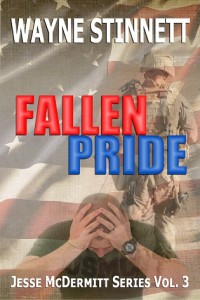 Wayne Stinnett: When I quit my job, Greta and I set some goals. Some long-range, elaborate goals, and some short-term, simple ones. We dreamed, then made a plan to achieve those dreams.
I was driving a twenty-five-year-old wreck of a pickup I'd dubbed "The Beast" — which is Jesse's truck's name. It was a mess. I'd paid $1000 for it five years earlier and had to put a new motor in it the second year. Two years ago it was hit by a semi, and I replaced a door and got it to where it was drivable again. The door wasn't the same color and I didn't have a key for it. I wanted a shiny, newer, bigger pickup. While the pickup I drive now isn't brand new, it has a brand-new engine and transmission and looks completely new.
One of our long-term goals was to move closer to our kids. They're in Charleston and Beaufort, South Carolina, and down in Florida, while we're 250 miles inland in South Carolina and 550 miles from my grandkids in Florida. We're working on achieving that goal by next summer.
However, just setting a goal does nothing. A goal, without hard work and planning, is a dream or a wish. To reach a major goal, you have to set up a lot of smaller ones.
We want a house on the coast with a deep-water dock. How do I get there? Sell a lot of books. How do I sell a lot of books? Write a lot of books, or market the ones I have. How do I write a lot of books? Write a thousand words a day. How do I market them? Be visible. A website, blog, Facebook fan page, Twitter, LinkedIn, GoodReads — all of the above, and more. Investing money in advertising, though risky, is necessary. People usually only buy books from writers they're familiar with. While they might not have read your work, if they see it enough, their subconscious mind marks you as familiar.
Today, I'm working on either marketing or networking more hours than I write, but I still maintain a thousand words a day, starting the next book the day after the previous one is published. I put at least five or six hours a day into networking, following trends, learning more about marketing and selling my books. Not easy to do with a full-time job? If you work eight hours a day and sleep eight hours a night, what are you doing with the other eight hours? Whatever that is, set some of it aside and spend a few hours working on your dream.
The Vigilante Author: Readers love to know about the lifestyles of writers, so tell us something about where and how you live now — family, lifestyle, pets, kids, that sort of thing.
Wayne Stinnett: We live in the foothills of the Blue Ridge Mountains of South Carolina. When people find out I live in South Carolina they assume I spend the weekends at Myrtle Beach. That's 250 miles away and 2000 feet lower in elevation. The ski resorts in western North Carolina are just an hour's drive away. This morning, we woke up to an inch of snow on the ground, so I built a fire in the fireplace and we're staying in today.
Until last May, my life was on the road and Greta took care of everything at home. Housework, yard work, Girl Scouts, vegetable garden, everything. I was usually home for one day every other weekend. She's a strong woman, emotionally, mentally, and physically, though only half my size. Today, I do all the yard work, the garden, take Jordy to school and pick her up. I just finished building a greenhouse to start our own vegetables for the quarter-acre garden.
We live modestly in the same small home in the country we've been in since 2001. Only Jordy is still at home — she's thirteen and plays in the school band. We visit the kids in Charleston and Beaufort quite a bit more often now, but only get back down to Florida a couple times a year. We have two dogs: a wolf/chow hybrid named Bill, and a small rat terrier named Kimmy. In nearly every room of the house, you'll find parakeets chatting away.
The Vigilante Author: Let's move now to your writing methods, Wayne. Are you a meticulous outliner, like me, or do you do just jump in and write by the "seat of the pants"? Or some combination?
Wayne Stinnett: I guess you could say a combination, though it's a 95/5 split. The most outlining I do is pick a destination in the Caribbean that I think Jesse might like to see. After that, he drives the boat and I have no idea what the next paragraph will be about, much less the end of the book. I like to write it the way a reader reads it. Except for Fallen Palm and the first part of Fallen Hunter, which I had the short stories as a guide, only the destination is plotted.
The Vigilante Author: That sure sounds "seat of the pants" to me!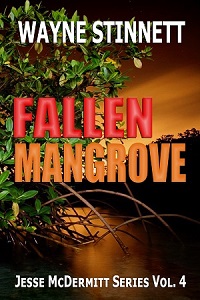 Wayne Stinnett: With Fallen Pride, my third book, and now the fourth one in the series, my wife suggested I try to write something that might be helpful to our Warriors returning home. I knew about a young Marine who was struggling with adjusting to civilian life after three tours in Iraq and Afghanistan. Slowly, I drew him out, talking mostly about my own time in the Corps, and we created what I hope might help guys with PTS discover they can talk about it. Talking heals.
The Vigilante Author: What would an eavesdropper see if he watched you while you are writing? Do you write in a special place? On a particular schedule? What tools do you use?
Wayne Stinnett: Before I quit my job, my office was the truck's sleeper. It measured seven feet by four feet and had a bed, a small refrigerator, and a small closet. Pillows propped against the bulkhead and a laptop in my lap, I wrote three novels, mostly at night. I usually had a layover on the weekend I was away from home and wrote for up to twenty hours at a stretch.
Today, I still have the laptop on my lap, but I'm more comfortable in a recliner in my den, with island music playing on the stereo and my dog curled up on the floor beside me. Sometimes, I'll wake up in the middle of the night, go in the den and have a thousand words written before my wife wakes up. I've never needed more than five or six hours of sleep.
Other times, I'll write while they're at school and work (she refuses to quit her job), or at night after everyone goes to bed. But always, a thousand words a day. I use MS Word. It does everything I need it to do, so for now that's the only tool. Unless you count my flip flops. Yeah, there's snow on the ground and I'm wearing flip flops. Hey, I write Caribbean adventure novels. What can I say? I have to have my flip flops on.
The Vigilante Author: You have to take your inspiration where you can.
So, what's the hardest thing for you about writing, and what's the easiest? Also, what aspect of writing or the writing life gives you the greatest pleasure, Wayne? Is there anything you are particularly proud of?
Wayne Stinnett: So far, I haven't really found anything hard about writing. I've always been a natural story teller, which I guess is the easiest part.
I love getting emails from readers. I answer every one, and many are now friends. The biggest compliment I've ever received was from a friend who wrote to me about reading Fallen Palm. The book has a tragic ending, which sets up the main character to be the man he is in the following books. This friend is a retired Marine Sergeant Major — for those that don't know, that's the highest enlisted rank in the Corps. He brought my book along on a hunting trip, as sitting for hours in a deer stand can get boring, and he was near the end of it. He wrote that he finally had to give up on hunting, because his eyes were leaking some kind of strange liquid, and he could no longer see down the shooting lanes.
If you can make a salty Marine Sergeant Major cry, while he's sitting in a stand with a rifle hoping to kill a deer, you've accomplished something.
The Vigilante Author: That's a huge compliment, all right.
Wayne, you've seen what it takes to succeed in this crazy career. What qualities do you think are most important for any would-be writer?
Wayne Stinnett: Obviously, the ability to convey a story. A story has a beginning, a rise to a climax, and an end. If you're the kind of person who can spin a yarn for thirty minutes, just to entertain friends, and keep their attention throughout, you're a storyteller. Early man had no method of writing; yet their history is known through stories handed down through generations by word of mouth and added to by subsequent generations. Without that ability, a career in writing probably isn't the best choice.
Everything else — the cover design, editing, formatting, blurb writing, uploading, and everything else — you can hire someone to do, if it's not something you're good at. Hiring people needn't cost very much. Everyone has a friend who works in sales, from a shoe store to a car lot — it doesn't matter what they sell. Sales people are a unique breed. That's the friend you want to hire to write your blurb. Most will do it for a beer.
Really good covers don't have to be expensive. Fallen Out and Fallen Palm are pictures I bought the rights to from iStockPhoto for $20 each. A friend who does graphics work added the titles for $25. He's also a photographer and provided the photos for [Fallen] Hunter and [Fallen] Mangrove for $25 each, including the graphics. The photo for Fallen Pride is layered. The two men in the picture are the husband and friend of a sister Marine; both are Wounded Warriors. She did the photo for free, but I paid her $50 anyway and donate half the proceeds from the book to veterans' charities. All five covers combined cost me less than $200.
Originally, I used a couple of beta-reader friends and a couple other friends who were English teachers to proofread. Beta readers got a signed copy and a mention in the foreword, and I paid proofreaders $50 per book. Today, I use a professional editing service that costs about $1000 a book, but still use the same beta readers before editing and the same proofreader after editing.
I choose beta readers sometimes for their expertise in areas I'm not familiar with. Fallen Pride needed dialogue between a pilot and air traffic control. Three of the beta readers for that were pilots or air traffic controllers. The plane was a seaplane, so another beta reader owns a seaplane service in south Florida. All contributed just to receive a free book.
The Vigilante Author: I employ beta readers in much the same way. Not only do they save my butt when it comes to catching errors; their expertise is invaluable. Interesting parallel: I also relied on expert pilots and an air traffic controller to help me get things right in BAD DEEDS.
You've described the qualities you think a writer needs to have. But what advice, if any, would offer them?
Wayne Stinnett: Visit the Writers' Café on Kboards.com; read and ask questions there, if there's something you don't understand and can't find an answer to. At just about any given time, there are dozens of other indie authors on there, sharing insights, methods, and ideas. At least 90 percent of what I learned about self-publishing, I learned there. Keep in mind the son-in-law that worked for Amazon.
The Vigilante Author: What can readers expect from the laptop of Wayne Stinnett in the future?
Wayne Stinnett: I think Jesse probably has at least a half dozen more books. I have books in this series planned for release in January, April, July, and December of this coming year. I'm going to take some time off in the summer to move and maybe travel with my wife and youngest daughter.
After the end of 2015, I'm not sure. Jesse's almost my age, and action/adventure characters have an age limit. I'd like to maybe do a spin-off series with one of the other characters in the future, like Randy White did with Hannah Smith, Doc Ford's girlfriend. I'm pushing sixty now, but would like to continue writing, and if God's willing to let me, I'd like to match my favorite author, John D. MacDonald's Travis McGee series, with 21 books; but I'll never be able to write as many overall books as he did, 78.
The Vigilante Author: Wayne, this has all been invaluable. And I think you've piqued a lot of readers' interest in your novels. So, where can people buy your books? And how can readers contact you or learn more about you and your books?
Wayne Stinnett: My books are available exclusively on Amazon and my website, www.waynestinnett.com, which links each of my books to the Amazon product page. I also sell a limited number of signed copies from the website, as well. There's also a signup section on the website for my newsletter, and a link to my pages on Twitter, Facebook, my blog, Amazon author page, and email.
The Vigilante Author: Thanks so much, Wayne. I hope the publication of this interview brings a lot of new readers to your work. And a lot of inspiration and guidance to fellow writers.
~~~