Vincent Zandri is the acclaimed New York Times and USA Today bestselling author of more than 16 novels, including The Innocent, Godchild, The Remains, Moonlight Rises, and recently, Everything Burns. He also is the author of numerous Amazon bestselling digital shorts — Pathological, True Stories, and Moonlight Mafia among them.
Harlan Coben described The Innocent (formerly As Catch Can) as "…gritty, fast-paced, lyrical and haunting," while the New York Post called it "Sensational…Masterful…Brilliant!" In December 2014, Suspense Magazine named Zandri's The Shroud Key one of the "Best Books of 2014." His novel Moonlight Weeps has been nominated by International Thriller Writers (ITW) for the 2015 Best Paperback Original.
Zandri's list of domestic publishers include Delacorte, Dell, Down & Out Books, Thomas & Mercer, and Polis Books, while his foreign publisher is Meme Publishers of Milan and Paris. An MFA in Writing graduate of Vermont College, Zandri's work is translated in Dutch, Russian, French, Italian, and Japanese.
Recently, Zandri was the subject of a major feature by the New York Times. He also has appeared on Bloomberg TV and FOX News. And Amazon recognized him in a profile piece for his sensational success on their publishing platform. A freelance photo-journalist and author of the popular "lit blog," The Vincent Zandri Vox, he has written for Living Ready Magazine, RT, New York Newsday, Hudson Valley Magazine, The Times Union (Albany), Game & Fish Magazine, and many more.
These days, Vincent Zandri is a resident of both New York and Florence, Italy. I'm grateful that he took time from his prolific writing and promotional schedule to answer questions for The Vigilante Author.
~~~
The Vigilante Author: Hi, Vince. Thanks so much for getting together with me. I've been looking forward to this for a long time. When I was first getting started back in 2011, you were one of my heroes, already burning up the bestseller lists. We'll chat about your career and works in a moment. First, though, tell us about your latest book. I hear it's been doing gangbusters in sales.
Vincent Zandri: Hi there, Robert. My latest is Everything Burns. It was released by Thomas & Mercer [an Amazon Publishing imprint] in January of this year. It was also selected by the editors for the Kindle First program, which netted something like 250,000 units moved.
The Vigilante Author: That's incredible for a book that's been out only a few months! And I see that it's also garnered nearly 1,700 customer reviews in that brief period, which is just mind-blowing. So, what's the book about?
Vincent Zandri: It's about a writer who happens to be a pyromaniac and who gets back together with his ex-wife — only to discover that her former lover, also a writer, is not taking their reunion all too well. What ensues is a burning plot of deception, harassment, and eventually, murder. My most literary endeavor to date, I might say.
The Vigilante Author: So was this story a genre departure for you?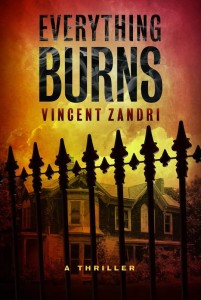 Vincent Zandri: I write in several different genres. I'm most known for my standalone novels like The Remains and Everything Burns, which are psychological thrillers, but I also write hardboiled detective books, like the Dick Moonlight P.I. series and the Jack Marconi series. I've also had good luck with the Chase Baker action/adventure series, which takes me all over the world on research missions.
The Vigilante Author: I'm drooling. That's got to be every writer's fantasy: getting paid to travel the world and write fiction. Well, you've paid your dues and earned that lifestyle, Vince.
How would you describe the heroes of your tales? What characteristics do they have in common, and what things differentiate them?
Vincent Zandri: Dick Moonlight is unique in that he has a small piece of hollow point bullet lodged in his brain from a botched suicide attempt, and he could die at any moment, which is why he stops at nothing in order to get at the truth. Jack Marconi used to be a maximum security prison warden, which makes him different. And Chase Baker, like me, resides in both New York and Florence, Italy. He's also a former excavator (sandhog), and he's always on the go to some godforsaken part of the globe in search of an elusive treasure. He's also unlucky at love.
The Vigilante Author: I'm sure that readers are now thoroughly intrigued, wondering about the background of a guy who could conjure stories and characters this diverse. So tell us a little about your early life.
Vincent Zandri: I was born in Troy, New York, and raised in a small town called Latham. Attended a private Catholic school through the eighth grade. For high school I attended a private military school called The Albany Academy for Boys, where I made the rank of Captain. The Roosevelt children went there, incidentally. So did Herman Melville. Later on I attended Providence College, where I graduated with a degree in partying, followed by Vermont College, where I earned my MFA in Writing.
The Vigilante Author: You've written poignantly on your blog about how you developed your passion for writing in college — but first endured a major career detour. Your dad had big plans for you to enter the family construction business, right?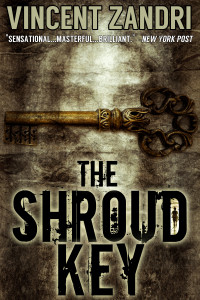 Vincent Zandri: I was groomed for the commercial construction industry and spent a lot of time digging ditches and mason-tending during my summers off from school. I had no choice in the matter. My dad expected me to work for him, as he did for his dad. Trust me, you do that kind of manual labor for a long enough time, you start seeking out other means of employment. I went to work for my dad as a project manager right out of college, but it wasn't for me. Instead I went to work as a stringer for the local paper, the Albany Times Union, where I covered high school football games. I also wrote freelance articles for the paper. It was a brief but valuable education.
The Vigilante Author: You said in that same piece that you found inspiration and guidance from the life and work of Ernest Hemingway. What did you learn from him? And are there other writers who left their mark on you?
Vincent Zandri: From Hemingway and Martha Gellhorn I learned that starting out by writing journalism is the sure way to becoming a good fiction writer. From Douglas Glover, a Canadian novelist and teacher, I learned the concept of imagery. From Tony Ardizzone, I learned to slow down. He told me to write my journalism on the keyboard, but to write my fiction by hand.
The Vigilante Author: Now that's interesting. How would you compare your work with that of other well-known novelists?
Vincent Zandri: Well, that's something for other readers to do. But I would say my "Moonlight" series would easily fit into the Charlie Huston, Boston Teran, Don Winslow school of noir. My standalones, especially Everything Burns, are more like the Gillian Flynn Gone Girl school. My Chase Baker adventure series was influenced somewhat by JR Rain, especially his novel The Lost Ark.
The Vigilante Author: One of the most arresting things I first learned about you was how you achieved remarkable success with traditional publishers early on — but then experienced a heart-breaking turn of fortune. Most writers would not have sustained the motivation to continue in the wake of that disappointment. What happened, and how did you manage to overcome the setbacks?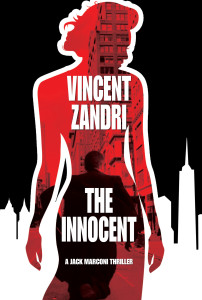 Vincent Zandri: I started out in 1999 with a $250,000 advance from Delacorte for my novel The Innocent, which, at the time, was called As Catch Can. My career took a dive from that point on, in the most clichéd terms. I was very young so I partied like a rock star, bought the house I couldn't afford, quit journalism altogether, got a divorce, lost all the money…and I'll stop there before this turns into a sappy country song. For a couple years after that I made nothing from my fiction and was even reduced to returning cans and bottles for grocery money.
The Vigilante Author: That had to be devastating. So, what did you do?
Vincent Zandri: It took a while to pull myself out of the hole I'd dug for myself, but eventually I succeeded. I went back to freelance journalism, started traveling extensively, and started publishing fiction again with the small presses. Eventually I worked my way back up to the majors and several medium-sized indie publishers, plus a foreign publisher.
If I learned one invaluable lesson about this business it's this: You're only as good as your next book. It's never what you've done. It's always what you're about to do.
The Vigilante Author: That's a great perspective to keep in mind. So why do you write, Vince? What motivates you?
Vincent Zandri: I get up and write every day, except Sundays, because that's what I do. That's what makes me feel whole and relevant. I make good money being an author, but I would do it for free if I had to.
The Vigilante Author: As your story suggests, any aspiring writer who gets into this business thinking it's the path to easy money is a fool.
Does your work express any particular outlook or theme, either political or philosophical?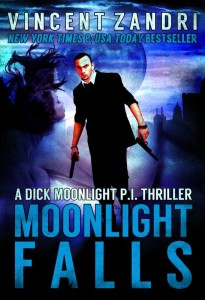 Vincent Zandri: Politically, I follow the Norman Mailer line of independent liberal/conservatism. That is, I believe in as small a government as possible that also manages to save the whales. Or something like that. But as much as I love a heated political discussion, I believe part of a writer's job is to steer clear from taking a political stance one way or another. But of course, the media is always biased one way or another.
The Vigilante Author: What is daily life like for you now? And where?
Vincent Zandri: I live in Albany, New York, which is 140 miles north of downtown Manhattan. That means I can be in the city in just over a couple of hours but don't have to pay the high rent of living there. I still feel as though New York is the literary capital of the world, and I spend as much time there as possible doing readings and other events. Jason Pinter's Polis Books is bringing my new novel Orchard Grove out in hardcover in April '16, so I'll be practically living in New York City come next spring. I also spend my falls in Florence, Italy, where I work on a new novel in relative isolation. I don't speak much about my family because in this digital day and age it's not safe. But I do have two dogs. I also love to run, lift weights, flyfish, hike, eat, drink, and live a full life.
The Vigilante Author: To many writers reading this, it sounds idyllic. But they probably can't grasp the dedication and hard work that's involved. So tell us something about your writing methods. For openers, where do you fall on the "plotter" versus "seat of the pants" spectrum? Are you some combination?
Vincent Zandri: After coming up with a basic plot that holds my interest for more than a few weeks, I outline just enough to get me started, and then I try and allow the story to take over organically. It's an amazing and often surprising process. Magic, if you will.
The Vigilante Author: Okay, say I'm an NSA eavesdropper, and I planted bugs and cameras in your office. What would I see?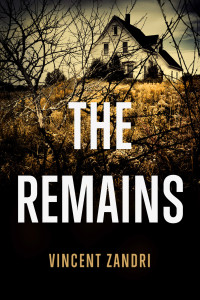 Vincent Zandri: I work five days a week from around nine-to-five, give or take, and half a day on Saturdays, no matter where I am in the world. An eavesdropper would see me typing away, then getting up and looking in the fridge and maybe even taking a nap. I keep a writing studio away from the house. It has a kitchen and a bath, so sometimes I sleep there.
The Vigilante Author: What's the hardest and easiest things for you about writing?
Vincent Zandri: Not writing fast enough is the hardest part. The easiest part is my seemingly undying enthusiasm for writing, writers, and the entire writing life.
The Vigilante Author: What are you most proud of in your career so far?
Vincent Zandri: I'm particularly proud of my novel The Remains. To this day I'm not entirely sure how I wrote it.
The Vigilante Author: So, you have been a self-published "indie" author, and you've also been traditionally published.
Vincent Zandri: I'm a "hybrid" author, meaning: I publish with the biggies, the independents, and I also self-publish my Chase Baker adventure series — and no, it's not for sale!
The Vigilante Author: So, as someone experienced with the whole spectrum of publishing options, which would you recommend to today's aspiring writers?
Vincent Zandri: Go indie. Hands down, the best advice I can give out for free. My son wrote his first novel, Howard, and insisted on going indie even when I assured him I could probably score a contract for him.
The Vigilante Author: I think I know some of the answers to my next questions, just from knowing your background and struggle. But I'll ask it anyway: What qualities do you think are most important for a writer? And do you have any advice to offer them?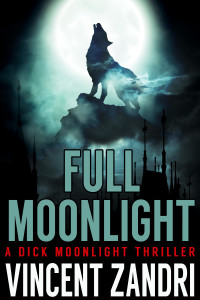 Vincent Zandri: Perseverance, self-discipline, motivation, thick skin, and most of all, talent.
As for advice, write like hell. Write every day. Don't do anything else other than what you need to do to keep a roof over your head and food in your belly.
The Vigilante Author: What's on the horizon for you, Vince?
Vincent Zandri: Two new Chase Bakers coming this summer. Plus I've just contracted with Thomas & Mercer for a new stand-alone, called Aziz. That's slated for a February '16 release. Also, Polis is putting out Orchard Grove, a new hardboiled novel in hardcover in April of '16. Down & Out Books will be publishing the new Dick Moonlight novel in June of '16. I'm also up for Best Paperback Original for 2015 by ITW [the International Thriller Writers organization]. The winner will be announced in NYC come July at Thrillerfest [their annual convention].
The Vigilante Author: Along with your multitude of loyal fans, I'll be cheering you on.
Where can people buy your books, and how can they contact you or learn more about you and your novels?
Vincent Zandri: The simplest thing to do is go to my website:  www.VincentZandri.com
The Vigilante Author: Which I enthusiastically encourage them to do. They can also find your blog linked there. I've found your posts inspiring and informative.
Thanks again, Vince, for spending time with us. And best wishes to you for every continued personal and professional success.
~~~