A murderous conspiracy for ultimate power  . . . inspired by today's headlines!

Engaged to be married, mysterious journalist Dylan Hunter and CIA officer Annie Woods are eager to put their violent past behind them, for good.
But then an in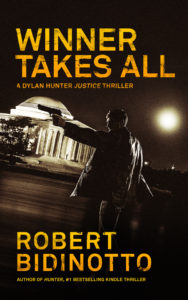 vestigative reporter is found mysteriously murdered. An idealistic presidential candidate is targeted for destruction. And a horrific day of unspeakable terrorism rocks Washington, D.C.
Soon, Dylan's investigation puts him in the cross hairs of a power-hungry billionaire and a cold-blooded assassin. A deadly conspiracy of dangerous men aims to install their puppet in the White House. And these predators are willing to do the unthinkable to bring America under their total control.
The stakes—political and personal—couldn't be higher. Because to stop them, Dylan Hunter must make an irrevocable choice. It's a decision that will, finally and forever, seal his fate . . . including his future with the woman he adores.
But for now, only one thing is certain:
In the tidal wave of political violence on the blood-soaked streets of Washington, D.C., the final outcome will be . . .
WINNER TAKES ALL is the third volume in the bestselling trilogy that opens the Dylan Hunter Justice Thrillers series. Like the stories that preceded it, it can be enjoyed as a standalone thriller.
It is available on Amazon.com in a Kindle ebook edition and a print edition. Copies personally inscribed by the author will be available in the latter half of January 2018.
An audiobook edition will be produced early in 2018. Information about availability will be posted shortly.
Background about the book . . .
WINNER TAKES ALL draws upon many controversies you've been reading and hearing about in the Real World for the past decade.
The threat of terrorism. Russian meddling in our elections. "Fake news" and media bias. Sex scandals among the rich and powerful. Government harassment of private citizens. Leaks of classified material from our spy agencies. Border security. The influence of money on politics. The controversy over fracking and energy production . . .
But in this story, the glue holding all of it together is a theme: the psychology of power-lust.
Why do so many people crave power over other people? Why do they enjoy bending others to their will, through manipulation, intimidation, humiliation, or brute force? Why do they believe they can only achieve their own success and happiness if they make others fail and suffer? Why do they believe their gain requires someone else's loss?
Though the lust for power is an epidemic in our political lives, the disease certainly isn't confined there. We find it everywhere in our society: in our families, schools, businesses, social and cultural institutions, churches, and personal relationships.
While the main villains in WINNER TAKES ALL are enmeshed in political conspiracy and conniving, I wanted to show how the lust for power permeates all other aspects of their lives, too: their workplaces, friendships, sexual relationships, and social interactions.
For me, one of the most interesting contrasts is between Dylan and Annie's passionately romantic relationship, rooted in mutual admiration and respect — and the crude, superficial, manipulative, and abusive sexual relationships of the various villains. As Henry Kissinger notoriously said, "Power is the ultimate aphrodisiac." Here, that is depicted literally. It shows the personal costs of power-lust in everyday relationships.
I also wanted to dramatize the critical role excuse-making and rationalizations play in enabling and perpetuating the evils arising from power-lust. That includes the role that philosophy, religion, and ideology can play in rationalizing some people's abuse of others.
Squeezing all of these elements into a single, fast-moving, page-turning thriller became a mind-boggling challenge for me, at times an overwhelming one. But slowly, somehow, it finally all came together.
Dylan Hunter is all about justice. I hope in this, my third chronicle of his adventures, I have done him justice. I eagerly await your verdict.