For media interviews, public appearances, film agents and producers, and foreign publishers:
Please contact me by email at:
RobertTheWriter [at] gmail [dot] com
Or address mail inquiries to:

Avenger Books
P.O. Box 555
Chester, MD 21619
For readers:
I truly enjoy communicating with fans of my Dylan Hunter thrillers. Your feedback and opinions are valuable to me. So please feel free to contact me by email at:
RobertTheWriter [at] gmail [dot] com
I'll get back to you as soon as I can.
The ONLY reliable way to get information about my forthcoming books and public appearances is to join my email list. I send out my free e-newsletter, "Bullet Points," whenever there's news to report. Subscribers become eligible for free gifts and get advance "sneak peeks" at book covers and chapters, story background and insights, and much more. I've already given away a free Kindle and Amazon gift cards. You can have a chance to win great items just by signing up at the link.
There are other ways that we can keep in touch. Not every reader of HUNTER shares the same views and interests. That's why I've set up several different places online where you may communicate with me about the topics that especially interest you.
This blog, The Vigilante Author, is devoted to my fiction specifically, to "lone-wolf-hero" fiction more generally, and to self-publishing. If these topics interest you, I invite you to join in the discussions here by adding your own comments to my posts.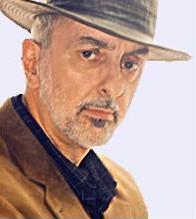 If you want to participate with me in a more free-wheeling, wider-ranging dialogue on a host of other things of interest to me — including personal news and my political/philosophical views — please check out my Facebook page. You can also follow me on Twitter.
In addition, I maintain a separate blog devoted to serious discussions of current events, politics, and cultural topics. So, if you like to ponder and debate such controversial matters, then by all means stop by and participate by commenting on the posts there.
However you choose to contact me, I do hope you'll stay in touch. And never be afraid to express your opinions or suggestions. I value your honest comments and feedback. All I ask is that we always keep our communications courteous, civil, and as constructive as possible.
I look forward to hearing from you!