Whenever I write fictional scenes featuring "special ops" personnel or exotic military hardware, I have to consult and rely on actual experts.
Thriller writer Steven Konkoly doesn't have to. That's because he is such an expert.
Steven graduated from the U.S. Naval Academy in 1993, with the unlikely degree of Bachelor of Science in English Literature. He served the next eight years on active duty in various Navy and Marine Corps units.
From leading Visit, Board, Search and Seizure operations as a boarding officer in the Arabian Gulf, to directing Close Air Support as a Forward Air Controller assigned to a specialized Marine Corps unit, Steven's "in-house" experience with a wide variety of regular and elite military units brings a unique authenticity to his writing.
His first novel, The Jakarta Pandemic (2010), explored the world of disaster "prepping," well before television and books popularized the concept. Hailed as a "grippingly realistic" family survival story, The Jakarta Pandemic introduced thousands of readers to the unfamiliar concept of "survival in the suburbs," motivating many of them to take the first steps to better prepare themselves for a major disaster. Steven's recently launched trilogy, The Perseid Collapse (which includes the sequels Event Horizon and Point of Crisis), continues his legacy of engaging and informative post-apocalyptic fiction.
But Steven also established himself as a writer of sizzling bestselling technothrillers with his "Black Flagged" series, which so far includes Black Flagged, Black Flagged Redux, Black Flagged Apex, and Black Flagged Vektor.
Home for Steven and his family is in coastal southern Maine, where he wakes up at "zero dark thirty" to write for most of the day. When "off duty," he struggles to strike a balance between a woefully short sailing season and an unreasonably long winter.
This busy husband, father, and writer took out some time this week to be interviewed, and you'll soon see why I was eager  to learn more about him.
~~~
The Vigilante Author: Welcome to "The Vigilante Author," Steve. I'm pleased to be able to introduce you and your work to fans of the Dylan Hunter series.
Steven Konkoly: Robert, thanks for giving me the opportunity to speak with your readers. The "Hunter" books and my "Black Flagged" series share many common themes, so I'm thrilled to talk about my work in such good company.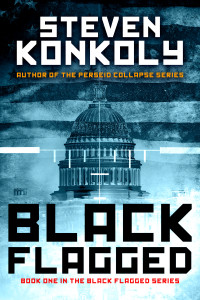 Briefly, the Black Flagged series is a hard-hitting, gritty, black-ops/espionage series centered on an unsanctioned Special Operations team. When I say unsanctioned, I mean unaffiliated with the U.S. government. The Black Flagged premise is entirely different than most covert operations thrillers involving "off the books" groups, in that the team has been assembled and trained by a disgraced former Special Operations general, to swiftly and brutally address threats against America that fall far outside the bounds of potential U.S. involvement.
In this case, the threat is a rogue Russian bioweapons engineer selling his skills to Islamic fundamentalists . . . or so it appears. The most recent book in the series is Black Flagged Vektor, which closes the bioweapons threat and pits the Black Flagged team, CIA, and Russian mafia against a secretly revived Russian Federation bioweapons program. Trust me when I say that the relationship that evolves between the three entities is unlike anything you've read. The last third of the book might be my favorite stretch of chapters in all of my novels. You won't see what's coming.
The Vigilante Author: I have some trouble wrapping my head around both your disaster novels and your technothrillers, and placing them all into some over-arching genre category or concept.
Steven Konkoly: I'm what you might call genre-confused. I cut my teeth as a writer with The Jakarta Pandemic, a claustrophobic, apocalyptic thriller set during the deadliest pandemic in human history. Realizing that I could write fiction that people wanted to read — nobody knows if their books will sell when they start — I shifted gears and wrote four books in the Black Flagged series.
The Black Flagged books fall into that broad category of political/military/covert ops/espionage thrillers. I never know exactly how to classify them, since each novel contains a subplot or storyline deeply rooted in each of those categories. [Tom]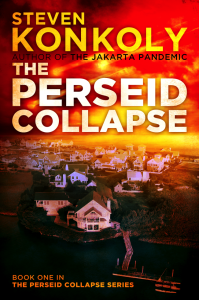 Clancy's novels are a great approximation of what you get in this series, minus about 300 pages of technical descriptions and miles-deep character backgrounds. I go heavy on the technical aspects at times, which adds yet another genre description — technothriller — to the mix, but I don't go overboard. I've been a hardcore fan of Frederick Forsyth, so you'll see some economy of storytelling.
The Vigilante Author: Thank goodness for that. Clancy had a tendency to sprawl. I prefer tighter writing. What prompted you to branch out from technothrillers?
Steven Konkoly: After writing four Black Flagged novels in two years, I decided to take a break from the characters and return to my roots. The Perseid Collapse series, my latest project, is a post-apocalyptic, prepper-themed story, with a strong technothriller flavor. Like my first novel, The Jakarta Pandemic, the Perseid Collapse books revolve around the trials and tribulations of a single family and their close friends during a devastating catastrophe. Without a doubt, elements of the Black Flagged books leaked into this series, widening the plot and delivering a fast-paced post-apocalyptic story.
The Vigilante Author: From technothrillers to disaster prep — that's quite a range of settings. But are there some qualities common among your protagonists that might set them apart and make them memorable? And do you draw them from real-life people, or completely from your imagination?
Steven Konkoly: I'll stick to the Black Flagged heroes, since they represent what I consider to the most unique aspect of my protagonist worldview. The Black Flagged series started with a character concept. I wanted to create a different type of black-ops-based protagonist. A group molded from the ground up; their selection based on a psychological profile compatible with the type of morally flexible decisions required to execute the deep-cover, gray-area missions I envisioned for the Black Flagged group.
E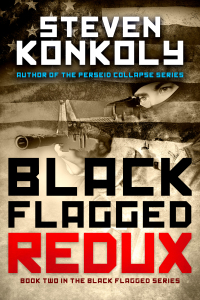 ssentially, the Black Flagged graduates are highly functioning sociopaths, trained from the ground up to function in the worst possible mission environments imaginable. Daniel Petrovich, the series' main protagonist, spent two years infiltrating a ruthless Serbian paramilitary group during Slobodan Milosevic's worst years as the despotic, genocidal leader of the former Yugoslavia. You can imagine the atrocities he witnessed and perpetrated in his deep cover role. Other graduates spent time infiltrating the Colombian and Mexican cartels, Russian mafia, and former Soviet-bloc arms dealers.
I guess what I'm trying to say is that the protagonists in this series will stop at nothing to accomplish the mission, regardless of who gets in the way. They are pathologically practical, brutally efficient, and not very observant of society's rules and principles. With that said, they are definitely the good guys, mission-focused on protecting the United States. They just take a few moral detours to get there. Think Jack Bauer, with a little less personal torment.
The Vigilante Author: Jack did tend to lose his cool a bit.
Steven Konkoly: To answer the last part of your question: This is totally drawn from my imagination. I've never been fully satisfied with a black ops character, outside of John Clark from Tom Clancy's Without Remorse, and I wanted to create a new class of operator suited for purposeful immersion in morally sketchy operations.
The Vigilante Author: What in your youth explains how and why you became thriller author Steven Konkoly?