Back in early 2012, I conducted a brief (okay . . . perfunctory) interview with movie-maker-turned-thriller-author Neil Russell. I knew there was a lot more about this man that I wanted to learn and share with you. Well, Neil graciously agreed to a longer (okay . . . long) interview. And I'm so glad he did: This one may be the most entertaining author interview I've yet conducted.
Neil's remarkable life and colorful personality can't be captured adequately even by his impressive biography. If you're a movie or TV watcher, I'm sure you've seen some of the motion pictures he's been associated with as a studio executive. Many are now considered classics. Born into a theatre-owning family, Neil Russell began his career in theatres, joined Paramount Pictures and later Columbia in theatrical distribution, where he handled some of the most acclaimed motion pictures of that era, including "The Godfather I and II," "Chinatown," "Serpico," "Death Wish," "Saturday Night Fever," and "The Way We Were."
Recruited by MGM prior to their acquisition of United Artists, he was charged with merging, then heading, the combined companies' television distribution units. During his career, Neil has been a senior executive at Paramount, Columbia, MGM/UA, and Carolco Pictures (which produced the "Rambo" movies, "Terminator 2," and "Total Recall"). He also founded and led Carolco Television Productions. These days he's president of Site 85 Productions, which creates, acquires, and produces intellectual properties for motion pictures, television, and music, and which also has begun publishing books through its Rothington House imprint.
As he relates here, Neil has been a storyteller all his life. But after spending his film-making decades telling other writers' stories, he decided to start writing and publishing his own.
With City of War in 2010, he introduced flamboyant thriller hero Rail Black — a towering, fabulously wealthy, ex-Delta Force operator who lives in Beverly Hills, and who turns his staggering wealth and lethal talents to helping friends in trouble. Rail might be described as a hybrid of John D. MacDonald's Travis McGee and Ian Fleming's James Bond . . . but about a half-foot taller than either. New York Times best-selling spy author Gayle Lynds described City of War as "utterly gripping," a "fascinating mystery" with "exciting suspense that doesn't release the panting reader until the last page."
Neil has since published two Rail Black sequels, Wildcase and Beverly Hills Is Burning. He started out as a traditionally published author with HarperCollins; but now he publishes independently, through his own imprint.
Rather than continue to summarize his fascinating story, though, why don't I let him tell it to you himself in his own funny, sometimes salty-tongued fashion?
~~~
The Vigilante Author: Neil, welcome again to "The Vigilante Author."
Neil Russell: Thanks, Robert.
The Vigilante Author: You've created a truly fresh hero in your Rail Black series. The books are attracting quite a following and getting rave reviews. Personally, I love the fact they're based in and around your stomping grounds in Hollywood. But you're a movie executive. So how did you get started writing thrillers?
Neil Russell: Though I am third generation in the motion picture business, until now, I had never written about Hollywood. In fact, I had avoided it. So much acreage has been plowed — either brilliantly (see Nathanael West and Elmore Leonard); scathingly (see Gore Vidal and Norman Mailer); or amateurishly by a few who think they know how it works and don't — that bringing something fresh to the arena can be daunting, even for an insider. Then there's the problem of pushing back from your keyboard, turning to your bookshelf, and being reminded that Fitzgerald, Chandler, Cain, Ellroy, Huxley, McMurtry, and Schulberg have been there before you. It gives you pause.
The Vigilante Author: Yeah, I can see how it would.
Neil Russell: However, when you grow up and work in this industry, you meet remarkable people, experience things that couldn't occur anywhere else, and hear stories you think can't be topped — then they are the next time the door opens. My father used to say that every genius and pissant eventually finds his way to Sunset Boulevard. I steer clear of the pissants, but the chairs in my office have held Nobel Prize-winners and CIA directors, Colombian bounty hunters and Asian warlords, Cold War spies and Chernobyl survivors, along with various rogues and charlatans, and the rich, famous, and talented from all corners of the globe. I've also been invited places I never knew existed and discovered that everyone picks up the phone when they hear Hollywood is calling. I never cease being amazed by how fortunate I am.
And thus, into the maw my word processor and I dove.
The Vigilante Author: So, to borrow some ancient jargon from Hollywood gossip columnists, why don't you dish the dirt about your latest novel?
Neil Russell: My third Rail Black novel, Beverly Hills Is Burning, is an edgy story about old mobsters, new movie studios, gruesome murders, and money — lots of money. It is also about the underlying anxiety of an industry that rides, not on technology or patents or how many shelves you fill at Walmart, but on the fragility of one hundred and twenty pages of words, written in a format few people can evaluate and even fewer can write. Pages that determine the fates of those who pursue the bright lights and those who own them — and upon which rest a trillion dollars of shareholder equity.
Beverly Hills Is Burning takes place in Hollywood, Havana, Palm Springs, and Laguna Beach, with a side trip to 1930s Matamoros, Mexico. And though clearly fiction, the story is rooted in reality. It is also unlike any other I am familiar with. So far, no one has told me otherwise.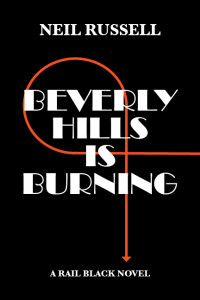 The Vigilante Author: Havana? What's that connection all about?
Neil Russell: For those who came along after Fidel and Che made mass murderer T-shirts fashionable, Havana had two Mafia- and Hollywood-entangled eras: The one portrayed in "Godfather II," which took place in the 1950s, and a less-remembered but more-sophisticated, high-society version, which occurred twenty-five years earlier. Beverly Hills Is Burning derives half its plot from the one most people never knew existed, and the other half from the shrouded inner workings of modern-day Hollywood.
The Vigilante Author: Could a reader new to your work just dive in with this one, or should he or she start with the first?
Neil Russell: All three Rail Black novels are stand-alones, so it is not necessary to have read the first two, City of War and Wildcase, to enjoy BHIB. (Though, of course, I hope you eventually will.) I must note, however, that my books are not breezy reads but intricate, complex thrillers. They interweave events from the past with connected ones from the present, which requires keeping track of names and events in different time periods.
Eventually, everything comes together, but I've not yet had anyone tell me they unraveled the mystery before the reveal. If you like going places you've probably never been, looking at things through very different eyes, being challenged and surprised, Rail Black may be for you.
The Vigilante Author: I know enough about your stories to sense a "however . . ." coming.
Neil Russell: A very big "however." All the Rail Black novels contain violence, profanity, and sex, some of it explicit. BHIB is the most explicit. This is pull-the-blinds, hide-the-picture-of-your-priest storytelling, and I strongly caution sensitive readers. Sometimes the world isn't pretty — and Hollywood occasionally leads the way.
I encourage everyone to check the reviews at Amazon and Goodreads before buying any of my books — especially the reviews written by people who were not enchanted. My goal is to entertain, not have you fire it through your favorite Rembrandt.
The Vigilante Author: Yeah, I'd sure hate to damage my Rembrandt. So these are straight-out thrillers, right? Or how would you characterize them?
Neil Russell: Since I didn't set out writing Rail Black from any particular genre standpoint, the books aren't a straight-out anything. There's some thriller, a lot of mystery, and definitely crime and suspense. The locations also range from LA across every continent except Antarctica, so the stories travel as well.
The Vigilante Author: But you've also taken a fresh approach to subjects and settings.
Neil Russell: The two things I made a conscious decision to avoid were terrorism and ticking nukes about to vaporize Washington or New York or some gentle, tree-lined neighborhood in Dubuque. There are very fine writers who cover those beats and who are so well-versed in the intricacies that I didn't believe I could be anything more than derivative. More to the point, unconventional characters and entangled personal relationships are what interest me, not global conflagration.
It turned out that my books also have developed a substantial and loyal military following. I'm proud to have them as readers, and I thank them for making America safe for my family. I don't think the special operator who sent me a recent email would mind my quoting his take on Rail: "Big, bad, rich, and gets laid a lot. Count me in."
The best way I know to describe my novels is to ask yourself what you would do if you had more money than you could count, and some soulless asshole committed a dreadful act on you, your family, or a close friend. As a civilian, you don't have the infrastructure of law enforcement, but wealth and celebrity open doors — some even the cops can't get through. Rail Black's a door-opener. And he doesn't come with handcuffs and Miranda.
The Vigilante Author: Rail and Dylan Hunter would get on splendidly. But there are differences, too. What makes your hero special? Does he represent for you what Dylan does for me — an idealized fantasy projection?
Neil Russell: I'll leave uniqueness to the reader to decide, but Rail Black originated from a voice I'd been using to guide stories and scripts for years, if only from a distance. The kind of man we'd all like to think we could be or would want as a friend. A big, physical man with an attitude and moral underpinning that refuses to be compromised. One who also occasionally makes mistakes — and they bother him. And just to keep it interesting, I endowed him with a heaping helping of wiseass.
Half-Brit, half-Brazilian, all-American, Rail Black is a former Delta Force operator who, through birth and inheritance, is extremely wealthy. He lives in Beverly Hills, and if you're lucky enough to have him in your Rolodex, he's the call you make when fools and scoundrels upset the balance of nature.
The Vigilante Author: I was pondering the similarities and differences of our respective heroes, Neil. Both of them are mysterious guys with loads of money and special operations backgrounds. Both are tough, smart, and operate like vigilantes. But I see Dylan Hunter as leaning more in the direction of a hybrid of Batman and Jason Bourne (with some of Ayn Rand's philosophical pirate-hero, Ragnar Danneskjöld, tossed in); while I see Rail Black as more in the direction of a cross between James Bond and John D. MacDonald's Travis McGee. Am I totally off here? How do you see them?
Neil Russell: I'm not a big fan of the word vigilante. I prefer paladin; it sends people under the age of fifty to the dictionary. Otherwise, I'm good with your assessment. Maybe someday they'll meet. But give Dylan a heads-up, Rail's a big dude. How's that for throwing down the gauntlet?
The Vigilante Author: Game on, dude . . . So, instead of "Wire Paladin, San Francisco," you "Wire Rail, Beverly Hills." What else makes him special?
Neil Russell: He has a low tolerance for those who take advantage of others, politicians, badge-heavy cops, and self-appointed, righteous blowhards who stand on the throat of personal freedoms. Rail also — scrunch your toes a little tighter in your Birkenstocks, NPR fans — smokes, which generates more angry mail than all the salacious sex and violence I'll write in my lifetime.
I will add that Rail has an appetite for women. Smart women who are as attractive on the inside as they are in the mirror. And some of them smoke, too.
The Vigilante Author: Yikes! A rich, sexist, ex-military guy who uses guns! Gee, in a few more years we'll have to read your books under the covers at night with a flashlight.
So, what kind of man created this Rail Black guy? Where did he come from?
Neil Russell: You may be sorry you asked that, but here goes . . .