I'll be at the Massanutten Resort in McGaheysville, Virginia, for a couple of author events during the week of July 27, 2014.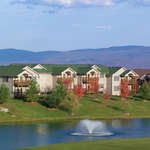 On Monday afternoon, July 28, I'll be signing my books for resort guests at the resort's weekly Craft Fair, located at their Ski Lodge, from 2 – 4 p.m. This event is open only to resort guests.
On Wednesday, July 30, 7:30 p.m., I'll give my presentation on "The New World of Self-Publishing" at Woodstone, the resort's main registration and activities building. I don't believe there is any guest residency requirement for attending this event, but if you are interested, you can call (540) 289-9441 for details.
The Massanutten Resort is located in central Virginia, about 11 miles east of Harrisonburg, on Route 33. Details and driving directions can be found here.