I am revising and updating the original post here, to reflect the final results of this campaign:
Folks, I've never run a sales promotion for my books before. But going into the holidays, I thought that I'd give HUNTER a boost.
From Thursday November 13 through Monday November 17, the Kindle edition of HUNTER will be on sale for just 99 cents!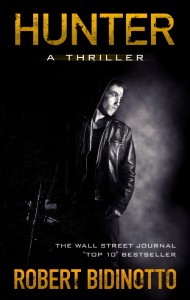 If money is tight and you've been wondering what to give for holiday gifts, here's one that won't break the bank but is likely to be appreciated by most fiction readers. You can send the ebook as a gift, by email, right from the purchase link box in the upper right of the HUNTER product page.
No Kindle? No problem! You or your gift recipient can download the free Kindle app from the product page, too, then use the app to download and read HUNTER on any tablet, smartphone, or computer.
This is the only time in three years that I've run a book promotion, and it may be a long time before I run another. And at less than a buck, never has HUNTER been priced so inexpensively.
So grab it now, either for yourself or for somebody who will enjoy a tale filled with thrills, action, mystery, romance, spies, criminals . . . and the most original swashbuckling action hero in a generation.
Update #1: The "Readers in the Know" online book promotion site, besides running a HUNTER promotion scheduled for November 14, also invited me to blog about my promotion, its rationale, my expectations, and the final results. Check out my first November 13th post here.
Update #2: Also on the first day, I ran this promotion on "Free Kindle Books & Tips." If readers sign up to subscribe to their site, at no charge, they will notify you by email of daily free and discounted ebook bargains. For authors, you pay a modest fee to have your book promoted, with a site listing plus the email to subscribers.
Update #3: The Day #1 (Thursday) sales results exceeded my highest hopes. Almost 300 copies of HUNTER sold, and the day ended with an impressive Kindle ranking of #634 out of more than 3 million ebook titles. The pace of sales hasn't slowed a bit during Day #2 (Friday): I've piled on about six more promotions, plus more social media. As of mid-afternoon I've recorded another 162 sales, and the Kindle ranking has further plunged, to #452.
And my thriller-author friend Stephen England has just posted the long interview he conducted with me a few days ago, including many previously unrevealed aspects of my writing the Dylan Hunter series. I hope you check it out.
Update #4: Day #2 (Friday) finished up with 301 paid downloads for HUNTER. Its Kindle ranking sunk as low as #296 before settling back into the mid-300s prior to the big Day #3 promotions.
Day #3 (Saturday) saw huge sales, driven mainly by the big email book advertiser Bookbub. As a result HUNTER crested at #38 on the Kindle Bestseller List during the wee hours of Sunday morning. It also hit #1 in three Kindle categories: "Crime Fiction," "Vigilante Justice," and "Assassination Thrillers." It went to lows of at least #12 in "Thrillers" and #14 in "Mystery, Thrillers & Suspense."
All told, 1515 ebooks sold on Saturday — 1493 sales, and 22 "borrows." About a hundred of those sales were from the UK. Collateral sales of BAD DEEDS went way up, too — 47 copies on Saturday. In addition, I found that on Day #2 of the promotion, when I was using smaller sites and lists, HUNTER generated 14 audiobook sales; on Saturday, it added a whopping 30 more.
For Day #4 (Sunday) I scheduled no formal promotions. But just driven by the momentum of the preceding promotions, plus the book's new prominence on various Amazon bestseller lists, sales continue to be significant. As of 6 p.m., I've recorded 397 purchases of HUNTER plus 31 more of BAD DEEDS. While HUNTER has slipped out of the Top 50 rankings (at this moment positioned at #58), it's still doing extremely well in its various genre categories: #1 in "Assassination Thrillers" and "Vigilante Justice," #2 in "Crime Fiction," and #18 in "Thrillers." BAD DEEDS also holds a very respectable ranking in the low # 3000s.
One other nice thing: The book has been selling extremely well in the United Kingdom, too, the only other nation in which I was permitted by Amazon's rules to run a Kindle Countdown Deal. Over 100 copies sold on Day #3, and I've so far chalked up two dozen more on Day #4. As a result, HUNTER is also holding the #1 position in the UK "Vigilante Justice" category — simultaneously with holding that same position in the U.S.A.
I'm extraordinarily proud that my debut thriller has now twice surged onto the Kindle Top 50 Bestseller List . . . three years apart.
Update#5: Campaign Results
The totals from Days #4 and 5 were excellent, adding 922 purchases of HUNTER alone.
Let me summarize by listing the major achievements during the campaign's duration (and many will continue long afterward):
* More than 3,000 copies of HUNTER were sold. In addition, another 200+ copies of BAD DEEDS were purchased.
* On Saturday November 15, HUNTER sold 1,515 copies in a single day.
* For the second time in three years, HUNTER hit the Kindle "Top 50″ Bestseller List, peaking at #38 out of 3 million ebook titles.
* The book soared to #1 in the categories "Crime Fiction," "Vigilante Justice," and "Assassination Thrillers," and still holds that top ranking in the latter two categories. It also hit #2 in "Espionage Thrillers." It reached #12 on the big "Thrillers" list, and #14 on the even bigger "Mystery, Thrillers & Suspense" list. (It may have gone even lower in those numerical rankings; I wasn't paying attention all the time.)
* HUNTER also went to #1 in "Vigilante Justice" in the UK, and still remains in that ranking as of this writing. In a market where it has never done that well, it sold over a hundred copies in a single day.
* The collateral benefits include big spikes in sales of the HUNTER audiobook — 14 on Day #2 and a whopping 30 on Day #3 — plus many new readers who will go on to purchase BAD DEEDS and the coming sequels. I also expect sales of both books to remain considerably higher in daily sales than they were before the campaign, for a long time.
All in all, a tremendous success. HUNTER is now a two-time Kindle Bestseller!