With the August special Kindle Monthly Deal promotion on Amazon, the combined sales of all editions of both HUNTER and BAD DEEDS (print, ebook, audio, domestic, and foreign) have exceeded 100,000 copies, and by a very comfortable margin.
In addition, an unknown number of ebooks also were "borrowed" and read via the Kindle Unlimited and Kindle Owners Lending Library programs. (Amazon no longer shares any "units borrowed" data with authors.) So, the 100,000 figure is a low-ball estimate.
And that's with only two books…so far!
I'm proud of this milestone, one that, starting out my fiction-writing career just a few years ago, I could never have imagined I would reach.
I'm grateful to all of you who have made it happen. Thank you for buying, reading, reviewing, and recommending HUNTER and BAD DEEDS. Thank you even more for your many expressions of enthusiasm and personal support for the adventures of Dylan Hunter, Annie Woods, and their colorful cast of friends. I hope that my future installments in the series will continue to merit your interest and generate many hours of enjoyment.
Speaking of the Kindle Monthly Deal, it was a rousing promotional success for HUNTER and BAD DEEDS. Nearly 1900 copies of the ebooks  were purchased, and in addition, customers utilizing Kindle ebook borrowing programs read the equivalent of 158 entire copies of HUNTER plus 82 additional complete copies of BAD DEEDS. So, let's call it well over 2,000 paid copies of the books. Moreover, the ebook sale had a significant collateral promotional benefit on sales of the HUNTER audiobook.
These sales pushed both books back onto multiple genre category bestseller lists in the Kindle Store. HUNTER made it into the Top 10 in three separate crime-fiction categories and the Top 20 in a fourth, while BAD DEEDS entered the Top 10 in one category and the Top 20 in two more. You can see the impressive company that HUNTER was keeping by taking a look at the Kindle "Assassination Thrillers" bestseller chart as it appeared around midnight on August 29: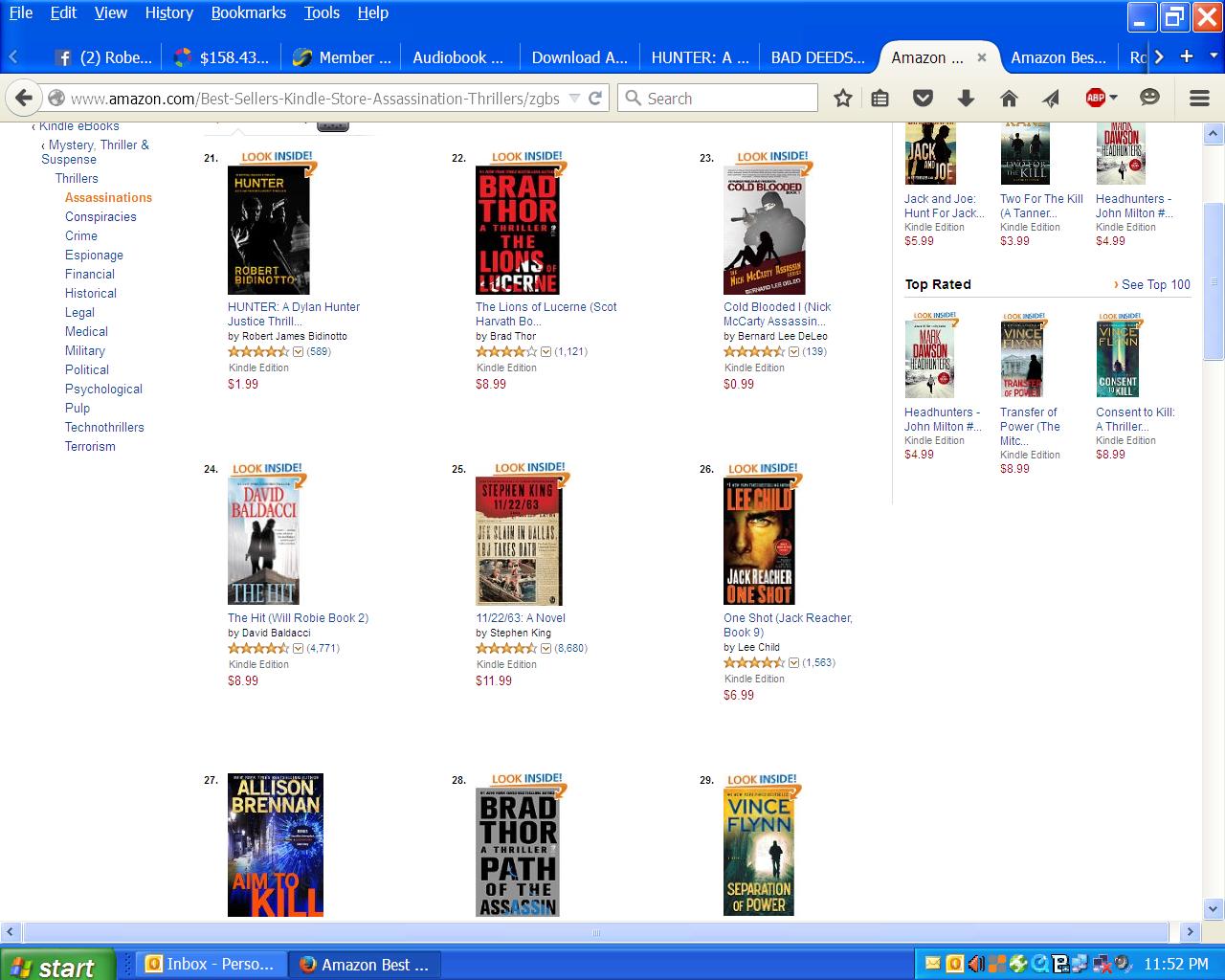 I'm more than pleased with how this promotion turned out, especially because it introduced many hundreds of new readers to Dylan Hunter. I'm sure he's won many more fans for life.