British novelist Tim Stevens is described in reviews as "one of the best writers of thrillers working today" and "the new master of the genre." Even though he began publishing only about four years ago, Tim already is the author of eleven action and espionage novels, including RATCATCHER, SEVERANCE KILL, OMEGA DOG, and the forthcoming CRONOS RISING. Incredibly, he's managed to do this while being a fulltime practicing physician. Tim is also a family man who lives near London with his wife and daughters.
Somehow, I managed to catch this busy man's attention recently and invited him to participate in an interview, to which he graciously agreed. I don't know how he found the time, but here's our recent email exchange. You thriller fans and aspiring authors are going to love this.
~~~
THE VIGILANTE AUTHOR: Congratulations on your success, Tim. Your books have attracted a lot of fans and great reviews. Why don't you tell us a bit about them.
TIM STEVENS: Thanks, Robert, and first of all may I say what a privilege it is to be interviewed on your site. I'm an enormous fan of your thriller HUNTER.
My books can broadly be classed in the action thriller genre, though most of them have elements of espionage. I have ten novels currently published in three series, with the eleventh book due for release in early November.
THE VIGILANTE AUTHOR: That's impressive. Looks like I have a lot of catching up to do, both in reading your work and in my own writing. So, give us some details about these series.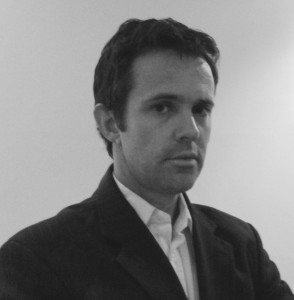 TIM STEVENS: The flagship series chronicles the exploits of John Purkiss, a former MI6 operative who now works as the so-called RATCATCHER, which is the title of the first in the series. Purkiss's job is to track down and bring to justice rogue elements within MI6, whether outright traitors, abusers of power, or simply criminals.
My second series features Joe Venn, a veteran of the U.S. Marine Corps and former Chicago detective who finds himself in New York City, initially as a down-at-heel private eye, and in the subsequent three books (so far) as a reinstated detective lieutenant—this time with the NYPD, heading up a special unit dedicated to the investigation of politically sensitive crimes.
Finally, series three, which so far consists of two novels, belongs to Martin Calvary, a disgraced British Army rifleman turned assassin for a black-ops division of MI6, who's had enough of the killing and goes on the run from his employers.
My newest book is SIGMA CURSE, in the Joe Venn series, and is about a serial killer stalking victims in New York in a seemingly random way. It's a bit of a departure for me, being more of a police procedural than an outright action thriller, but it's proving highly popular judging by its sales. Next month sees the release of the fifth John Purkiss novel, CRONOS RISING, in which the origins of the whole "Ratcatcher" program are explored. And in December, the Martin Calvary trilogy will be completed.
THE VIGILANTE AUTHOR: That's incredibly ambitious, Tim, and my Indiana Jones hat is off to you. You say "action thrillers" with spy elements. Would you elaborate a bit?
TIM STEVENS: Rather than fitting into the categories of traditional espionage stories and police procedurals, my novels are first and foremost unashamed action thrillers. I love the slow-burn styles of John Le Carre and Charles McCarry, to name two classic spy authors, and also the intricate and clever plotting of mystery writers like P.D. James and Michael Connelly. But whenever I try to write something more sedately paced, all hell breaks loose and a chase or a fight scene erupts. I can't help it. Most of my novels contain a whodunnit aspect, but in the setting of a breakneck-paced thriller. So I suppose my books can be summed up broadly as Agatha Christie with added firepower.
THE VIGILANTE AUTHOR: Now that sounds like a newly minted niche. So, you have these three series protagonists. What do you think is unique about these characters that distinguishes them from other thriller heroes? Where did John Purkiss, for example, come from? Drawn in part from real life? Totally your imagination?
TIM STEVENS: I'm nobody's idea of an action hero, and I suppose my characters represent to some extent wish-fulfillment fantasies on my part, something I suspect is true for many authors even if they're reluctant to admit it.
THE VIGILANTE AUTHOR: I plead guilty—as if those who know me couldn't tell.
TIM STEVENS: So I write protagonists who embody a lot of the traits I'd like to have myself. Physical courage and prowess, unflappability, the ability to think quickly and creatively in a crisis. That said, there's a ruthlessness about all three of my main characters—Purkiss, Venn, and Calvary—which I'm in many ways glad I don't possess. It would make me damned hard to live with.
THE VIGILANTE AUTHOR: Most fictional heroes would be hard to live with in real life. I wonder if female readers fully realize that? But it's still inspiring for us to create and for readers to contemplate larger-than-life heroes.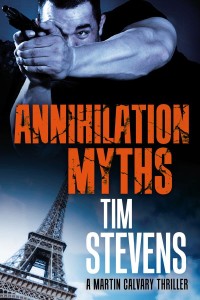 TIM STEVENS: I've always been drawn to larger-than-life, over-the-top characters, rather than Everymen who discover courage and resources within them they never suspected they had. Some of the negative comments about my heroes is that they come across as cartoonish at times, but I don't mind that. I want my characters to be able to achieve things the average person can't. Nonetheless, my protagonists are vulnerable: They don't always win their fights; they bleed; they hurt.
THE VIGILANTE AUTHOR: Why don't you tell us something of your background, Tim, and how you arrived where you are now.
TIM STEVENS: I was born in England but moved to South Africa with my parents in the mid-1970s when I was five years old. It was supposed to be a holiday of a few months, before my brother and I were old enough to start school, but for various reasons we ended up staying for almost twenty years. So although I regard myself as British, a big part of me is still South African.
At the age of twelve I decided I was going to be a doctor. I made my way through medical school in Johannesburg and spent my year as a junior intern at the largest hospital in the Southern Hemisphere in Soweto, the township outside Jo'burg. It was a formative experience, to say the least. This was at the beginning of the 1990s, and the apartheid system was on its way out, thankfully; but the country was in an unofficial state of civil war, with various factions including the ANC [African National Congress] and its rivals, the Inkatha Freedom Party and the Pan-Africanist Congress (or PAC), vying for political dominance. The violence I witnessed was extreme, and it's affected my writing, in the sense that I tend to portray violence quite graphically in my novels, because it feels dishonest not to.
After returning to Britain in the mid-90s, I took an interest in psychiatry and did my postgraduate training in this field. For the past thirteen years I've worked as a hospital consultant—that's "attending physician" in the U.S.—in the specialty of old age psychiatry, working mainly with people suffering from Alzheimer's disease and other dementias and neurodegenerative disorders.
The fiction writing, at least for publication, has been a recent development over the last three or four years. I still work full-time as a hospital doctor, fitting in the writing around work and family commitments.
THE VIGILANTE AUTHOR: All of this writing in just four years, while holding down a full-time position as a physician? You're making me feel like a real slacker, you know. Anyway, what experiences or influences in your early life do you think drew you to writing action thrillers?