At last!
On December 1, 2017, WINNER TAKES ALL — the third installment in the Dylan Hunter Justice Thrillers series — went on sale on Amazon.
The Kindle ebook edition and the print edition are available now on Amazon. I hope to have the audio edition available in the first quarter of 2018; stay tuned for updates.
WTA is by far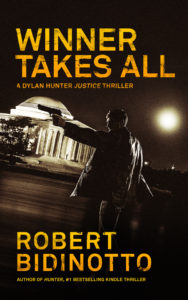 the biggest, most complex, most thematically ambitious — and some enthusiastic advance readers say "the best" — book in the series.
It also serves as the rousing climax to what has become an opening trilogy in the Dylan Hunter saga. Filled with surprises, it fleshes out the lives of characters that many thousands of readers have come to know and love. You'll learn surprising things about Dylan, Annie, Grant Garrett, Detective Ed Cronin, Wonk, and past "minor" characters who play big roles here: Avery Trammel, Ray Lasher, Emmalee Conn, Julia Haight, and many more. And a host of colorful new characters make their appearances.
You've waited for it for so long that I'm sure you've forgotten what the story is all about. So here's a teaser:
***
A murderous conspiracy for ultimate power  . . . inspired by today's headlines!

Engaged to be married, mysterious journalist Dylan Hunter and CIA officer Annie Woods are eager to put their violent past behind them, for good.
But then an investigative reporter is found mysteriously murdered. An idealistic presidential candidate is targeted for destruction. And a horrific day of unspeakable terrorism rocks Washington, D.C.
Soon, Dylan's investigation puts him in the cross hairs of a power-hungry billionaire and a cold-blooded assassin. A deadly conspiracy of dangerous men aims to install their puppet in the White House. And these predators are willing to do the unthinkable to bring America under their total control.
The stakes — political and personal — couldn't be higher. Because to stop them, Dylan Hunter must make an irrevocable choice. It's a decision that will, finally and forever, seal his fate . . . including his future with the woman he adores.
But for now, only one thing is certain:
In the tidal wave of political violence on the blood-soaked streets of Washington, D.C., the final outcome will be . . .
***
I bet you thought I'd never finish it — right?
I don't blame you. There were many times over the past three-and-a-half years when I thought I'd bitten off way more than I could chew. During that period, I cringed almost daily at questions from Dylan's multitude of fans about my many missed deadlines. I tried to explain, then gave up, because it sounded like excuse-making. Maybe it was.
And we all know how Dylan deals with excuse-makers, right?
So, for the past year, I pretty much stopped communicating publicly about the book. I didn't want anyone — least of all my long-suffering wife — to know I'd reached the point where I met each morning with paralysis and dread, staring at a plot structure that had sprouted and spread like kudzu, harboring within its half-dozen subplots a proliferation of unruly characters who were multiplying like horny bunnies.
How did that happen? It happened because, for me, this single book had to accomplish so many different objectives.
For one, the story had to harvest seeds planted in the first two installments of the series — resolutions about Dylan's future course, where his relationship with Annie might be headed, and the ominous threat looming over them at the end of BAD DEEDS. More fundamentally, I had to confront and answer these questions: