As I mentioned recently, I'm having new covers designed for HUNTER and BAD DEEDS, in order to develop an integrated, "branded" look for the series. Here is the bold and dramatic new HUNTER cover: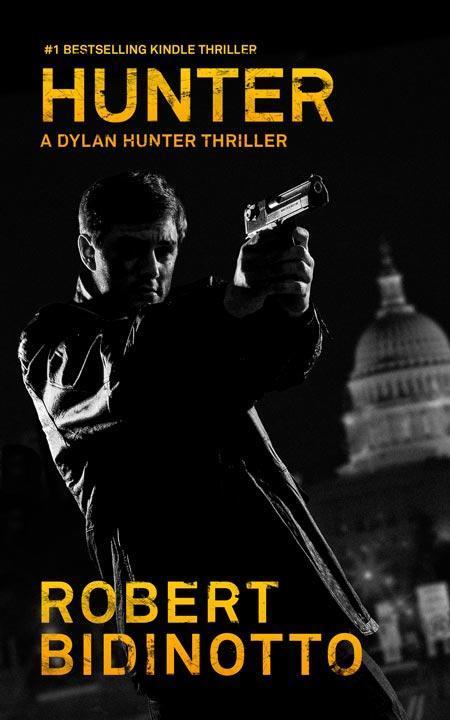 Once again, the cover was created by my super-talented designer, Allen Chiu. Allen is currently at work on a new cover for BAD DEEDS that will carry over this "look" and style. I'll post that as soon as it's ready. I hope you like them. Your comments — posted here, or sent to me privately — are welcome.
The first people to see this new cover were subscribers to my free monthly email newsletter, "Bullet Points." They also were the first to be informed of the title of the next Dylan Hunter thriller — which I'll reveal here eventually. In addition, three lucky subscribers were randomly selected to win cool prizes. Reid Wientge is receiving a new Kindle ereader, while Angie Killian and Jeff Morrone were chosen to get $25 Amazon gift certificates.
Subscribers will become eligible for new prizes every month. So sign up for "Bullet Points" right now! In the May issue, a $50 Amazon gift certificate will be awarded to the 15th person to email me with the maiden name of Dylan Hunter's mother.  If you know — or care to look it up — email the answer to me right away at RobertTheWriter@gmail.com.
Finally, if you have not yet bought the print editions of HUNTER and BAD DEEDS that bear the original covers, they may well become collectables someday. For the next week or so, you will still be able to buy them on Amazon, until the new covers appear. Also, I have a limited quantity of the books on hand. If you prefer to buy copies personally inscribed by me, you can order them right from this site.
So, if you want to own the books with their original covers, act now. They'll be gone very soon!