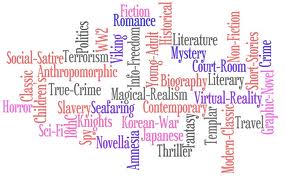 I've been pondering the whole way that books are categorized and classified, and how "genres" and "subgenres" are generated. I do so because we indie authors are always agonizing about how to categorize our own books within the existing genre and subgenre classifications on Amazon and elsewhere.
The process is now totally haphazard. There's no defining principle or rational method underlying any of this. The ad hoc process seems to be: Some writer comes up with a fresh new story concept; he or she then spawns a host of imitators; next, somebody, maybe a reviewer, slaps a cute label on what all the copycats are doing, and voila! We have a new "subgenre."
I mean, how else to explain things like "steampunk"?
Anyway, studying the Amazon fiction classification trees, it seems that there are two general ways in which genres and subgenres are defined:
1. By psychological interest — that is, by the kind of emotion or mental experience that we seek from certain kinds of books (e.g., horror, romance, humor, inspiration, mystery, fantasy, sexuality, adventure, etc.) There are a limited number of these core human emotions and experiences.
2. By topical interest — that is, by the kind of subject matter that arouses our personal interest and curiosity (e.g., history, biography, crime, espionage/spy, gay/lesbian, children, sports, politics, military, nautical, technology, science/sci-fi, Westerns, urban, etc.) Our topical interests can be unlimited in number and variety.
Given this, I've been toying with an idea — a way perhaps to think about and categorize stories a bit more intelligibly (I won't say "intelligently"; others can be the judge of that). Maybe online retailers and booksellers might find it useful.
The concept involves combining readers' interest(s) in specific topics, with the emotional experiences that they hope to get out of them.
Here is how it would work:
Take one or more topical interest, then combine it with one or more psychological/emotional interest, to come up with a subgenre. In short:
Topic + emotion = subgenre.
Examples: Western adventure, urban romantic-comedy, historical fantasy, sports mystery-thriller, technological horror, military humor, political-espionage thriller, etc.
This scheme would create a fiction classification system in which the relatively limited number of human psychological interests provide the "genuses" (the broad "genre" categories), while the myriad of topical interests provide the ever-expanding "species" ("subgenres").
After perusing the existing Amazon fiction classification trees, here is a fast-and-dirty (and obviously incomplete) list that I came up with, ready for your mixing and matching
I.  Psychological Interest Categories (basic genres)
Adventure
Erotica
Fantasy
Horror
Humor/Satire/Comedy
Inspiration
Mystery
Quest/Exploration
Romance
Thriller
II. Topical Interest Categories (for defining subgenres)
Animal
Aviation
Biographical
Business
Children's
Coming of Age
Crime
Espionage
Ethnic/Cultural
Family
Female
Gay/Lesbian
Historical
International (or specific nations)
Male
Medical
Mythological
Military
Nautical
Occult/Supernatural
Outdoors
Political
Racial
Religious
Rural
Science/Sci-Fi
Spiritual
Sports
Technological
Urban
Westerns
Young Adult
Okay, this is my weekend stab in the dark, after a glass of wine. Thoughts and opinions, anyone?
Ummm . . . Jeff Bezos . . . are you there?