New York Times bestseller Gayle Lynds is the award-winning author of ten international espionage novels, including The Assassins, The Book of Spies, and The Last Spymaster.
Gayle's career began with her short stories being published in literary journals while she also wrote male pulp novels (including popular entries in the bestselling "Nick Carter" and "Mack Bolan" series). Since then, her books have won numerous awards and constant acclaim for their spy-tradecraft authenticity, clever plotting, and indelible characters.
Publishers Weekly lists her thriller Masquerade among the top ten spy novels of all time. Library Journal hails her as "the reigning queen of espionage fiction." And Lee Child says she's "today's best espionage writer." With the late Robert Ludlum, she created the "Covert-One" series. The first, The Hades Factor, became a CBS miniseries.
A member of the Association of Former Intelligence Officers, Gayle is co-founder (with David Morrell) of International Thriller Writers, Inc. She lives in Maine with her husband and "two bossy, geriatric cats."
I had the privilege of meeting Gayle at a writer's conference some years ago, while I was still in the early stages of work on HUNTER. She generously allowed me to pick her fertile brain and encouraged me to forge ahead and complete the book. Not only that, she introduced me to a former CIA officer who served as a vital source for the novel. For all of that, I thanked her in the book's "Acknowledgments." I also bought and read The Last Spymaster—a dazzling, unforgettable CIA thriller with a serpentine plot and terrific characters. To borrow the title from a famous spy movie theme song, "nobody does it better."
For all those reasons, I'm thrilled to put Gayle Lynds under the spotlight now at The Vigilante Author. When you've read the interview, go grab her books (you'll thank me), which you can find listed and described on her website, GayleLynds.com. You can also read her intriguing blog posts at "Rogue Women Writers."

(As always, click on the photos and cover images for expanded views.)
 ~*~
The Vigilante Author: Gayle, congratulations on the smashing success of your latest bestselling thriller, The Assassins. [Read the first three chapters here.] The reviews have been fabulous—as usual. The Associated Press raved about it and called you "a master of the modern Cold War thriller." And the book has won the Founder's Award from the Military Writers Society of America.
Your focus has always been on spies. So, why write about assassins now?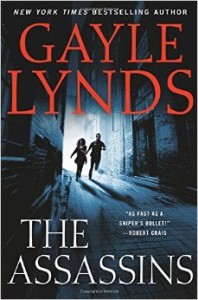 Gayle Lynds: I became fascinated when I realized most people think of assassins as either psychopaths or sociopaths—monolithic, virtually identical. Not true. They're as different as any of us are. Plus, there's a spectrum in sociopathy and psychopathy that allows many people, not just those in the killing trade, to live and work among us undetected. At the same time, I admire anyone with a sky-high skill set.
With those ideas, I was off, creating six assassins, each from a different background—some political, others religious, and one in it simply for the money. All are from the old Cold War days, independent, and expert, or they wouldn't have survived until today. As they're hunting each other, it becomes obvious there are high stakes, and one of those stakes is the location of Saddam Hussein's missing $40 billion fortune. Personally, I've always wanted to find it. And I'm not alone—the search for Saddam's lost wealth is considered the greatest treasure hunt since we went looking for Nazi gold after World War II.
The Vigilante Author: Besides the six assassins, Eva Blake and Judd Ryder star in The Assassins. Their first appearance was in your previous novel, The Book of Spies, which Library Journal named one of the Best Thrillers of the Year. Why did you decide to bring them back in The Assassins?
Gayle Lynds: I'd really enjoyed creating Judd and Eva, and I missed them. As I was wandering around my house envisioning the next book, I realized their stories weren't finished. That was a mighty fine moment for me. So I happily brought them back in The Assassins to put them through their literary paces and discover who they were now and what they'd do next.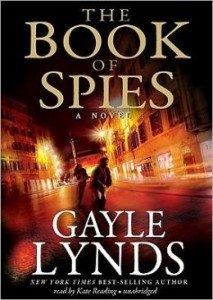 The Vigilante Author: You're considered something of an icon in spy fiction. Lee Child calls you "today's best espionage writer," while Library Journal says you're "the reigning queen of espionage fiction." What started you on this storytelling path?
Gayle Lynds: I suppose you could say I didn't know any better. Ultimately I blame Kurt Vonnegut. He was a writer in residence at the University of Iowa while I was studying there. I asked him where he'd come up with the terrific idea for his novel Cat's Cradle, and he said it all started during a summer job he had at a think tank, where "ideas bounced off the walls."
Since my dream was to write novels, I jumped at the chance a few years later to be an editor at a private think tank that did a lot of government work. There I was vetted for Top Secret security clearance and stepped into an exciting world of research, creativity, hard work—and secrets. Years later, when I was finally able to write my own novels, I found myself influenced by those years. I wanted to write about geopolitics, history, culture, and power. What better place than in espionage? I've been doing it now for 20 years, and see no end in sight. I love it.
The Vigilante Author: And so do your many readers! The world of espionage and spies is often seen as being male-dominated. What's your take on this?