The cover of Rambling — Edd Voss's collection of thirteen beguiling short stories — uses such adjectives as "unique," "heartwarming," and "legendary" to describe his tales. Well, they are all that, and more.
Mr. Voss is a cross-country truck driver. The cover photo shows a guy who looks like Charlie Daniels, and the stories he has collected sound like the kind that the famous country musician might tell — if he could write. Fortunately, Mr. Voss can write, and the compelling yarns he spins for us have a charm, sensitivity, and voice that are utterly distinctive.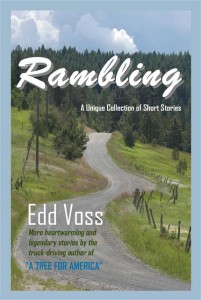 The collection opens with "Welcome Home," a poignant tale of a Jim, a trucker, and his youngest son Dave during a too-rare visit home. The boy has discovered a footlocker in the attic filled with mementos from his dad's tours of service in Vietnam. Jim has never spoken of those days, but prompted by his youngest son's questions, he opens up. Then he's off to spend more weeks on the road. He finally returns, and the story ends with a touching twist that reminded me a bit of O.Henry.
Family takes center stage in a number of these stories, and Mr. Voss's deep love for his own is everywhere evident. Particularly moving are "Christmas on the Mesa," where a cowboy looking for a lost calf finds more than he bargained for, and "Jo Anna" — a hauntingly sad, stoically restrained, fictionalized retelling of the author's loss of his own young daughter in a horse-riding accident. Another bit of autobiography is "Airborne: One Man's Journey," a vivid account of the grueling training he underwent during his Army days to become airborne-qualified.
Mr. Voss is a product of the American West, and he captures its vast grandeur and legends in such tales as "Apache Tears," "The Ghost of Hi Jolly," and "Storm." But there are surprises, too. "Blind?" is a short story filled with an ominous, tactile sense of creepy menace that would have made a wonderful episode of the old "Twilight Zone" TV series. "Shade" is a futuristic, dystopian thriller that ends all-too-suddenly, with the promise of future episodes that could blossom into a novel. And there's much more in these pages for you to enjoy.
Edd Voss is an American original. His unique voice rises from the heartland, and his diverse anthology of stories is as sprawling and charming as is the vast country that he explores from the cab of his eighteen-wheeler. This is a terrific collection, and I can't wait for Mr. Voss's next book. But you shouldn't wait a minute longer to buy Rambling.
(Note: Check out my earlier interview with Edd Voss.)