CJ West is the independent author of a host of suspense novels, including The End of Marking Time and The Winemaker's Son. His most recent release is The Cat Bagger's Apprentice.
CJ spent twenty years helping companies solve computer networking and information management problems with firms including Arthur Andersen. In 1999, he began writing suspense novels and several years later transitioned to writing fulltime.
His fiction puts everyday people into intense situations and forces them to consider how they came to be who they are. He enjoys exploring the world through his research and varies his stories to follow his curiosity.
The Winemaker's Son, the first book in CJ's Randy Black series, was optioned for film by a screenwriting firm in early 2008. The screenplay, written by Marla Cukor, is complete, but has not yet made it to the big screen. Black Heart, the second book in the series, offers a major twist in the storyline and challenges readers to forgive Randy Black's mistakes and follow his journey in future novels. Gretchen Greene, the third Randy Black novel, introduces the first in a series of characters Randy will be tasked with saving. CJ's latest standalone thriller, The End of Marking Time, was published in 2010.
CJ hosts a Blog Talk Radio show called "The Thriller-30" where he interviews contemporary thriller and suspense writers. Find more information at this site. He maintains a blog, and you also can find him at on Facebook.
***
The Vigilante Author: Welcome, CJ. Let's cut right to the chase and have you first tell us about your most recent book.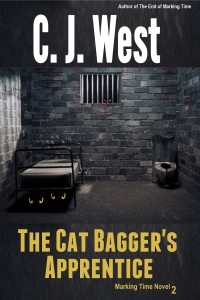 CJ West: The Cat Bagger's Apprentice is the second book in my "Marking Time" series, set in a time shortly after prisons were abolished. The book focuses on one criminal and the interplay between him and a cast of characters that are trying to rehabilitate him. The challenge to those in criminal justice is to protect citizens and help inmates without the benefit of prison bars. The counselors must use psychological ploys to maintain control in a world where control is nearly impossible.
The Vigilante Author: Okay, I'll bite: What is a "Cat Bagger"?
CJ West: For readers of The End of Marking Time, the Cat Baggers have a special meaning. It is unclear whether this group is mythical, created to scare criminals, or if it is real and their activities are being covered up. The Cat Baggers are the remedy of last resort. They are said to torture criminals until they are so desperate to escape that they jump to their deaths. The threat of being sent to the Cat Baggers is so scary that criminals do whatever they are told to avoid that sentence.
They are called Cat Baggers because one of their early methods of torture was to bind and blind a convict, then rile up a bunch of feral cats (in a bag) and release them into the convict's room.
The Vigilante Author: I could nominate a few real-life candidates for such treatment. But moving on: How would you characterize your fiction, by genre, themes, or topics?
CJ West: So I can't just say "awesome"?
The Vigilante Author: That goes without saying. But tell me more.
CJ West: I write suspense, but I'll write about any theme that catches my interest, and that means the tones of my books vary pretty widely. I've written an intense revenge story, a devious psychological thriller, and one book that's not sure if it's romance, suspense, or sci-fi. My loyal readers expect a few very creative surprises in each book and a heavy dose of realism.
The Vigilante Author: What's cool about self-publishing is that a creative person like you doesn't get stuck in some publisher's genre box. You can experiment and go wherever your imagination takes you. So, how did you become a creative writer? Tell us something about your early life.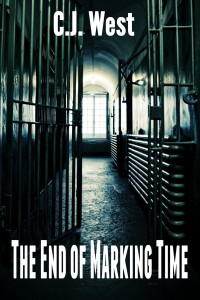 CJ West: I wouldn't trade my family life for anything, but I was a fish out of water in some respects since I was ten or eleven. I was raised a country boy. I learned to shoot and track animals as a kid. We spent a lot of time fishing, hunting, and building things because my father worked with his hands and that was the "real world" to him. I'm one of those people who, with a shotgun, a knife, and some matches, could wander off and survive in the woods for months. Those skills won't really be valuable until the zombie apocalypse, but hey, you never know.
The Vigilante Author: Indeed. I expect zombie hordes to be unleashed any time from Washington, D.C. But please continue.
CJ West: When I was about ten, I was identified as a gifted kid. We lived in a tiny town where the school system didn't know what to do with me other than accelerate my progress toward graduation. It's hard to believe now, but I was one of the smallest kids in my class until sophomore year in high school. Because I was so small, my parents didn't want me promoted early, so I stayed with my peers and was pretty much left alone by my teachers. I started writing a book in sixth grade because I was extremely bored in class and that started me on the road to learning and doing things myself. Sometimes I wish I had better mentors in those years, because learning to seek good advice would have saved me lots of heartache and head-banging through the years.
My father didn't value education and I was tracked into a vocational high school so I could get a job when I graduated. This was probably one of the biggest mistakes of my life, but it led to a career in information technology, which I thoroughly enjoyed.
The Vigilante Author: Yet somehow you developed an interest in fiction. How did that happen?
CJ West: I began reading for enjoyment in the 90's, something that wasn't done in my house, certainly not by men. In 1999 I picked up a few books on writing and fell in love with crafting stories. Years later I realized that I had worked on a writing project every single day for seven years. I truly love writing fiction and if I had my choice of work each day, that's what I would do.
I became a writer completely by accident. I was looking for a hobby on Christmas and stumbled on an addiction without a cure. I love writing and can't imagine a time in my life when I won't write novels. My earliest influence was Douglas Preston and Lincoln Child. I really admire the monsters and villains they create.
The Vigilante Author: Anyone else?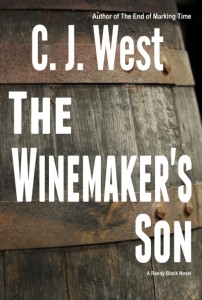 CJ West: Tim Hallinan has been a great influence on me. He's an amazing writer, who crafts prose better than any suspense writer I've read. Tim, and Michael Connelly, impressed me with their kindness. Their kindness and support of new writers is a great example to try and live up to.
The Vigilante Author: I've had that same kind of good fortune, with encouragement from writers like Brad Thor, Lee Child, Stephen Hunter, and the late Vince Flynn. So, what exactly motivates you to write, CJ? Do you have any overriding goal?
CJ West: I write for the joy of writing. I don't need motivation to write; what I need is motivation to put the writing aside and deal with marketing and other things that need my attention. As far as my goal in writing, I have an innate drive to help people. It permeates everything I do, and I often see myself redeeming characters in my work, or writing unlikeable characters in a way that readers become attached to them.
The Vigilante Author: What kind of obstacles and challenges have you faced?
CJ West: My biggest obstacle is that I'm lousy at marketing. Once I convince a reader to pick up The Winemaker's Son and The End of Marking Time, I have a new friend. My problem is that I don't accomplish that feat nearly enough. Maybe I should spend more time doing it.
The marketing that I do is fun. Maybe it should be more sales focused, but I'm not a salesy guy. My most recent marketing program is a Kickstarter campaign that offers readers a chance to follow along as I write my next novel, Two Bags Full.
The Vigilante Author: I think that's really clever, outside-the-box thinking. Tell us more about that project.
CJ West: Glad to. Kickstarter is a website that helps creative people fund new projects. My Kickstarter not only funds the production of my new book, but it also funds the creation of a group where I'll share the book from the very earliest stages of development. Readers can read along as the book is written and ask me questions about the story or characters. I'll share my tools and the techniques I use to keep a new book project on track from beginning to end.
Some writers think I'm crazy for sharing my work as it is written, but I feel like this is a great way for readers and new writers to see how the process (at least mine) really works.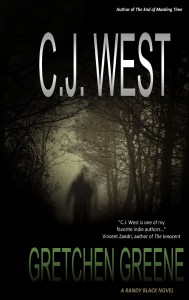 The Vigilante Author: That's a terrific way to build a bond with your fans. It's something like what super-successful indie author Hugh Howey does. And another bestselling author friend, Michael J. Sullivan, has recently had great success with his own Kickstarter campaign.
Tell me a bit about your writing methods. I'm both an outlier and an "outliner." I'm OCD about outlining and planning in advance. Maybe it's insecurity and I'll outgrow it, but I have to figure everything out in advance of writing. What about you?
CJ West: My writing process is evolving. I used to outline, but now I plan a little then jump off and write. Experience has made me more comfortable with the process and I don't have a nagging fear of getting lost. At least not most days.
The Vigilante Author: If I were from the NSA and bugged your office with a hidden video camera, what would I see?
CJ West: My kids often laugh at me while I'm working because I pay attention to small details and act them out so I can get them right. I'll stand in a doorway, or move my hands, or do any number of other strange things so I know how to describe the actions of my characters.
Other than that quirk, and a lot of talking to myself, I sit at my computer and write. A lot. I'm not a very fast writer, so I spend a lot of time in my chair.
The Vigilante Author: That's funny; same here. At times, I march around the house, probably with a vacant look in my eyes, mumbling bits of dialogue or talking aloud to work out plot points. But this will be just our little secret, okay?
What do you love best about the writing life? And what about it is hard for you?
CJ West: My favorite part of writing is the blank page. I love dreaming about something new and plotting out a new book. I am happiest on the day that a new book is finished and I start the next. I'm so excited about the next project I want to move on and immerse myself in the new world I'm creating.
There are two hard things for me in the writing life. First, I don't enjoy polishing a book for print. I don't like to fret over typos and punctuation. Second, I'm not great at approaching people and selling my work. I always feel like it is an imposition.
The Vigilante Author: It truly isn't — not if you think of yourself as a "trader," not a taker. And you give your readers an awful lot of pleasure, so I wouldn't sweat it.
Anyway, you decided to self-publish rather than traditionally publish. Why was that?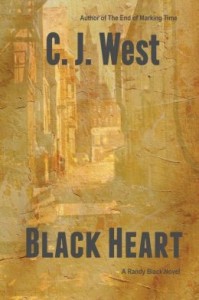 CJ West: I know a lot of people who tried really hard to publish and I admire them for the effort. I never really tried. I came into writing as a hobby and didn't get serious about it until strangers started raving over my first book. When I received a film option for The Winemaker's Son, I decided to get serious about my writing, but by that time I was already a self-publisher and that's where I decided to stay.
The Vigilante Author: After all this time, you probably have some opinions about the kind of qualities you think are most important for any would-be writer.
CJ West: I think the most important thing for a writer is the ability to tell a good story. A lot of writing is technique, structure, and tools that can be taught. Creativity and imagination are a must. That's not to say this business is easy for a creative sort. It takes a ton of hard work and dedication, but for someone who loves telling stories, it's not really work.
The Vigilante Author: Agreed. Now, tell us where people can find your books, and how they can contact you.
CJ West: My ebooks are available at Amazon, and my print books are available in any bookstore by presenting the ISBN and asking to order the book. Readers can find me at my website, my blog,  or on Facebook. I'm always glad to answer questions.
The Vigilante Author: Thanks so much, CJ. I hope this interview prompts many new readers to check out your work.
***