Ladies and gentlemen, I owe someone an apology.
Well, thinking back on my 64 years, I probably owe lots of people apologies. But today's apology goes to thriller author Stephen England.
Way, way back in December 2011, I interviewed Stephen in these pages upon the publication of what is now the first novel in his "Shadow Warriors" thriller series, Pandora's Grave. At the beginning of that interview I reported that I had begun to read the novel. However, that was the same month in which HUNTER soared onto the bestseller lists, and I found myself constantly diverted and distracted by the ensuing rounds of reviews, interviews, and book signings. So, I put the book aside after getting about a quarter of the way in. By the time I got back to it, months later, I realized that to fully appreciate it, I'd have to restart from the beginning because of how much I'd forgotten.
Pandora's Grave has been gathering dust on my mountainous "to be read" stack next to my bed, ever since. And that has been a source of personal embarrassment to me, too, ever since. For one thing, Stephen was one of the earliest and most enthusiastic readers of HUNTER. For another, he has since become a good friend. I certainly owed him the courtesy of reciprocal attention.
But now I own up to a third reason for embarrassment: For three years, I have denied myself the pleasure of reading a great thriller.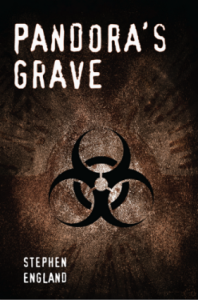 Those who know me well also know that I wouldn't say such a thing if I didn't mean it, simply as an act of obligation or friendship. So let me say it again: Pandora's Grave is truly an extraordinary work by an enormously gifted writer.
I don't want to rehash details about this novel that you can easily get by perusing its product page on Amazon. Suffice it to say that Pandora's Grave is a sweeping international thriller about an Iranian bioterrorism plot designed to set the entire Middle East ablaze, and the courageous American special operators who are in a desperate race against time to stop it.
Stock post-9/11 thriller plot, right?
Oh, but wait: In Stephen England's hands, this idea is transformed into an extraordinarily ambitious, panoramic exploration of the minds, motives, and methods of a vast host of international figures and movements: from the U.S. president to foreign religious leaders and heads of state; from CIA bosses, analysts, and field officers, to their counterparts in the Israeli Mossad and other foreign intelligence services; from the feuding factions of Sunnis and Shiites and their Ayatollahs and Grand Muftis, to sophisticated terrorist schemers, to the expendable cannon-fodder recruits in their cells.
But above all, it explores the lives of the "shadow warriors" in this ongoing war: the U.S. special operators who daily, courageously, unhesitatingly put their bodies and souls on the line to protect America from its enemies.
Now, that would be compelling enough. But add to this a ticking-bomb storyline of unrelenting suspense. Then add an utterly astonishing mountain of realistic, you-are-there detail: about Middle Eastern history, geography, and politics; about the history, doctrines, traditions, practices, and schisms within the religion of Islam; about a host of colorful, gritty locales scattered throughout Iran, Iraq, Israel, the West Bank, Lebanon, Crete, the United States (including many scenes at CIA headquarters in Langley, Virginia), and a bunch of other exotic places I've forgotten; about bioterrorism; about the organization and tactics of terrorist cells; about a mind-boggling array of sophisticated modern weapons, communications gadgets, spy satellites and technology; about small-team special ops methods, equipment, lingo, and tactics . . .
. . . and finally, about the human spirit. The glue holding all of this stunning detail together consists of the character and commitments of real flesh-and-blood human beings, most notably the story's main hero, veteran CIA paramilitary operator Harry Nichols. His is a rich, complex portrait of a man of deep moral and religious convictions who must do violent and terrible things to protect his country and those he loves from those who wish to do them harm. This is where the heart of this long, sprawling tale lies — perhaps the most singular element that elevates it so far above mundane action thrillers. For author England means to explore the moral and psychological costs of warfare upon the warrior.
Any thriller author of mature years would be proud to craft a novel as big and ambitious as Pandora's Grave, perhaps even consider it to be his masterwork. It is without doubt the product of years of exhaustive reading and the intellectual mastery of a vast number of arcane topics. Even now in my sixties, I certainly could not have written this book, or anything like it.
But as I was reading it, I had to continually remind myself — in flabbergasted disbelief — that Stephen England began writing Pandora's Grave at age 19, and that he finished and published it in 2011, at age 21. (Incredibly, even earlier in his teens he also wrote an historical adventure novel set in Gaul and the Celtic islands around 250 B.C.: Sword of Neamha.) Today, with three published novels and two short stories under his belt, England is still only 24 years old.
There is simply no way that a man this young can possibly have learned so much about . . . so much. And yet, there it is. Pandora's Grave is clearly the work of a young literary prodigy.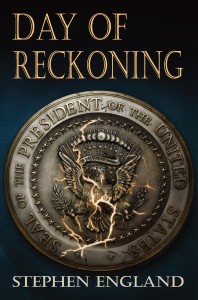 If you are a fan of big international espionage or military thrillers, I want you to do yourself a huge favor: Buy and read this book now. After you do, you will almost certainly want to read the subsequent entries in the "Shadow Warriors" series: the even-bigger Harry Nichols sequel, Day of Reckoning; plus two nail-biting short stories: the powerful and poignant Nightshade, and the just-released Talisman. If you don't trust my judgment, thinking me biased by friendship, just go sample the rave reviews by Amazon customers for these thrilling tales.
Pandora's Grave is the mind-blowing launch of what is certain to be a renowned and fertile thriller-writing career. After my unforgivably foolish tardiness in reading his debut in the "Shadow Warriors" series, I can't wait to read the rest of Stephen England's works.
UPDATE: Pandora's Grave is now available as an unabridged audiobook, on Amazon, Audible.com, and iTunes. The narrator is a superb storyteller; check out the audio sample posted on the product page.