Whenever I write fictional scenes featuring "special ops" personnel or exotic military hardware, I have to consult and rely on actual experts.
Thriller writer Steven Konkoly doesn't have to. That's because he is such an expert.
Steven graduated from the U.S. Naval Academy in 1993, with the unlikely degree of Bachelor of Science in English Literature. He served the next eight years on active duty in various Navy and Marine Corps units.
From leading Visit, Board, Search and Seizure operations as a boarding officer in the Arabian Gulf, to directing Close Air Support as a Forward Air Controller assigned to a specialized Marine Corps unit, Steven's "in-house" experience with a wide variety of regular and elite military units brings a unique authenticity to his writing.
His first novel, The Jakarta Pandemic (2010), explored the world of disaster "prepping," well before television and books popularized the concept. Hailed as a "grippingly realistic" family survival story, The Jakarta Pandemic introduced thousands of readers to the unfamiliar concept of "survival in the suburbs," motivating many of them to take the first steps to better prepare themselves for a major disaster. Steven's recently launched trilogy, The Perseid Collapse (which includes the sequels Event Horizon and Point of Crisis), continues his legacy of engaging and informative post-apocalyptic fiction.
But Steven also established himself as a writer of sizzling bestselling technothrillers with his "Black Flagged" series, which so far includes Black Flagged, Black Flagged Redux, Black Flagged Apex, and Black Flagged Vektor.
Home for Steven and his family is in coastal southern Maine, where he wakes up at "zero dark thirty" to write for most of the day. When "off duty," he struggles to strike a balance between a woefully short sailing season and an unreasonably long winter.
This busy husband, father, and writer took out some time this week to be interviewed, and you'll soon see why I was eager  to learn more about him.
~~~
The Vigilante Author: Welcome to "The Vigilante Author," Steve. I'm pleased to be able to introduce you and your work to fans of the Dylan Hunter series.
Steven Konkoly: Robert, thanks for giving me the opportunity to speak with your readers. The "Hunter" books and my "Black Flagged" series share many common themes, so I'm thrilled to talk about my work in such good company.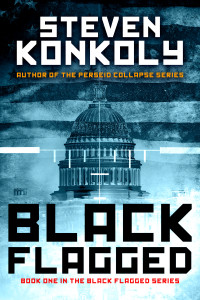 Briefly, the Black Flagged series is a hard-hitting, gritty, black-ops/espionage series centered on an unsanctioned Special Operations team. When I say unsanctioned, I mean unaffiliated with the U.S. government. The Black Flagged premise is entirely different than most covert operations thrillers involving "off the books" groups, in that the team has been assembled and trained by a disgraced former Special Operations general, to swiftly and brutally address threats against America that fall far outside the bounds of potential U.S. involvement.
In this case, the threat is a rogue Russian bioweapons engineer selling his skills to Islamic fundamentalists . . . or so it appears. The most recent book in the series is Black Flagged Vektor, which closes the bioweapons threat and pits the Black Flagged team, CIA, and Russian mafia against a secretly revived Russian Federation bioweapons program. Trust me when I say that the relationship that evolves between the three entities is unlike anything you've read. The last third of the book might be my favorite stretch of chapters in all of my novels. You won't see what's coming.
The Vigilante Author: I have some trouble wrapping my head around both your disaster novels and your technothrillers, and placing them all into some over-arching genre category or concept.
Steven Konkoly: I'm what you might call genre-confused. I cut my teeth as a writer with The Jakarta Pandemic, a claustrophobic, apocalyptic thriller set during the deadliest pandemic in human history. Realizing that I could write fiction that people wanted to read — nobody knows if their books will sell when they start — I shifted gears and wrote four books in the Black Flagged series.
The Black Flagged books fall into that broad category of political/military/covert ops/espionage thrillers. I never know exactly how to classify them, since each novel contains a subplot or storyline deeply rooted in each of those categories. [Tom]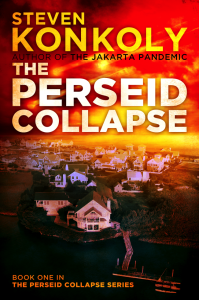 Clancy's novels are a great approximation of what you get in this series, minus about 300 pages of technical descriptions and miles-deep character backgrounds. I go heavy on the technical aspects at times, which adds yet another genre description — technothriller — to the mix, but I don't go overboard. I've been a hardcore fan of Frederick Forsyth, so you'll see some economy of storytelling.
The Vigilante Author: Thank goodness for that. Clancy had a tendency to sprawl. I prefer tighter writing. What prompted you to branch out from technothrillers?
Steven Konkoly: After writing four Black Flagged novels in two years, I decided to take a break from the characters and return to my roots. The Perseid Collapse series, my latest project, is a post-apocalyptic, prepper-themed story, with a strong technothriller flavor. Like my first novel, The Jakarta Pandemic, the Perseid Collapse books revolve around the trials and tribulations of a single family and their close friends during a devastating catastrophe. Without a doubt, elements of the Black Flagged books leaked into this series, widening the plot and delivering a fast-paced post-apocalyptic story.
The Vigilante Author: From technothrillers to disaster prep — that's quite a range of settings. But are there some qualities common among your protagonists that might set them apart and make them memorable? And do you draw them from real-life people, or completely from your imagination?
Steven Konkoly: I'll stick to the Black Flagged heroes, since they represent what I consider to the most unique aspect of my protagonist worldview. The Black Flagged series started with a character concept. I wanted to create a different type of black-ops-based protagonist. A group molded from the ground up; their selection based on a psychological profile compatible with the type of morally flexible decisions required to execute the deep-cover, gray-area missions I envisioned for the Black Flagged group.
E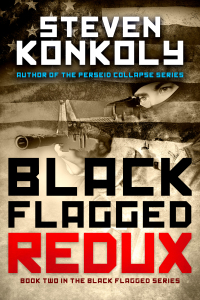 ssentially, the Black Flagged graduates are highly functioning sociopaths, trained from the ground up to function in the worst possible mission environments imaginable. Daniel Petrovich, the series' main protagonist, spent two years infiltrating a ruthless Serbian paramilitary group during Slobodan Milosevic's worst years as the despotic, genocidal leader of the former Yugoslavia. You can imagine the atrocities he witnessed and perpetrated in his deep cover role. Other graduates spent time infiltrating the Colombian and Mexican cartels, Russian mafia, and former Soviet-bloc arms dealers.
I guess what I'm trying to say is that the protagonists in this series will stop at nothing to accomplish the mission, regardless of who gets in the way. They are pathologically practical, brutally efficient, and not very observant of society's rules and principles. With that said, they are definitely the good guys, mission-focused on protecting the United States. They just take a few moral detours to get there. Think Jack Bauer, with a little less personal torment.
The Vigilante Author: Jack did tend to lose his cool a bit.
Steven Konkoly: To answer the last part of your question: This is totally drawn from my imagination. I've never been fully satisfied with a black ops character, outside of John Clark from Tom Clancy's Without Remorse, and I wanted to create a new class of operator suited for purposeful immersion in morally sketchy operations.
The Vigilante Author: What in your youth explains how and why you became thriller author Steven Konkoly?
Steven Konkoly: I was born in northwest Indiana, about thirty minutes outside of Chicago, where I spent the rest of my "formative" years. There's not much to form in Munster, Indiana, which is a financially comfortable town complete with a main street and a well-attended Fourth of July parade.
Both of my parents were high school teachers — in different towns, thankfully — so I took school seriously, which paid off later. My mother was a voracious reader, so I was exposed to serious reading at an early age. She kept dozens of paperbacks around the house by authors like Stephen King, Arthur C. Clarke, Peter Straub, Frederick Forsyth . . . to name a few. I read most of these far earlier than I should have. Novels like The Stand and The Amityville Horror haunted me. I still remember the first cover for The Stand, and the partially torn paperback cover that brought it to me. Two sets of evil-looking eyes on a dark blue face. Still gives me chills.
I parlayed a reasonably successful academic career into an appointment to attend the U.S. Naval Academy in Annapolis, where I found my first true calling. I spent the next four years studying English, and far more science, math, and engineering than I could stomach. At one point I was studying Chaucer and Differential Equations in the same semester. It got worse. Shakespeare and Electrical Engineering. Creative Writing and Thermodynamics. You get the picture. I'm part of a small cadre of U.S. college graduates with a Bachelor of Science in English! Well rounded to say the least.
The Vigilante Author: Acquiring a B.S. in English — that's a new one on me. And from the Naval Academy, no less. So what did you do with this unusual education?
Steven Konkoly: Upon graduation, I reported to the Basic Underwater Demolition/SEAL training in Coronado, where I suffered an acute injury early in training, which never properly healed. With my four-year goal of pursuing a career in Naval Special Warfare put on hold, I reported to a ship in Japan as a junior officer. My experiences from that point forward were incredibly diverse and rewarding, definitively shaping my future, still-unknown-to-me career as a writer.
The Vigilante Author: I suppose your college English major means you always wanted to write—correct?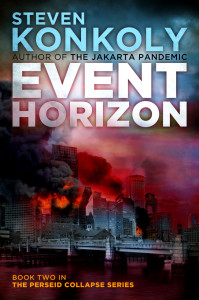 Steven Konkoly: Robert, this is where I my path somewhat differs from many writers. This has not been a lifelong ambition, and I never attempted to write and submit anything prior to self-publishing my first novel. I started writing out of sheer boredom with my post-military career. I took a comfortable position as a pharmaceutical sales representative after getting out of the Navy, which left me with a lot of time on the road to think and plot. I've always been a daydreamer, and spending hours at a time staring at a windshield kicked my daydreaming into overdrive. Eventually, a core story evolved and I decided to map it out on paper. Before I knew it, I was typing a manuscript — hopelessly addicted. I knew writing was my chosen calling early in the process.
The Vigilante Author: That's a circuitous path to becoming an author, for sure. Did the lives or works of other authors inspire you?
Steven Konkoly: This is another tough question. I've always been an insatiable reader, sneaking books into class — not easy at Annapolis — or putting off assignments to finish a good novel. With that said, I'm a genre fiction reader. I occasionally dip into literary fiction — Kite Runner type books. And — English major — I obviously have read my share of the classics, far more than I might have cared to read.
I guess what I'm saying is that I owe a debt of gratitude to writers like Stephen King, Tom Clancy, Larry Bond, David Morrell, John Grisham, Jeffrey Deaver, Michael Crichton, Frederick Forsyth, Thomas Harris, Robert Harris, and a host of other genre fiction authors for continuously spurring my imagination and the daydreams that have brought me to the field of writing. Sorry to dodge that one with a blanket "influence": the simple, continuous presence in my hand of a damn good book by any of these authors, landing me in front of a perpetually open Word document.
The Vigilante Author: Care either to compare or to contrast your work with that of other writers that our readers might know about?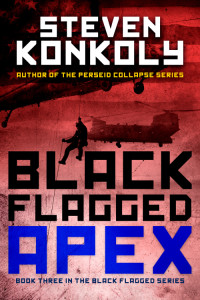 Steven Konkoly: I'm going to let everyone in on a little secret. I quit reading covert ops/espionage technothrillers at least a decade ago, mainly because I hadn't read one that I enjoyed in a number of years. Apparently, I quit reading the genre at the wrong time, because I missed the Brad Thor/Vince Flynn/Lee Child renaissance. When I started writing Black Flagged, I had never heard of them. I blame having two young children. Research into the genre revealed this trio of uber-successful writers, which I dared not read for fear of "contaminating" my novels with possibly better ideas.
Amazon reviews of the books in the Black Flagged series frequently draw a humbling comparison to the works of these household names, in addition to Clancy. When I finish the final Black Flagged book in 2015, I'll have nearly a year's worth of reading ahead of me — possibly longer. One of my most avid readers has kindly mailed his personal collection of Thor and Flynn novels to help facilitate that reading journey.
The Vigilante Author: You have a literary feast ahead of you, Steve; I love their work. And I also have a huge stack of unread fiction waiting for a break in my own writing and publishing schedule. Which segues into my next question: What's the biggest challenge you face as a writer?
Steven Konkoly: Distractions. When I wrote part time, I could regularly finish three to four thousand words in a full day of writing. Once I started doing this full time, I found reaching two thousand words to be a major accomplishment. I figure the difference is owed to the fact that I didn't often get the chance to write for a full day during my early career, so I was laser focused on the task. Now, I have a dog to play with, Facebook to peruse, emails to answer (some might be necessary), kids getting off the bus, a sailboat beckoning, guns to shoot, TV shows to watch . . . and nobody telling me what I have to do! Lots of choices, few of which involve writing!
The Vigilante Author: Alas, I sympathize.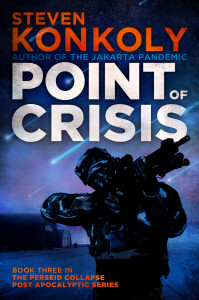 Steven Konkoly: To better manage my schedule, I still get up early to jump-start the day. I typically wake at 4:30 and knock out some email or other writing admin early. If I'm lucky, I'll write 500 words before the kids assemble for breakfast in the morning. I like to front-load the day, because I never know what will happen. I also enable an Internet blocking program during the morning hours. I try to write straight until noon, reserving a block in the afternoon to write, and another to work on non-manuscript projects. This system works well, when faithfully implemented.
The Vigilante Author: You need to send me that Internet blocker. Okay, a biggie: What motivates you to write?
Steven Konkoly: I'm in a hybrid mode at the moment. My goal has always been to make enough money to write full time. I accomplished that last year, quitting my day job in September 2013. My new goal is to achieve a baseline of sales robust enough to easily weather the seemingly cyclical/seasonal sales dips. Averaging the highs and lows yielded a successful run from 2013 through 2014, but the lows always make me nervous.
The Vigilante Author: Every author can relate to that. At least, this one does.
Steven Konkoly: I'd like to get those lows to a point where I don't blink. This will put me in a better position to spend more time with projects that I've put on hold to keep my books on schedule.
The Vigilante Author: Well, we can try. If you want predictability and security, I think writing is the wrong gig.
Changing topics: Is there any underlying political or ideological POV in your work?
Steven Konkoly: I tend to infuse a "don't count on the government" theme into all of my stories. It's the cornerstone of my prepper-themed, post-apocalyptic stories, and it figures prominently into the Black Flagged series.
The Vigilante Author: How would you describe your domestic life? And where do you live?
Steven Konkoly: "Busy" would be an appropriate description of how I live. In a nutshell, we have two children and an overactive dog. My son is an early teenager and my daughter is a pre-teen. They keep our negotiation skills fresh and our blood pressure slightly elevated, but it's all balanced out by their newly discovered ability to do chores. We shouldn't have to lift a domestic finger around the house, aside from cooking, but the level of help we get is often dependent on how far we are willing to take the negotiations. We often lose.
Where do we live? We're less than a five-minute drive to the beach, just outside of Portland, Maine. During the summer season we spend as much time as practical on our sailboat, which is kept nearby. We don't get too far out of Portland on the boat, but we've managed some fantastic trips to explore the islands and coves within easier sailing distance. Our boat is big enough to comfortably berth a family of four, for about seven to ten days. Beyond that time frame, things get ugly fast on the high seas.
The Vigilante Author: Every non-writer is fascinated by the quirky methods and work habits of authors. What can you tell them about yours?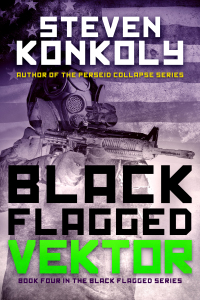 Steven Konkoly: I've settled into a routine over the past few years. I write onto a legal pad a very rough outline of the story elements, characters, settings, plot . . . super rough. I'll spend several days on this, alternating between research and general concept editing. Once I have what I consider to be a coherent story, I'll type a ten-to-fifteen-page document or rough synopsis of the story. This takes me a few days.
Everything is still very rough at this point, and honestly, very few of my stories have remained more than 50 percent faithful to this rough synopsis. When the synopsis is finished, I will pore over the document identifying scenes. I usually circle the paragraph focused on the scene and add a few notes.
When I'm finished with the document, I create a Post-it note for each scene. This is where I have some fun. I'll spend the next day or two arranging these on a big, tri-fold cardboard poster taped to an easel. I arrange the scenes by entity — character, organization — in chronological order, moving them around constantly while writing the actual story.
The Vigilante Author: A variation on the "storyboard" method, then.
Steven Konkoly: This gives me a fluid system and a nice visual to work with during the heavy writing. I mark each scene with an X as they are completed.
Overall, I'm a web-thinker, which apparently means that I can somehow visualize subplot relationships to the main plot without drawing a linear chart. Once I get halfway into the manuscript, I rarely refer to the original synopsis document. The Post-it notes come alive, and I spend a lot of time rearranging, removing, or adding Post-its. I've been known get up from the dinner table and disappear for a few minutes when an idea hits me. I have to capture it in Post-it form. It has become sort of an odd habit of mine.
The Vigilante Author: Not that odd. What else would an eavesdropper see if he watched you while you are writing?
Steven Konkoly: An eavesdropper would be bored to tears watching me work. I write on a laptop that is connected to a 23-inch screen, with remote keyboard and mouse. The only thing an interloper might find curious is the assortment of beverage glasses and plates that I accrue throughout the day. Usually four to five glasses and two to three plates by the day's end.
The Vigilante Author: Yeah, I'm staring right now at a foam cup with the dregs of cold Dunkin' Donuts coffee.
Steve, you've been at this through more than a half-dozen books, now. What things are the hardest and easiest for you about this gig?
Steven Konkoly: The hardest thing about writing is finding the time to expand on the story ideas bouncing around in my head. I have about five years of writing backlogged. The easiest for me is the actual writing itself. Plotting comes in a close second. I love the time spent writing the synopsis and converting it into my Post-it covered board. This is a good thing, I suppose. If the hardest part was writing, I'd have a rough go of this career.
The Vigilante Author: Have you ever aspired to become a traditionally published author?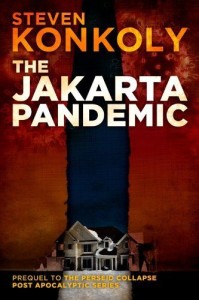 Steven Konkoly: I've been exclusively self-published by choice. This decision was influenced mostly by the timing of my first novel. I published The Jakarta Pandemic on multiple e-platforms in the fall of 2010, during the first wave of e-publishing and ereader proliferation. I was able to ride that wave through 2011, making enough money to fully convince me that self-publishing was a viable path to achieving my goal of becoming a full-time writer. I never looked back, and never pursued agents or traditional publishers.
That said, I'm entirely practical, like my Black Flagged characters. If the right offer came along from a traditional publisher or an Amazon imprint, I wouldn't hesitate to ink a deal.
The Vigilante Author: So would you recommend self-publishing over traditional for aspiring writers?
Steven Konkoly: I would recommend that writers pursue both options simultaneously, but that they self-publish immediately after creating a quality product — professional cover, editing, proofing, formatting. You need to build a readership to thrive as a writer, and in playing the long game, trying to find an agent and a publisher can take years. You can't afford to let that time slip away. Write, self-publish, and submit to agents while writing your next book.
The Vigilante Author: What do your readers have to look forward from you in the future?
Steven Konkoly: More novels.
The Vigilante Author: Wow. That's really helpful.
Steven Konkoly: Sorry, I couldn't resist. I plan to start a new series in 2015. The series will keep me squarely planted in the post-apocalyptic realm with a story based in southern California. I'm looking 15-20 years in the future, at a drought-ravaged southwest and Great Plains. Kind of a futuristic version of Grapes of Wrath. California will be on the verge of secession, plunged into a low-intensity political and martial conflict with the federal government. As usual, I'll examine the impact of this world through the eyes of a family.
The Vigilante Author: Sounds very cool. So where can people buy all these stories? And how can they learn more about you and your books?
Steven Konkoly: Readers can find my Black Flagged books on all platforms. My post-apocalyptic books are currently exclusive to Amazon. I have also written several Kindle Worlds novellas (long story for another time).
The Vigilante Author: Steve, this has been fun. I encourage my readers to check out your exciting novels and join the many other avid fans of your work.
You can find Steven Konkoly's novels listed and described at the following online sites: Amazon; iBooks; Nook;  and Kobo. His website is StevenKonkoly.com.
~~~