Back in the 1990s, browsing in a bookstore, I happened upon an intriguing-looking thriller titled And Justice for One, written by some fellow named John Clarkson. The back cover copy opened with an irresistible teaser: "If someone you loved was the victim of a violent crime, how far would you go to find justice?"
I grabbed the book, devoured it at once, and loved it. Its protagonist — a big, two-fisted former Secret Service agent with the Man's Man name of Jack Devlin — was exactly the sort of vigilante hero I love. I couldn't wait for the sequels.
And Justice for One was published in 1992, and Clarkson followed with two more entries in the Jack Devlin series: One Man's Law in 1994 and One Way Out in 1996. Meanwhile, Clarkson wrote a screenplay adaptation of the first novel for Paramount Pictures and also worked on a first-run syndicated TV series.
He followed the "One" series with two gripping standalone crime tales: New Lots (1998) and Reed's Promise (2001). During that period Clarkson worked in advertising as a copywriter and then ran his own advertising agency for many years. Later, he consulted directly with major corporations, developing marketing strategies, positioning their brands, developing creative, and managing their advertising agencies.
But while advertising work dominated his time, Clarkson had the itch to get back to writing crime thrillers, and knew that he would at some point. It was just a matter of when.
Around 2011, Clarkson became interested in the fact that the United States incarcerates more people than any other country in the world. How did this happen? What are all those people doing? How do they survive in and out of prison? Out of these questions grew the idea for a crime novel with ex-cons as the heroes. The result is the recently published Among Thieves, which has brought John Clarkson back to writing crime thrillers full time.
These days, John and his wife Ellen divide their time between Brooklyn and upstate New York. Recently, he took time from his busy schedule to let himself be grilled by The Vigilante Author.
~~~
The Vigilante Author: John, as you know, I love your work and can't tell you how glad I am that you've gotten back to writing. Why don't you tell my readers about your crime thrillers, and give us some details about your latest.
John Clarkson: Thanks, Robert. As you might remember from the emails we exchanged, I wanted you to be among the first to know about my newest novel, Among Thieves, because you had very positive reactions and things to say about my previous novels.
The Vigilante Author: That's putting it mildly.
John Clarkson: My first novel, And Justice for One, had a great response. I published it quite some time ago. I'd written it pretty much without any sort of input, completely unaware and unconcerned about the workings of the publishing industry. And looking back, ignorance was pretty much bliss.
I generated interest from two agents. Picked one. Signed a deal with Crown for two books and thought: Hey, this isn't all that hard. Of course, I completely forgot about the years leading up to producing that book. Years spent writing plays, screenplays, short stories, etc., etc. And Justice for One was the culmination of quite a bit of writing and finally finding that the long-form novel was something that worked for me.
The Vigilante Author: Well, you clearly left any amateurish writing in a drawer somewhere, because that novel was as polished and compelling a debut as I've encountered. You mentioned that Hollywood was interested, too.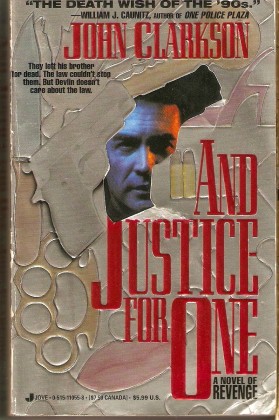 John Clarkson: That book was optioned by Paramount and I actually ended up writing the screenplay for it. This was back when Brendan Tartikoff ran Paramount. Again, looking back, I think that was a wrong move. It took my eye off the ball in terms of novels. Long story (but actually fascinating), everything blew up when he suddenly left the studio.
However, And Justice for One introduced my first version of the kick-ass "Competent Man" protagonist — Jack Devlin.
The Vigilante Author: Is he ever! You must have had great fun writing about him.
John Clarkson: I just took off on a tear with that character and did two sequels. I'm sure you're familiar with the eternal question you get from everybody about your novel: "What's it about?" I remember very naturally getting my answer down to one word with regard to And Justice for One: REVENGE.
I also remember how satisfying it was when I got so many nods and responses. "Oh, yeah. Revenge. Got it."
I'd advise every writer of commercial novels: Forget about the one-paragraph summary, forget about the "elevator conversation," forget about one sentence. Get it down to one word.
The Vigilante Author: I'm not that terse. I can get my Dylan Hunter character down to maybe two words. But I won't argue with you, because you're the professional marketing expert.
John Clarkson: Anyhow, speaking of "one," I ended that "One" series — And Justice for One, One Way Out, and One Man's Law — for various reasons…mainly, they took too long and were too expensive to write. The concept was to have this globe-trotting character, Jack Devlin, so I set them in different places around the world: New York, Hawaii, London. Fun to research, but unsuited to the realities of publishing, where I quickly learned you have to grind out one a year to really establish a brand.
The Vigilante Author: Well, I hope I can persuade you to resurrect Devlin, anyway. He's a fantastic thriller character. But after those three tales, you decided to go in different directions, right?
John Clarkson: After that came a police procedural, New Lots, set in Brownsville, Brooklyn. Very tough neighborhood. Very dangerous. Had to hire an NYPD detective to go in there and do research, and it took quite some time before he agreed. Twenty years later we're still good friends and drinking buddies. Note: Do not drink with New York cops. It's dangerous.
The Vigilante Author: Thanks for the tip.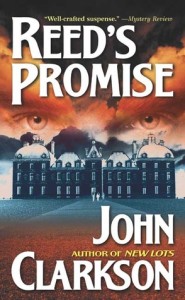 John Clarkson: After that came Reed's Promise, a book that I think was more soulful and steered me toward more complex plots.
The Vigilante Author: It had one of the most original heroes and concepts I've ever encountered. You did something daring with the character, and it really worked.
John Clarkson: I think I'm taking too long to answer your first question, Robert, so I'll jump over the twelve-year hiatus between books without much explanation and talk about my new novel: Among Thieves.
So, start with the question I referred to before. The one everyone asks: "What's it about?" Well, let me take my own advice. It's about GREED.
Of course, that one word gets the attention, and from there I usually expand on it by saying: greed taken to insane levels.
The title of the book also sets the stage for me to talk about it.
Among Thieves. Robert, we are living in a world where we're surrounded by thieves. By people who have no compunction about stealing our time, our security, our peace of mind. From the a-hole who yammers on the cell phone and steals your peace of mind, to the financial consultant who takes half of what we own without delivering any value, to political officials who think being in public office is a license to steal for themselves and their friends.
When I set out to write Among Thieves I thought about who the "thieves" be. I chose ruthless hedge fund operators, completely corrupt and amoral arms dealers, old school Russian mobsters (the original "thieves-in-law"), and Bosnian war criminals. Plus, their enablers: lawyers, covert government operators, and NYPD police officials able to be manipulated by politicians.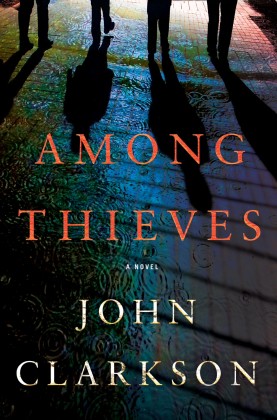 Then I asked myself: Okay, who could stand against such a formidable list of bad guys? I chose the most powerless, most disenfranchised people I could think of: ex-convicts, who are isolated, robbed of all rights and power, without prospects, without jobs, and constantly subject to being sent back to prison.
Of course, I gave the ex-cons an extremely competent leader: James Beck. A man who had been sent to prison unjustly. And I made the cons into a tight-knit band of men who live by their own moral code with absolute loyalty to each other.
As I said, at the heart of Among Thieves is what happens when greed grows to insane proportions and you pit two forces against each other who won't back down until they win or are dead.
It's quite a cast of characters, including an extremely beautiful and manipulative woman, with so many twists and turns that it actually kept me guessing. Yes, that actually does happen when things are rocking.
The Vigilante Author: Don't you love it when that happens?
John Clarkson: Okay, enough. Next question, Robert. I'll try to be more brief.
The Vigilante Author: Let's go for the obvious: How would you characterize your fiction — either by genre, by themes, and/or by subject matter?
John Clarkson: I'm happily and solidly in the thriller genre. Now, that covers a great deal of territory. There are lots of types when it comes to thrillers, but I think the common denominator for me is fast-paced, with lots of action, and a constant escalating sense of menace or danger — which I believe is at the heart of any thriller worth the name.
The Vigilante Author: I agree completely. I'll be giving a talk about thriller writing at a writers' conference in a few days, and those are among the key elements I'll stress.
John Clarkson: I think I'm pretty well known, among people who read me, for writing thrillers that are filled with action. For some, almost to a fault. I think some readers would like more character development, but I prefer to reveal character through action.
The guy editing me now, Keith Kahla, a vet who's been at St. Martin's for about twenty years, seems to share that sensibility with me. We both hate to stop and muse about what a character or the protagonist in particular is thinking. I will say that the underlying, subconscious drivers of character do exist in my stories. But that's a complex discussion I'll leave for another time.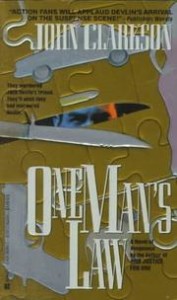 However, I'll go one step further and refer to what a critic wrote about my novels in Mystery News. His name is Reed Andrus, and he gave me great encouragement and helped me understand more about the motif I write in: "John Clarkson should be included as one of the earliest creators of my favorite motif — the 'Competent Man' — a body of work that includes work by Lee Child…Thomas Perry, arguably Martin Cruz Smith…. Clarkson's first novel [And Justice for One] was a superior example of this type."
The Vigilante Author: Amen to that.
John Clarkson: I think Andrus's description of this niche represents a rich vein of American fiction. I think it goes back to Dashiell Hammett's Continental Op and Sam Spade. To John D. McDonald's Travis Magee. Parker's Spenser, and Westlake's (as Richard Stark) Parker.
And, not for nuthin', as they say, interestingly and happily I got blurbs from both Lee Child and Thomas Perry (cited by Andrus above) for Among Thieves.
The Vigilante Author: You must have felt like Dorothy entering Emerald City: "Wow! I've arrived!"
John, what do you think is unique about your heroes that distinguishes them from other thriller heroes?
John Clarkson: You know, I have to say that all these heroes, or "competent men" I mentioned, stand on the shoulders of those who came before them. But here's what I think is unique about James Beck, my latest hero.
Like a segment of other heroes, Beck was a fairly normal guy. Probably smarter and stronger and naturally tougher than most, but still a "citizen." Until he went to prison for eight years…unjustly convicted. And then, unlike most "heroes," Beck absorbed the reality of evil, the blood and bones of psychopathic behavior, by living among the truly bad guys in maximum security prisons. His life lessons were honed in hell.
So he emerged back into the so-called real world with a sensibility, capability, and competency not just beyond most, but different than most. He's not an ex-cop, ex-Secret Service agent, ex-military trained by a normal societal code of conduct. He lives in his own moral universe, and he will never waiver, never give up, and most important — never, ever let society control him. Ever.
The Vigilante Author: Okay, John, how did you get into the writing gig? Give us a bit about your background.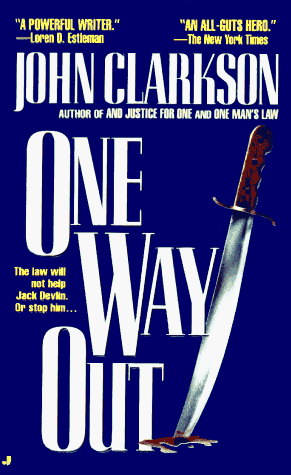 John Clarkson: Born and raised in Chicago. I'll skip over all the things that formed me. But in terms of writing, somewhere inside I always knew I would be a writer. Of course, unless you get guidance and encouragement to do that, you'll waiver back and forth. I did. But I finally got on the path by deciding I would earn a living as a writer. And did that by getting into advertising.
That's an interesting career. If you can do it, you can get a job, even without great credentials. Once I got locked into earning my living as a copywriter, the novel career naturally evolved. But I will say I have also written plays, screenplays, short stories, a dramatic TV series…and had success to some extent with all. But as I mentioned before, the long-form of the novel is where I've finally landed.
The Vigilante Author: What were the pivotal personal influences that propelled you toward writing?
John Clarkson: The influences came from reading. Reading, reading, reading, reading. Tom Wolfe, Ken Kesey, all the great American crime, thriller, mystery writers: Chandler, MacDonald, Thomas Harris, Elmore Leonard, Scott Turow, Stephen King, on and on. European writers: LeCarre, George Simenon, Mankell. The Brits like Ian Rankin. The old classic series like Beau Geste, Horatio Hornblower.
The truth is, I became influenced by trying to write as well as the very good ones, and believing I could write better than many, many people who had been published. Simple as that. And, not to boast, I'm right about that. Lots of readers' emails and reviews I'm getting for Among Thieves compare me favorably to successful writers that are better known than me. Some even go so far to say that I'm not as well known but better than X.
As a matter of fact, Robert, you were one of the readers of my stuff who said similar things years ago. I still greatly appreciate that.
The Vigilante Author: Absolutely deserved, too. You have such a distinctive voice and polished style. Have specific writers been seminal influences upon you? And what did they teach you?
John Clarkson: I'll say Stephen King, Loren D. Estlemen, and Lawrence Block, because each of them have written very good books about writing. I'd recommend those books to any aspiring writer. Elmore Leonard, of course, has influenced me. His "rules" still resonate and set the bar. Plus, all those writers I mentioned earlier and more.
The Vigilante Author: Care either to compare or contrast your work with that of other writers?
John Clarkson: At the moment, I'll mention Lee Child, Dashiell Hammett, Robert B. Parker. I get compared to Lee Child a great deal, and his Jack Reacher hero. I love Reacher. I will say that my first guy, Jack Devlin — who, by the way, pre-dates Reacher (I think Killing Floor, the first, was 1997; And Justice for One was 1992) — is very similar to Reacher.
For instance, I'll quote Geoffrey Wansall's review in the UK Daily Mail when Among Thieves was published this past May: "The legendary Jack Reacher, creation of Coventry-born writer Lee Child, has a group of potential rivals, but he may just have met his match in ex-convict James Beck, star of this sensational thriller."
The Vigilante Author: I had noticed the similarities between Devlin and Reacher myself, years ago. By the way, Child and Parker are two of my favorite thriller authors, too. My own Dylan Hunter character draws similar reader comparisons to Reacher and Spenser, John. We seem to like writing about the same type of hero.
John Clarkson: But I do think my latest guy, Beck, differs from Reacher in important ways.
First of all, Beck isn't physically as imposing as Reacher. He'll find a way to win every fight; but, for instance, in the first fight of the book, he starts the fight by running away.
Second, Beck is not nearly the loner that Reacher is. Among Thieves is much more of an ensemble of characters. I concluded after reading Dashiell Hammett's Continental Op many years ago that a hero operates more realistically and believably with a network of sorts. The "network" that provides resources to James Beck in Among Thieves is comprised of ex-cons with varying skills and capabilities, plus the tight-knit crew of three other cons.
I've also been compared to Lawrence Block, Nelson DeMille, Alex Berenson, John Sandford, and others, and I'm very, very flattered by those comparisons.
The Vigilante Author: Apt comparisons, too. All terrific thriller authors with great heroes.
Let me get a bit personal for a moment, John. We both know how tough and lonely the writing life can be.  If you don't mind, tell us a bit about that, and any challenges you may have faced.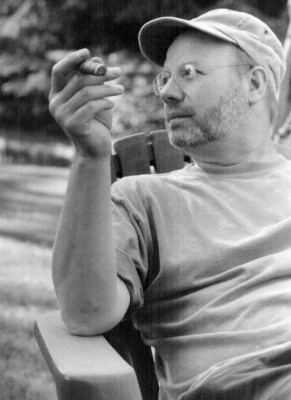 John Clarkson: Geezus, you are so effing right about that. For years, I bounced back and forth between the advertising writing and novel writing, but now I'm doing the novels full time. It's a grind. And nobody gets it. People have no compunction about interrupting you, calling on you do to something. I don't know, they don't look at it like a job. I would never think of interrupting someone's work.
The Vigilante Author: So, how do you handle that?
John Clarkson: I do two things. Number one, above all else, I try to hit my quota every day. Okay, I'll tell you what it is: 1,200 words. If I get distracted, or something comes up, or I have to take care of something important…I'll just write at night, or early, or whenever to make the quota. Make the effing quota is rule number one.
The other thing I do is keep an ear out for inspiration. There are a lot of good people who write about writing, as I mentioned. I just happened upon Steven Pressfield. He's a pro. I read his emails and just finished reading a short e-book by him called Do the Work, which is fabulous.
The Vigilante Author: Believe it or not, I've read it, and I agree. Great little book.
So, what motivates you to write, John? Do you feel compelled by some kind of aim, theme, or mission?
John Clarkson: At the end of the day, telling the stories is what motivates me. Seeing if I can write myself out of the corners I always write myself into. Finding out once and for all if I can get into the top echelon. But mostly, enjoying the stories I'm telling/writing. I just dig the stuff I write. And if I don't, I keep at it until I do. There's nothing more satisfying than experiencing the magic of the story unfold.
And frankly, the other thing that motivates me to write is that a lot of things piss me off. I once saw Charlie Rose asking Arthur Miller what motivates him. His answer was: "a deep sense of anger and outrage." I think that's true for most writers, whether they realize it or admit it.
The Vigilante Author: Well, it's certainly true of me. My Dylan Hunter tales are rooted in my indignation about injustices. So, do your stories have a clear philosophical point of view, too?
John Clarkson: I could go into this a bit, but I'm not sure I want to analyze it too much. I guess I'll say that I believe in right and wrong, and cause and effect. I hate bullies or any entity that takes advantage of the weak. I think the good guys should win and the bad guys should lose.
The Vigilante Author: I think my readers can see why I like your stuff, John. And why I think they'll like it, too.
What about your writing methods and habits?
John Clarkson: My method now has evolved from earlier in my writing arc. When I started out, I was much more a seat-of-the-pantser. I still am, but a little less so. I do what Doctorow described as "headlight outlining" — meaning I write like someone driving at night. The headlights only reveal what's out ahead enough for you to know where you're going, but you can't see too far ahead. That way I can stay on track, but keep the freshness of discovery as a possibility.
However, now that I'm trying to keep on a new novel per year pace, I can't afford to take too many wrong turns. It wastes a lot of time and energy. But I simply can't do full, detailed outlines. Whenever I've tried that, I find that I never adhere to it. The story always drifts off in unanticipated directions, which I enjoy. So the difference nowadays is that, I keep more meticulous track of where I've been. Kind of like leaving bread crumbs along the way. I used something I've heard referred to as a story clothesline. I note the content, time, and place of each chapter, so that when I go back and start the second draft, I know what all the pieces are. If I've taken a wrong turn, so to speak, I can find out where, quicker.
The last thing I'll say is that I've learned that a pro has to relegate themselves to the task of second, third, fourth drafts. Or however many it takes to realize the story's fullest potential. I suppose there must be geniuses out there who can rip through from beginning to end, but I'm not one of them. I think about Kerouac putting in a giant roll of Kraft paper in the typewriter and writing On the Road from beginning to end. But in truth I think amphetamines helped that happen.
The Vigilante Author: Ha! No doubt. So where do you write, and what tools do you find helpful?
John Clarkson: I have two places I write, because I'm fortunate to have a city home and a country home. The offices are pretty much identical. I've done a lot to create the set up I need. Same computers, same keyboard (the kind where the keys are more ergonomic so my hands rest in a more comfortable position), two monitors so I can go back and forth between the manuscript, story clothesline, and stuff I want to Google in the middle of a writing session.
My schedule varies because there's always so much other shit going on. The one small thing of interest an eavesdropper might spot is 4 by 6 index card somewhere on my desk on which I write the number of words in the manuscript when I start a writing day and the number at the end. When I subtract the numbers, it goddamn better well show that I made my quota.
Want to know what today's number is? 86,615. So in two days I'll be cracking 90,000. Getting close to the end of the first draft of Book #3 in the Beck series.
The Vigilante Author: Unlike me, you've been traditionally published. What prompted you to pursue that path? And how has it worked out for you?
John Clarkson: Traditionally published all the way. There wasn't a viable self-publishing method when I first started out. It's the only way I know. I will say, however, that I am very anxious to pursue the possibility of self-publishing my old, out-of-print novels. It galls me all the emails I'm getting from people who have read my latest asking me how they can get my previous books.
The Vigilante Author: Put me at the head of the line. It's a crime that those Devlin books aren't in print anymore.
John Clarkson: There are suppliers out there that seem to have a cache of my old softcover editions and sell them for a penny and postage. I don't have any idea how they make money at that. Do you, Robert? All I know is, I don't. The trouble is, of course, that self-publishing is another entire job I'd have to take on, and learn, etc.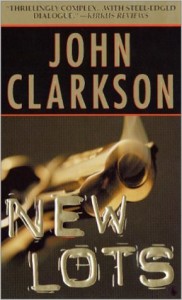 In terms of how has the publishing experience been for me…in a word, terrible. I swear, it's one of the most effed-up businesses I've ever seen. It seems to have just gotten worse and worse. Obviously, that's why so many are self-publishing these days, in addition to the technology that makes that possible. I know quite a few people in the business, and many of them just shake their heads at the state of the book publishing industry.
I will say that when and if it works, it can really work well. And, I can't argue with the fact that publishing can be a springboard or avenue to other media opportunities, meaning feature films or television. This is a big topic, and it's linked to the problems with agents, the salaries in the industry, the lack of real gatekeepers, demise of brick and mortar book stores, dwindling profits, and on and on.
The Vigilante Author: I hear the same lament from so many authors. I'm glad we have other options now. So when writers ask you what publishing option you'd recommend, what would you say?
John Clarkson: I really don't know. It depends on so many factors. But I suspect that one model that may emerge from the current chaos would be to self-publish and build an audience, and then move into traditional publishing with an established base of readers. When you get down to it, that's the whole game. How you create that following might vary, but that's what you have to do. And it takes time. No matter who you are. Even when somebody seems to come out of nowhere with a debut hit that takes off, you often find that it's the person's fourth or fifth book. It might be the first that got published, but they've been at it for quite some time.
Honestly, just by the normal bell curve of talent, you've got to think that an awful lot of people are submitting, publishing, and self-publishing that aren't there yet, both in terms of craft and content. Writers are too damned anxious to "be in print." My best advice to the person who wants to be published would be: Don't publish until you are absolutely convinced you've done the best piece of work you can. Getting a second-rate book published does you no good. And getting published is a big step, but only the first of many more.
The Vigilante Author: I always ask authors I'm interviewing what qualities they think are most important for any would-be writer, and what advice, if any, they would offer. Well?
John Clarkson: Again, I can boil it down to one word: Persistence.

It's going to take a great deal of time and work. You won't get to the end until you fight through a massive amount of work and resistance. Without persistence, or actually some might say bedrock stubbornness, you won't make it.
Also, have an open mind. Try to learn from writers and people you respect. Don't have a knee-jerk reaction that others are wrong or too critical. But at the end of the day, you better goddamn do what you believe in, or you'll never finish or do anything that will please you. Don't write to please an editor or agent. And if you truly don't believe they are right, don't listen to them. At the end of the day, you'll get blamed for any failings, so they might as well be yours.
I guess my overall advice, perhaps from going through this interview process, would be: Write to please yourself. You have to love what you've written. If you don't, it's unlikely that anyone else will.
The Vigilante Author: I agree with every word you just said. What's next for you and your readers, John?
John Clarkson: At least two more books in the series I started with Among Thieves. Most likely a fourth and fifth book. Then perhaps something entirely new. And, if I can find the strength/endurance, I'd like to perhaps double back and do another book or two in the "One" series with Jack Devlin, and perhaps even visit Bill Reed from Reed's Promise and see if he's involved in a good story.
The Vigilante Author: Fantastic! I'd love to see a lot more of both characters.
John Clarkson: Oh, and without jinxing it, there are some interesting possibilities brewing with Among Thieves in the movie / TV world.
The Vigilante Author: Your secret is safe with me.
Now that we've whetted their appetite, tell our readers where they can buy Among Thieves and your other books. Also, give us your website address and where they can reach you.
John Clarkson: My website is JohnClarkson.com and you can reach me on Twitter @jclarksonauthor.
The hardcover of Among Thieves is available pretty much anywhere books are sold. If a local bookseller doesn't have a copy at the moment, I encourage everyone to order it. Or, go online to the usual places: Amazon, Barnes & Noble, iBooks, IndieBound, or Kobo Books. You can also get the Audible audio edition.
As I said, the old ones are out of print, although you can get them from re-sellers, or whoever those guys are on Amazon.
The Vigilante Author: I also suggest that our readers go to two great search sites for locating out-of-print books: Bookfinder.com or AddAll.com. The titles to look for, under your author name, are And Justice for One, One Man's Law, One Way Out, New Lots, and Reed's Promise.
John, thanks for spending so much time with us. I hope this interview brings you a lot of new readers.
John Clarkson. So do I! Thanks, Robert.
~~~