#1 Kindle Bestseller in "Mysteries & Thrillers"
#1 Audible Bestseller in "Espionage Thrillers"
A Wall Street Journal "Top Ten Fiction Ebook"
HUNTER is a suspenseful modern parable of justice — part spy mystery, part vigilante action thriller, part smoking-hot romance.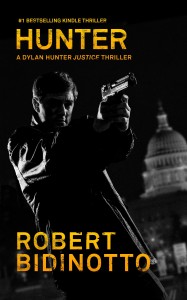 Set in Washington, D.C. during a wave of vigilante killings, it's the tale of two strong, idealistic loners. Dylan Hunter is a crusading journalist with a mysterious past, working to expose outrageous leniency in the criminal justice system. Annie Woods is a beautiful security officer at the CIA, sworn to track down the unknown assassin of an Agency employee. They meet after a brutal criminal act of violence against mutual friends.
As the parallel investigations by the CIA and the police begin to intersect in surprising ways, Dylan and Annie fall passionately in love. But they don't realize that the shocking secrets they're hiding from each other are propelling them headlong toward shattering personal conflicts — or that a terrifying predator is targeting them both.
From its first gripping pages, HUNTER takes you on a nonstop thrill ride — from the top floor of the CIA, to the marbled corridors of Capitol Hill . . . from the posh hotels of downtown Washington, to the city's mean, violent streets. It introduces a colorful new hero for our time — and a dazzling heroine every bit his equal.
More than this, HUNTER is also a "thinking person's thriller." It is a tale as thought-provoking as it is wildly entertaining. The conflicts among the characters might prompt you to reflect on the true meaning of such basic values as personal responsibility, justice, honesty, trust, love, and redemption.
The response to my debut novel has astonished and delighted me. Late in November 2011, HUNTER was selected as the #1 "Kindle Editors Pick" in a week-long sales promotion, and it immediately skyrocketed onto the Kindle Bestseller List. By December 3rd, it had soared to the #4 spot overall — ahead of the latest blockbusters by Stephen King, Janet Evanovich, James Patterson, John Grisham, Michael Connelly, and Suzanne Collins. HUNTER became the #1 best-selling Kindle title in "Mysteries and Thrillers" and in "Romantic Suspense," and in early December 2011, it also was listed by the Wall Street Journal as a "Top 10 Fiction Ebook."
Readers have lavished praise on the book. To date, it has received over 500 "5-star" rave reviews from Amazon customers, who also have ranked HUNTER the #1 "Top Rated" title in the categories "Mysteries & Thrillers," "Romance," "Romantic Suspense," and "Spy Stories and Tales of Intrigue."
Listen to the opening moments of the HUNTER audiobook on Audible.com:
So, Do I Really Advocate "Vigilante Justice"?
In real life? No. The issue is complicated, and I explain my full position on the topic in this essay. Vigilante stories serve a number of valuable purposes in fiction, which I make clear in the essay; but vigilante actions in real life would lead to repercussions that no advocate of true justice would welcome.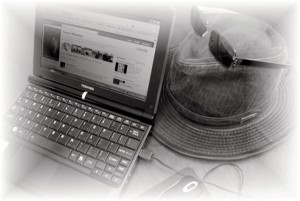 Photo (c) by Debbie Scott