Hi. I'm Robert Bidinotto, a.k.a. The Vigilante Author—and creator of Dylan Hunter, the thriller world's new face of justice.
I adopted the "vigilante author" label from the theme of my debut best-selling novel, HUNTER: A Thriller, a devious tale that centers around a wave of vigilante killings. I thought that the vigilante concept was uniquely suited to what I am trying to do here.
Before I get into that, though, let me introduce myself to you. I'm a widely published, award-winning investigative journalist, magazine editor, and nonfiction author. And now—best-selling novelist.
HUNTER: A Thriller was published in June 2011. Bridging and blending the crime and spy-fiction genres, and with a powerful love story at its heart, HUNTER is a unique suspense thriller. It draws upon my colorful experiences as an investigative journalist writing true-crime books and articles.
And it's struck a responsive chord with readers around the world. If you haven't yet read it, I hope you check it out at the links over on the right margin. HUNTER is available as in ebook, audiobook, and trade paperback editions.
And if you want to find out more about my unusual personal path to success as a novelist, you may enjoy this article about "My Self-Publishing 'Rocky' Story." I'm proud to say that I've now joined the list of the best-selling self-published novelists.
As for my previous books: I'm editor of and chief contributor to the widely acclaimed Criminal Justice? The Legal System vs. Individual Responsibility, with a Foreword by John Walsh of TV's "America's Most Wanted." I also wrote Freed to Kill, a compendium of horror stories that exposed the terrible failings of our legal system. Many of those hair-raising stories, as well as ones that I investigated for Reader's Digest, served as the basis for my fiction thriller, HUNTER.
While working as a Staff Writer for Reader's Digest, I authored high-profile investigative pieces on crime and other public controversies. I'm perhaps best known for my article "Getting Away with Murder" in the July 1988 issue of the Digest. It stirred a national controversy about crime and prison furlough programs during the 1988 presidential election campaign, and it's widely credited with having affected the outcome of the election. That article was honored as a 1989 National Magazine Award finalist by the American Society of Magazine Editors.
From 2005-2008, I served as editor-in-chief of The New Individualist magazine. While editor, I was a 2007 Gold Winner of Folio's prestigious "Eddie" Award for editorial excellence—the magazine industry's highest honor. I also received the Free Press Association's Mencken Award for "Best Feature Story," as well as other awards and honors from the National Victim Center and victim rights organizations, for my outspoken public advocacy on behalf of crime victims.
My articles, essays, columns, book and film reviews have appeared in Success, Writer's Digest, The Boston Herald, The American Spectator, and may other journals. I've appeared on scores of radio and television talk shows, and I've lectured before campus, civic, business, and public affairs organizations throughout North America and in Europe.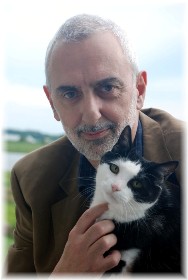 Today, I live with my wife, Cynthia, and our stridently individualistic cat, Luna (who plays a supporting role in HUNTER) on the Chesapeake Bay. There, in a home suspiciously similar to one described in the novel, I am busily at work plotting the further exploits of Dylan Hunter, beginning with the forthcoming BAD DEEDS.
I do enjoy communicating with my readers. So please feel free to contact me through the links on this blog. I hope you thoroughly enjoy both this blog and HUNTER.

Photos of the author (c) Debbie Scott