This page links to interviews conducted with me, news about my personal appearances, plus reviews and commentary about the Dylan Hunter thrillers. The most recent items appear at the top of the listing.
If you see a review or published reference about the novels or their author, please let me know.
Also, if you would like to interview me or review the books, please contact me through this blog.
———————————
* April 16, 2016: The Audiobook Blog, an international review site for audio products, published a glowing review of the audio edition of HUNTER, by site reviewer Victor Dima. He says that the story "is a great one, filled with tense moments, interesting facts, ideas and the right amount of romance. Oh, yeah, and the ending is very satisfying as well." He continues:
Besides being a great thriller, HUNTER brings together aspects from romance, mystery, police procedurals and espionage…. I was very pleasantly surprised by this fresh take on the vigilante idea. I haven't read something this good on this topic since Without Remorse by Tom Clancy, which, by the way, is one of my all time favorites….

Conor Hall gives an almost perfect performance with the audiobook, bringing all the characters to life, even Luna the cat. His narration becomes mesmerizing at times and the different voices and subtle accents keeps everyone differentiated in the listeners mind. I think he is the right actor to record this new amazing series of thrillers and I'm looking forward to listen to him again…. HUNTER is a great book with a very compelling story, filled with characters that feel alive and real. Robert Bidinotto delivers one of the most interesting and thought provoking thrillers released in recent history.
* March 29, 2016:  Audible Studios — the world's largest producer of audiobook downloads — released the audio edition of BAD DEEDS. Like HUNTER, the audiobook is narrated by the talented voice actor Conor Hall, and it's available through Amazon, as well as Audible.com, and also iTunes.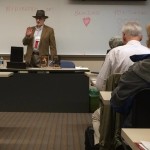 * March 12, 2016: I gave a talk, "The 10 Most Important Ways to Market Your Ebooks," at the 2016 Bay to Ocean Writers Conference at Chesapeake College, Wye Mills, Maryland. Here is a link to the YouTube video of the talk.
* February 21, 2016: The Alliance of Independent Authors (ALLi) published an interview with me as part of their weekly series: "How I Do It: Indie Authors Share the Secrets of Their Success." Writers struggling to write, publish, or break through commercially may find something of interest in this interview, as will fans of the Dylan Hunter books.
* December 1, 2015: I signed a contract with Audible.com — the world's largest producer of digital audiobooks — to produce an audio edition of BAD DEEDS. This unabridged edition, which will be released in 2016, will join the existing audiobook edition of HUNTER. Once again the narrator will be Conor Hall.
* September 28, 2015: I've engaged literary agent Sarah Hershman, of Hershman Rights Management, LLC, to represent and sell subsidiary rights to my Dylan Hunter thriller series. My primary aim is to publish more print, ebook, and audio editions of the novels in foreign languages and markets, and, if possible, to better exploit audio and print opportunities in the domestic U.S. market. Meanwhile, going forward, I'll continue to self-publish all English-language ebook editions of my novels.
* September 28, 2015: Thriller author Gary Ponzo interviewed me, along with bestselling authors Cheryl Bradshaw,  Jonas Saul, and Allan Leverone, about our widely varying writing methods and habits. The result appears in a Q&A feature on Gary's blog.
* September 27, 2015: I appeared on an author panel and also delivered two workshop presentation — on thriller writing and author branding — at the Just Write! Writers Conference, Harford County Public Library, Bel Air, Maryland.
* September 8, 2015: "It's Never Too Late" was my talk topic before the Knights of Columbus Council 7941 at St. Christopher's Catholic Church, Chester, MD. Drawing upon the film "The Bucket List" and my own writing odyssey, I encouraged the audience never to stop striving for their dreams, no matter what their age.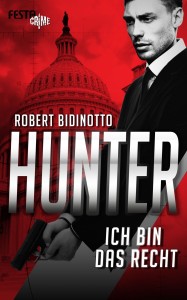 * August 27, 2015: I signed a deal with Festa Verlag publishers in Germany for the German language publishing rights to HUNTER. The edition will be published in June 2016.
Festa also publishes such noted thriller authors as Stephen Hunter, Ben Coes, Mark Greaney, Dalton Fury, Brad Taylor, and — coming next year — the late Vince Flynn.
The cover contains a subtitle that, translated, means: "I Am the Law."
* July 2015: A Turkish language edition of HUNTER was published by the Panama publishing company in Ankara, under the title "Adalet Savascisi" (or Justice Warrior). The book went on sale all over that nation.


* August 21 – 23, 2015: I participated in a panel on self-publishing at the Calliope Authors Workshop, a project of Taliesin Nexus, which encourages writers and filmmakers who value individual liberty. The event took place on the UCLA campus in Los Angeles, and the mentors included veteran authors, agents, editors, publishers, and filmmakers.
* August 12, 2015: Along with several local authors, I gave a reading from my books at the Queen Anne's Public Library, Centreville (Maryland) branch, and signed copies for readers.
* August 7-9, 2015: I participated as a speaker and panelist at the 2015 Mid-Atlantic Fiction Writers Institute, Hagerstown Community College, in Hagerstown, Maryland. I was honored to be on two panels with bestselling suspense author Tess Gerritsen, and I also gave a well-attended presentation on thriller-writing.
August 2015: The Amazon Kindle editors selected both HUNTER and BAD DEEDS to be included in their "Monthly Deal" — a sales promotion for a select group of about 300 titles. I'm thrilled that the famous Amazon algorithms calculated that my books merited that attention.
* May 27, 2015: Historical novelist Elena Maria Vidal published a glowing 5-star review of HUNTER on her blog and on Amazon. "It is the kind of thriller which lives up to its name by grabbing your attention at the first moment and not letting you go until the end," she wrote.
* April 16, 2015: How does a novelist create a fictional world? In a talk titled "How I Write Fiction," I explained the methods used by successful writers — including my own. The presentation occurred at the Grasonville (Maryland) Senior Center. And here is a video of my talk.

* March 24, 2015: I was the interview guest on Writestream Radio's "Writestream Tuesday." Host Daria Anne and I talked about my lengthy background as a nonfiction writer, my late-life transition to writing the Dylan Hunter thrillers, and my views on the power and significance of "Narratives" in our lives. Here is the program link, archived online. My interview segment begins half-way through the two-hour show, starting at about the 1:04 mark on the time bar.
* March 12, 2015: I was interviewed by Fred McNeil on "Papa's World," a televised book interview show appearing on QAC-TV, Channel 7, Queen Anne's County, Maryland. We discussed my background as a nonfiction writer and how that evolved into writing my Dylan Hunter thrillers. You may find out things here you never knew about The Vigilante Author. The show is archived here on YouTube.
* February 28, 2015: I presented a workshop about thriller writing at the annual Bay To Ocean Writers Conference, Chesapeake College, in Wye, Maryland. Details at this link. And here is a YouTube video of my talk.
* November 16, 2014: Author Nate Grazow (The Scorpion's Nest, Hekura) interviewed me on his blog about the technical and emotional challenges of writing HUNTER and BAD DEEDS. (No direct link to the article; just scroll.)
* November 14, 2014: My thriller-author friend Stephen England (Pandora's Grave, Day of Reckoning) has posted a long interview he conducted with me. It includes many previously unrevealed aspects of my writing the Dylan Hunter series. I hope you check it out.
* October 20, 2014: "The Kill Zone," an online hangout for prominent mystery and thriller writers (and readers), hosted a guest post of mine, "'Preachiness' in Novels: How to Present Controversial Ideas in Fiction." I challenge the convention that writers should avoid discussing politics, religion, or other "divisive" topics in popular fiction. And I use my own thrillers as examples of how a writer might approach the presentation of controversial ideas in popular genres.
* September 22, 2014: Author Lisette Brodey has conducted a long, expansive interview of me on her site, "Lisette's Writers' Chateau." Our far-ranging conversation explores more than I've previously revealed to any interviewer about my writing methods, the merits of self-publishing, the challenges authors face in marketing and promotion, as well as some personal revelations. Read it here.
* August 12, 2014: Blogger Darrick Dean posted a laudatory review of BAD DEEDS. "In this second installment, Bidinotto has built on the first and taken the story to a new level . . . . Readers find themselves in a 'ripped from the headlines' tale that is all too plausible. . . .  This all unfolds in a page-turning fashion that exceeds Hunter's last adventure."
* August 6, 2014: The daily edition of the Star Democrat, published in Easton, Maryland, carried a slightly shortened version of the article mentioned immediately below, which appeared in the Kent Island Bay Times. You can see it online here.
* July 30, 2014: The weekly edition of the Kent Island Bay Times carried a front-page feature article about my publication of BAD DEEDS. Written by Jack Shaum, the highly flattering backgrounder about my career carried my photo on the front page, and a large blow-up of the book's cover on the page 8 continuation.
* July 28 – 30, 2014: On July 28 I signed books at the Craft Fair at the Massanutten Resort, McGaheysville, Virginia. On the evening of July 30, I gave a talk on "New Paths to Publishing" at the resort to an audience of writers.
* July 13, 2014: I was interviewed by the Book Club Reading List, an online site that publicizes authors and their books to book clubs around the United States. I describe my own writing method, as well as the authors who have most influenced me.
* July 10, 2014: A nice review of BAD DEEDS from Randy Ingermanson — "America's Mad Professor of Fiction-Writing," creator of the "Snowflake Method" of fiction-writing, and author of the great how-to book, Writing Fiction for Dummies. In the July issue of his "Advance Fiction-Writing E-Zine," Randy writes:
BAD DEEDS, by Robert Bidinotto. Eco-terrorists are trying to crush a fracking company, and they've got allies in high places. The law can't touch them, or won't, but our hero, Dylan Hunter, goes vigilante again to right some wrongs. Fans of Jack Reacher and Jack Ryan will enjoy this story. This is a sequel to the best-selling book HUNTER. Robert Bidinotto brands himself as the "Vigilante Author" and I'm enjoying his writing, although it should go without saying that you should not try this vigilante thing at home.
* July 1, 2014: The New Castle (Pa.) News — the newspaper of the city of my birth — published an article about the release of BAD DEEDS, including a sketch of my career background as a writer and editor.
* June 20, 2014: British psychological suspense author Maggie James posted a fabulous review of BAD DEEDS on her blog.
* June 15, 2014: A feature by Theresa Winslow about summer "beach reading" in The Capital, the Annapolis newspaper, features your friendly Vigilante Author, including a photo of him proudly displaying HUNTER and BAD DEEDS.
* May 1, 2014: I'm delighted with this interview of me, conducted and published by British psychological suspense author Maggie James on her blog. Maggie asked fresh questions, different from those I usually get. You may find it enlightening.
* October 2, 2013: I was quoted at length in The Capital Gazette, the Annapolis newspaper, on the death of Tom Clancy:
"It's been a sad year for thriller fans and for thriller writers like me," said Robert Bidinotto, author of the best-selling Amazon thriller "Hunter" and a Grasonville resident. "First, we lost Vince Flynn to cancer at the tragically young age of 47. Now, Tom Clancy — also far too young at 66."

Clancy was considered the founding father of the "techno-thriller" genre, Bidinotto said. "He set the bar higher for all of us, bringing a new sense of realism in his big, geopolitical stories," Bidinotto said. "And in all of his tales, the U.S. military, CIA, and special ops communities were portrayed as decent, honorable heroes. This was a refreshing departure from the jaundiced cynicism that colored so many political thrillers … We who write in the thriller genre owe him much, and will miss him greatly."
NOTE: The print edition of the newspaper appeared on October 3rd, and the tribute article, with my comments, was featured on the front page.
* September 29, 2013: I presented a talk, "The Brave New World of Self-Publishing," at the "Just Write! Writers Conference," hosted at the Bel Air Public Library, Bel Air, Maryland. A packed room of veteran and aspiring authors responded enthusiastically to my 90-minute presentation.
* September 23, 2013: Thriller author Ty Patterson posted a dream commentary about HUNTER on his blog, along with some generous comments about Yours Truly. With my permission, he also reprinted an essay of mine that was first published here. Check it out.
* August 16, 2013: British thriller author Simon Jenner devoted a page of his "Killer Thriller" blog feature to HUNTER, including background on the novel, his effusive and generous review, and also interview questions for me…and for Dylan Hunter! Dylan was typically outspoken, and uncomfortably blunt in his opinions of me…which seems a bit ungrateful, all things considered. Still you will learn things about both of us in this interview that you probably didn't know and won't find elsewhere on this blog. Enjoy!
* March 17, 2013: Matt Posner has interviewed me here on his "School of the Ages" blog. The range of topics include: where I live; how writing a bestseller has changed my life; my description of HUNTER and the Dylan Hunter character; a brief synopsis of my two upcoming novels; why I try to help other writers; my favorite thriller authors; the ways in which Ayn Rand's ideas and literary style have influenced me and my writing; my stint writing for Reader's Digest; and whether my outspoken views and political commentaries have affected my readership.
* February 23, 2013: I gave two well-received workshop presentations to writers attending the annual Bay to Ocean Writers Conference, Chesapeake College, Wye Mills, Maryland. My topics: "Writing the Thriller" and "The Ten Best Ways to Market Your Ebooks."
* February 2013: This month's issue of Writer's Digest features an article, "Banking on E-Books," by well-known e-publishing columnist and industry observer Porter Anderson. Drawing from the December 13, 2011 interview of me by Jennie Coughlin (see below), Anderson recounts (on page 35) the story of HUNTER's sudden ascent to the top of the ebook bestseller lists that month.
* January 4, 2013: I received by private message the following "blurb" from renowned writing teacher Randy Ingermanson, author of the bestselling Writing Fiction for Dummies: "Hunter is a terrifically-paced suspense novel with a killer premise—a mysterious good guy starts offing the bad guys who are leaking through the cracks in the broken criminal justice system. As a novel, it works Xtremely well (just don't try this vigilante stuff at home, folks!) If you're a fan of Lee Child's Jack Reacher series, I suspect you'll like Hunter." — Randy Ingermanson, "America's Mad Professor of Fiction Writing."
* December 12, 2012: Prolific book reviewer James Henderson offers a 5-star assessment of HUNTER on his blog. Among his comments: "[I]t displays a confident narrative of a suspenseful revenge thriller in a style that is both beautiful and clear.  Thus it belied the expectation of this reader who has read many first novels and does not expect such flawless performance. . . . The effect is to continually raise the suspense and keep the reader guessing with deft twists of a seamless plot. This is the best thriller I have read. I would recommend it to anyone who admires a great plot, who responds to inspirational heroes, or who just wants a great read."
* November 25, 2012: I was interviewed by Denise Wy in her blog "Successilism," devoted to publishing success stories from people in different walks of life. It is probably the longest, and undoubtedly the most probing and personal, interview yet conducted with me by anyone. Her questions allowed me to discuss many subjects in depth and detail.
* August 15, 2012: A long, impressively researched article about how self-publishing is revolutionizing the publishing industry, written by marketing expert and author David Vinjamuri, has appeared in Forbes. Vinjamuri interviewed and quoted me, along with a couple of friends–best-selling indie author Hugh Howey and traditionally published superstar Brad Thor–letting us opine about the radical changes shaking the book business, why they've occurred, and what the future may hold.
* July 2012: The editor of the website "BestSellingCrimeThrillers.com" awarded HUNTER "Five Distinguished Stars" in a rave review that concludes, "If you believe in the concept of justice, you will love this book."
* May 2012: I was profiled in the "Your Voice" feature of this month's edition of the "Kindle Direct Publishing Newsletter," published by Amazon's KDP division. I describe how self-publishing through KDP provided a life-changing opportunity for my wife and me.
* May 5, 2012: I was profiled as Featured Author for the month on "The Thorum Underground" — an online discussion forum for fans of best-selling thriller author Brad Thor (whom I have interviewed here on "The Vigilante Author.")
* May 3, 2012: I was interviewed on "American Entrepreneur Radio" by host Jerry Bowyer. Jerry and I discussed the opportunities and mechanics of self-publishing, as well as my background and why I wrote and indie-published HUNTER. The interview runs about a half an hour and is archived at the link.  I hope you enjoy it.
* March 18, 2012: An enthusiastic review of HUNTER appeared on "The Paperback Pursuer" blog. "There better be more Dylan Hunter novels on the way, because I am hooked and ready for more!" writes reviewer Allizabeth Collins, who describes HUNTER as "an intense debut novel filled with pulse-pounding action, kick-a** characters, and a touch of romance. . . . Bidinotto's technique is near flawless–the characters are well-developed and genuine, fitting seamlessly into the novel's tight-knit and suspense-filled plot . . . .  I find Bidinotto's first novel to be on the same level as authors Tom Clancy, John Grisham, and James Patterson."
* March 2012: A nice review of HUNTER, written by Kathryn Marchi, appears in the Early Spring 2012 issue of Outlook by the Bay, a magazine for seniors who live in the Chesapeake Bay area. Describing my novel as a "well-written, fast-paced thriller," Marchi concludes: "From the first page to the last, it is difficult to put this book down. The twists and turns of events keep the reader involved and wanting to solve the mystery…"
* February 19, 2012: "The Indie Spotlight" website interviews me about HUNTER and my writing habits. The interview includes an excerpt from an action scene in the book.
* February 15, 2012: The Washington Examiner spotlights HUNTER and me in their daily "Three-Minute Interview" feature. Condensed from a pleasant phone chat I had with reporter Courtney Zott.
* February 14, 2012: Blogger C.B. Edwards gives HUNTER a 4-star review. Conclusion: "I'll read his next book — what better rec can I give? Great job, Roberto. Fo' Stars."
* February 6, 2012: I am interviewed on the blog of Crimespree Magazine, a major publication of the crime-fiction genre. Brendan Durkes, the interviewer, asks probing questions about my real-life experiences and actual research that served as the background for HUNTER; how I created the characters who populate the novel; how I researched in order to lend realism to scenes of violence; the literary influences that seeped their way into my novel; the book's controversial philosophical  themes; and the elements that I think helped propel HUNTER to become a bestseller.
* January 22, 2012: A profile of me, focusing on my sudden success with HUNTER, appeared in The Capital (Annapolis, Maryland). The newspaper article, written by Theresa Winslow, is both concise and unusually accurate. The article was picked up for syndication by Associated Press and widely reprinted, including on the following media websites: WJZ-TV CBS Baltimore; WFTV 9 (Orlando, Florida); The Republic newspaper (Columbus, Indiana); the Washington Examiner newspaper (Washington, DC); and WTOP newsradio (Washington, DC). A number of blogs and websites also linked to The Capital article, including most notably "Instapundit," which attracts tens of thousands of readers each day.
* January 2012: Crime novelist, professional criminologist, and criminal profiler Jennifer Chase gives HUNTER a stellar review in the January issue of "Out & About Magazine," California's South Bay premiere entertainment guide. You can read her review here by clicking and then scrolling through to page 37.
* December 27, 2011: Thriller author Mel Comley, who has published her own vigilante-style tales, interviewed me for her website.  I love some of the fresh questions in this one, including, "Name six people, dead or alive, you'd love to have as guests around your dinner table" and "What three books would you want to take with you if you were stranded on a desert island?" Plus more info about my background.
* December 13, 2011: When the Kindle editors made my novel an "Editors' Pick" on November 27, 2011, it soared to #4 on the bestseller lists. How and why did that happen? What have I learned from the experience that other authors may find helpful? Indie author Jennie Coughlin has interviewed me about all this at length, and here is the info and advice I have to offer other writers.
* December 7, 2011: I'm interviewed by author Pat Bertram about HUNTER and a wide range of related topics, including: how my background influenced the story; what I want readers to take away from the novel; how much of me is in the book and in the character of Dylan Hunter; my research methods; my biggest challenges in the writing; and which famous author gave me the best writing advice I've ever received.
* October 21, 2011: "Individualism and Fiction," an interview with me by blogger and indie writer Mike Whitacre about the political themes in my novel, and in fiction generally.
* October 21, 2011: The Star Democrat, which covers Maryland's Eastern Shore from its headquarters in Easton, Md., reprinted the Oct. 19 feature story from its sister newspaper, the Bay Times, about HUNTER and me. This piece also appeared in a great position: the top of the back page of its "Weekend" entertainment tabloid section. (If you wish to take a look at the article, it is posted online temporarily here; scroll down the page to about the 16th item listed. Of course, this archive doesn't reflect the excellent appearance and positioning in the print edition.)
* October 19, 2011: A front-page (no less) feature story about me and my novel HUNTER appeared in the Kent Island (Md.) Bay Times. An excellent piece written by staff reporter Jack Shaum. You have to be a subscriber to read it at the online link.
* October 13, 2011: A large feature story about me and HUNTER appeared in the newspaper of the city of my birth, the New Castle (Pa.) News. If the article becomes available online, I'll post a link here.
* October 8, 2011: Patricia McCallum interviewed me on her blog, the IndieWriterZone, about many aspects of the mechanics and logistics of fiction-writing and self-publishing.
* October 4, 2011: Author Mark Everett Stone conducted this interview with me for "Writing on the Rocks," a website devoted to indie authors. Good questions about my writing habits, influences, background, and plans.
* September 30, 2011: Rob Walden, CEO of Ravenshead — creators of the wonderful creative-writing software that I use, "WriteItNow" — conducted the most far-reaching and in-depth interview with me to date. Topics included: my personal history and motives as a writer; the elements of fiction that I find easiest, and hardest; where I get my fiction ideas; the role that feedback from others has in my writing process; which writers have most influenced me; why I chose to self-publish; what it means to be a "vigilante author";  how to promote indie books; and my advice for other writers.
* September 27, 2011: Author Mark Everett Stone reviews HUNTER on the "Writing on the Rocks" indie-author site. He concludes by saying that though the book is "not perfect," nonetheless "it ranks up there with the likes of John San­ford and Lee Child." Well, if that's "not perfect," I'll take it!
* September 25, 2011: Thriller writer Claude Bouchard, author of Vigilante and other suspense titles, posted a glowing 5-star review of HUNTER on its Amazon product page.
* September 25, 2011: Joshua Zader posted this effusive review of HUNTER on the "Atlas Shrugged Movie" web page and on his "Mudita Journal" blog, discussing how the novel was of special interest to fans of the works of the late novelist-philosopher Ayn Rand.
* September 21, 2011: Writer, poet, and scholar Roger Donway presents a stunning review of HUNTER on "The Atlasphere" website. If you want to read just one review of the book, don't miss this one: Mr. Donway sees and says everything that an author could possibly want from a reviewer.
* September 16, 2011: Hot-selling author Nathan Lowell graciously invited me to do a guest-blog on his site, and here is the result: "Who Was That Masked Man?" — a tribute to the cowboy hero of my childhood who helped inspire me to become The Vigilante Author.
* September 14, 2011: Blogger C. Jeffery Small posted a highly favorable review of HUNTER. He describes it as "a compelling novel of suspense, intrigue and action, all of which converges in an exploration of a number of important moral questions."
* September 8, 2011: Bestselling thriller author Gary Ponzo posted on his blog a thoughtful interview that he conducted with me. I am grateful for the attention that Gary has given to HUNTER, and to my thoughts on fiction writing and the future of publishing.
* September 7, 2011: Indie author Helen Hanson — who just published the thriller 3 Lies — conducted an engaging, enjoyable, and probing interview with me on her wonderful blog. She asked me fresh questions about the technique of writing, as well as about my background.
* September 6, 2011: Stephen England — whose latest thriller is the widely praised Pandora's Grave — gave HUNTER a 5-star rave review on the Goodreads site, which is dedicated to introducing exceptional books to its readers.
* September 5, 2011: Doug Dorow, author of The Ninth District, posted an extensive, revealing blog interview with me. Doug asked me not only about my background and the genesis of HUNTER, but also about the craft of writing fiction and the art of marketing it. I think you'll enjoy the resulting exchange — I hope as much as I did.
* August 17, 2011: Here's an early interview with me by blogger Rich Engle. Those interested in learning a bit more about me, my writing methods, the public response to HUNTER, and the role that my philosophical views played in the novel, will find my comments here.
* August 15, 2011: A 4-star review of HUNTER by R. Thomas Brown appeared at the Crime Fiction Lover website. Brown calls HUNTER "a tight, slick spy thriller" with "engaging characters," and he praises the "convincing details of weapons, combat, information gathering, information masking methods, and the technology that makes it all possible."
* August 11, 2011: Noted libertarian writer Jeff Riggenbach offers this rather strange 24-minute podcast about HUNTER. Well, it is sort of about HUNTER. In reality, Riggenbach used the novel mainly as a point of departure to criticize me for unrelated philosophical and political views I have expressed elsewhere. Riggenbach did like the book a lot and "commends" it to his audience; but you'll have to wade through a lot of discussion of extraneous points to find anything resembling a "review."
* This promotional page for HUNTER was established by the "Kindle Mojo" website.
* August 7, 2011: In an interview with me at the Kindle Author website, David Wisehart asked me about my journey as a writer; how I draw distinctive characters; who I consider to be my target readership; my writing process; my favorite thriller authors; my marketing plan; and my advice to other would-be "indie" authors.
* July 13, 2011: An early interview with me conducted at the 1stIndieAuthors website covered: why I wrote the book, and what inspired it; what prompted me to become a writer; how I came up with the book's title; why I waited until age 62 to write my first novel; why I chose to be an "indie" author rather than seek a traditional publisher; and the prospects for future Dylan Hunter novels.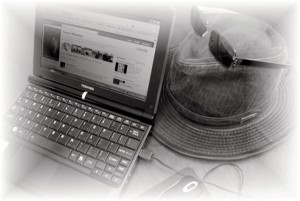 Photo (c) by Debbie Scott